The start of a catalogue about software and hardware fragrances:
In 2000, Aromajet developed Pinoke, a device able to recreate smells associated with computer games. Digital signals written into software code trigger the aroma generator to emit precise amounts of the appropriate aroma.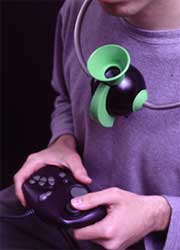 The American company also created E-Commerce Kiosk that have fragrance generating devices mounted inside to install the perfumes and cosmetics aisle of department stores. One of the ideas under development is a mother's scent programmed into an aroma generating device placed near a crib to help comfort a baby.
The possibility to reproduce scents directly via the internet has driven many other inventions.
In February 2004, British operator Telewest announced ScentMail which will enable net users to send and receive codes to "scent domes," which mix liquid smells and spray them into the air around the PC.
Last summer, K Opti tested the Kaori (scent) Web service, which sends scents that match the image o­n the screen.
In December, NTT Communications tested the Internet Aromatherapy Service that sends out smells according to data received over the Internet.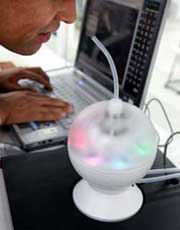 Trisenx is selling the Senx Sampler, a device which sends -online and offline- up to 20 fragrances.
While German engineers are working on a the mobile phone that will detect unpleasant odors, the Spanish boffins have developed a computer language, XML Smell, which "prints" and transmits fragrances by email or SMS to a mobile phone, or via a TV show. Researchers are now working on a "smell palette" device which will sit next to your TV, radio, phone or PC.
Another Spanish project is Wine-Panel, a kind of electronic nose which will be able to "capture" the aroma (but also the colour and taste) of a wine like a human nose would do.
Of course, the entertainment industry has much to gain from these technologies, apparently, the IMAX in Vienna (Austria) is screening movies with added smells (anyone has heard of this, I read about it a few month ago but couldn't find any other source that corroborated the news).
99% of the information comes from Flylosophy .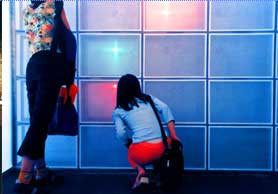 I'm quite poorly documented on the use of smells in art (drop me a line at reg at we-make-money-not-art.com if you have heard of other projects). Usman Haque designed Scents of Space in 2002, this smell system allows for 3D placement of fragrances without dispersion (picture above).
Quite arty and totally fascinating: Jenny Tillotson 's Fragrance delivery brooch set and aromatic dress, Esmé Macleod's fabulous Sensory urban public bathing concept.
Related: a special headset that lets holidaymaker experience surround vision, sounds and smells, the IQ clothes , Cyranose 320, an electronic nose device to diagnose pneumonia and sinusitis, SNIF a fragrance patch that release more or less perfume depending on what kind of space you're in, Zen-sorial car, the Sensory Gateway, robotic Judas roach, 3D scents.