There's much talk about biometrics used in the fight against terrorism.
Fingerprint scanning is the most common method of the biometric methods available today. The security of fingerprint scanners has however been questioned and previous studies have shown that fingerprint scanners can be fooled with copies of real fingerprints.
But of course, the fingerprint recognition systems are evolving and, Marie Sandström, a student from Linköping University in Sweden, wanted to investigate today's situation. In her thesis, she studied the literature on the subject. But she also made some experiments focusing on making artificial fingerprints in gelatin.
Nine different systems were tested at the CeBIT trade fair in Germany and all were deceived. Three other different systems were put up against more extensive tests with three different subjects. All systems were circumvented with all subjects' artificial fingerprints, but with varying results.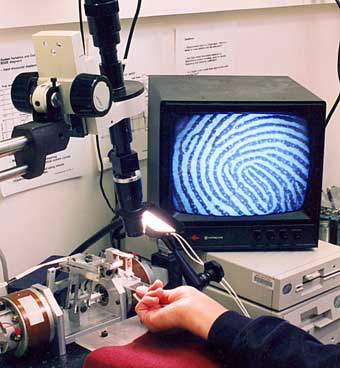 From Crypto-Gram Newsletter.
Related articles: Fingerprint Authentication, About a program initially called Trusted Traveler, US-VISIT, Antipiracy fingerprints, FingerQuick, etc.