Field_Notes: From Landscape to Laboratory – Maisemasta Laboratorioon, edited by Laura Beloff, Erich Berger and Terike Haapoja.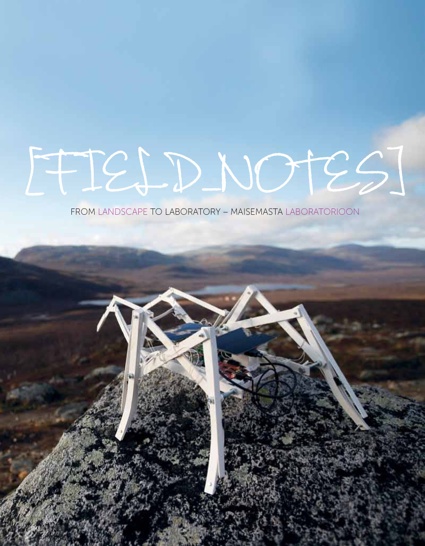 From the back-cover: Every second year the Finnish Society of Bioart invites a significant group of artists and scientists to the Kilpisjärvi Biological Station in Lapland/Finland to work for one week on topics related to art, biology and the environment. "Field_Notes – From Landscape to Laboratory" is the first in a series of publications originating from this field laboratory. It emphasizes the process of interaction between fieldwork, locality and the laboratory. Oron Catts, Antero Kare, Laura Beloff, Tarja Knuuttila amongst others explore the field and laboratory as sites for art&science practices.
I was about to add this book to the list of books i liked in 2013 but i decided at the last minute that i might as well give it its own space.
In 2011, the Finnish Society of Bioart organised the Field_Notes – Cultivating Grounds laboratory. Five working groups led by Oron Catts, Marta de Menezes, Anu Osva, Tapio Makela and Terike Haapoja developed various art and science projects while in contact with nature and ecology in Kilpisjärvi, a rural area in Lapland, Finland.
The book contains seventeen articles (in both English and Finnish) that report and meditate on the research, reflections and activities that took place during the scientists and artists' stay in Lapland. Field_Notes offers one of the very few residences that allows people who engage with art&science to work and experiment directly in a natural environment and not exclusively in laboratories or galleries.
I wouldn't say that this is a book for anyone who's interested in bioart. It's not the kind of crazy sexy pop bioart you read about in Wired magazine (or in my own blog.) It is sober and at time theoretical, but not less surprising and thought-provoking than any razzle-dazzle bioart works you've read about in the past.
Field_Notes offers is a great mix of essays by scientists and lively stories of experiments by artists. I particularly enjoyed reading Laura Beloff's essay on how experience is a key aspect (and sometime even the main objective) of art practices that use organic materials or has some affinity with science. Professor Antero Järvinen wrote about the icon of global warming that is the Arctic charr and more generally about the difficulty of drawing simple conclusion of complex material systems and phenomena. Oron Catts came with the most unexpected essay about a piece of plexiglass from a German aircraft that had crashed in Kilpisjärvi in 1942 and how the discovery led him to explore 'new materialism in action'. Andrew Gryf Paterson has a great piece about berries foraging and a proposal to set up Berry Commons which sounds trivial until he makes you realize the politics of berries. Maria Huhmarniemi looked at the dilemma of preserving the endangered Capricornia Boisduvaliana butterfly or building an hydroelectric power plant.
I'll close with two of the many projects i discovered in this book: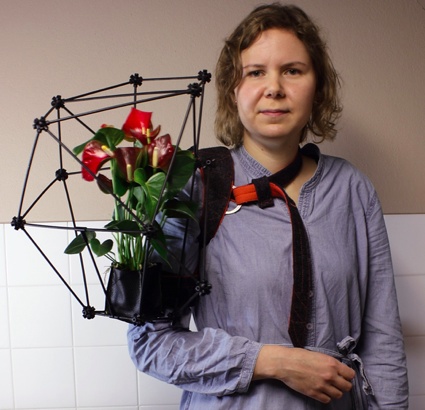 Laura Beloff, A Unit, 2012
A Unit is a miniature green area an individual would wear on their shoulder. A Unit speculates on the concept of green environment and its beneficial impact. It experiments with an idea of wearable miniature green space that becomes part of one's everyday existence and asks if this can be considered as natural environment with potential health benefits?
A Unit contains a GM-plant or other primarily human-constructed plant and as such acts as a training device for our changing relation with organic nature for the future when both humans and nature are artificially modified or constructed.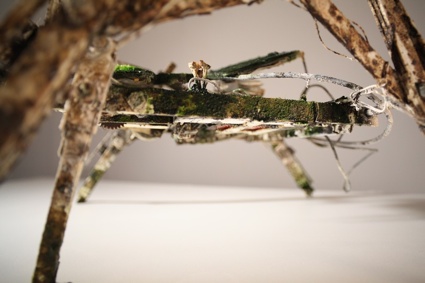 Niki Passath, The Tourist (infected with moss)
Niki Passath took his touristic robots for walks around Kilpisjärvi and soon found out that fungi and bacteria had adopted them as a habitat. Traces of moss and lichen started to grow on the structures.
So there you are: a serious, solid book for anyone who'd like to go beyond the easy reductions, the fast conclusions and simplification that sometimes characterizes articles and books about bioart.