Previous posts about this exhibition: Instances of Use of United States Armed Forces Abroad 1798-2006 and Smoke and Hot Air.
Feedforward. The Angel of History, a compelling exhibition that opened a few weeks ago at LABoral in Gijón, addresses the current moment in history where the wreckage of political conflict and economic inequality is piling up, while globalized forces–largely enabled by the "progress" of digital information technologies–inexorably feed us forward. The exhibition title references Paul Klee's watercolor Angelus Novus. Walter Benjamin saw it as depicting "the angel of history" transfixed by the wreckage of the past that is accumulating in front of him while being propelled into the uncertain future by progress.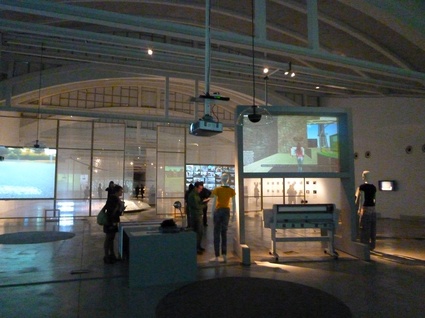 View of the exhibition space: upstairs
Curated by Steve Dietz and Christiane Paul, the show explores a 21st century made of deep inequalities, complex tensions and a general feeling of instability. Can we count on the media to reflect accurately the political and cultural landscape? Are the media addressing and monitoring the disturbances that surround us? Or are they instead accomplice to the situation?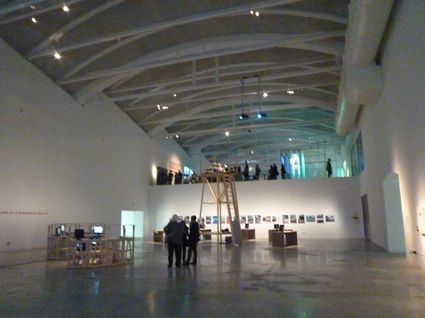 View of the exhibition space: downstairs
If the media do not do what we expect from them, can art step in? Which kind of role can artists play in this scenario? Is providing feedback to what they observe enough? Shouldn't we instead hope that they will adopt a more "feed-forward" attitude and inspire greater awareness and collective reaction?
The 29 artworks on show do not pretend to provide all the answers nor to cover the full spectrum of the dilemmas and tensions of our time but they explore them under many different angles. The art pieces are distributed according to five themes. One of them investigates the "wreckage" of the 21th century created by conflicts, corruption, economical inequalities, terrorism and corporatism.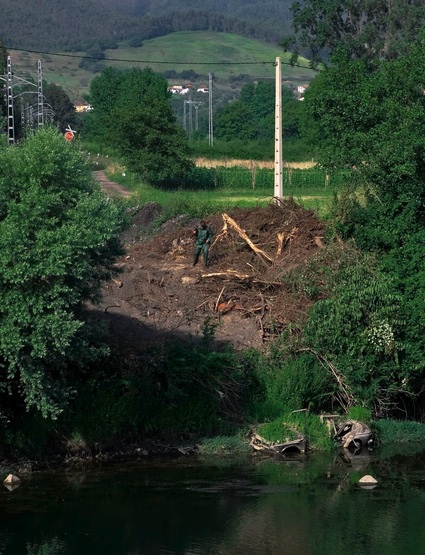 Proyecto Coche: excavando el final del siglo XX. Image Barbara Fluxá
Proyecto Coche explores the wreckage quite literally. A few years ago, Barbara Fluxá discovered a Seat 127 car in the Nalón River, Asturias. Together with an archaeologist she excavated the car and documented its removal, conservation and transformation into a beautifully polished debris.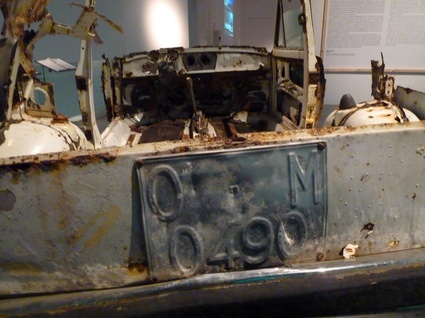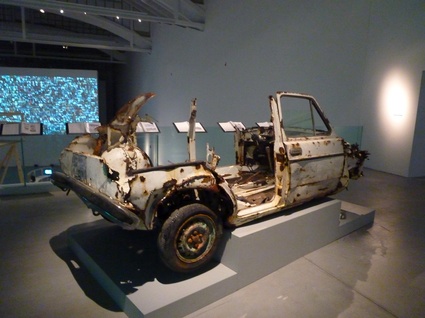 The car's specific re-discovery parallels the dawning realization of the automobile's unsustainable cultural role at the beginning of the 21st century. After the exhibition, the car will be abandoned yet again, this time at a scrap yard where it will be dismantled for re-use. Proyecto Coche is part of a series of projects that focuses on material culture as a reflection of consumer society.

Baghdad In No Particular Order, Paul Chan, photograph 2003
Baghdad in No Particular Order consists of footage that Paul Chan shot when visiting Baghdad in 2002 as a member of Voices in the Wilderness, a group formed to nonviolently challenge the economic warfare being waged by the US against the people of Iraq. The video essay of life in Baghdad shows Iraqis engaged in everyday activities. The images are almost shockingly banal. They shows Iraqis in their homes, at work, among friends, in places of worship. It's the daily, unthreatening life newspaper don't show us. Six year after the beginning of the war, Chan's film amplifies awareness of the damage inflicted on human lives. The people that appear in the movie have survived the first Gulf War. They've been dragged into another war, into oppression and occupation. Are they still alive today?
Another theme explored by the exhibition is the countermeasures of surveillance and repression that the state as well as global capital set up in an to attempt to maintain control and clean up or minimize the wreckage.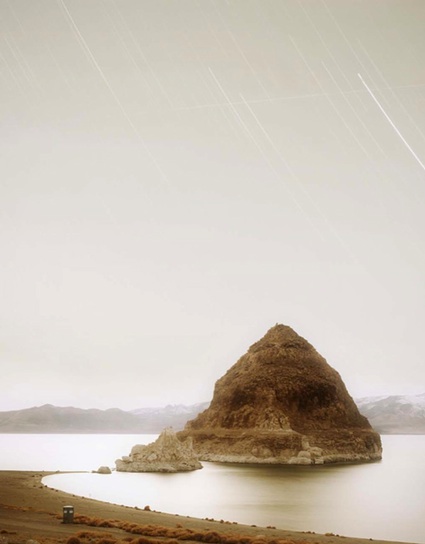 DMSP 5B/F4 from Pyramid Lake Indian Reservation (military Meteorological Satellite; 1973-054A), 2009. © Trevor Paglen
Trevor Paglan's Limit Telephotography photo series uses high powered telescopes to picture US government "black" sites and spy satellites. Paradoxically his images deepen the secrecy of their subject rather than uncover it. Limit-telephotography most closely resembles astrophotography, a technique that astronomers use to photograph objects that might be trillions of miles from Earth. Paglen's subjects are much closer but also even more difficult to photograph. To physical distance, one has indeed to add the obstacle of informational obfuscation.
To be continued…
FEEDFORWARD – The Angel of History is on view until April 5, 2010 at Laboral Centro de Arte y Creación Industrial in Gijón, Spain.