About time to finish off my reviews of New York art shows. Only two left. One is over -but god was it good, the other one runs until June 21.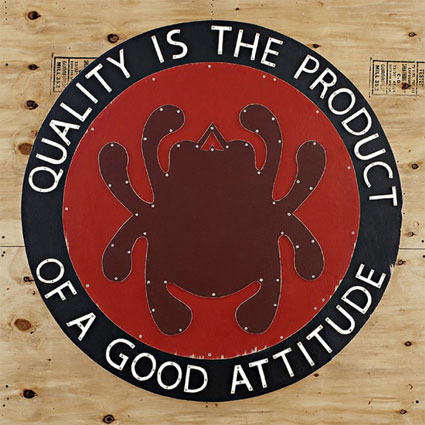 Quality, 2008
The one exhibition i could not miss was Tom Sachs' lineup of new works at the Sperone Westwater. The show is called Animals so there's a fair amount of pieces which explore the presence of the animalistic in our everyday lives but there's also some quirky machines and installations.
Sachs cultivates a trashy aesthetic. Each of his sculptures is hand made by piecing together plywood, foamcore, synthetic polymer paint, hardware, and found or scavenged objects such as phone books or police barricades. There's no Prada Death Camp nor Chanel guillotine in the gallery this time but the titles and content of some of the works are nevertheless sure to get the public's attention.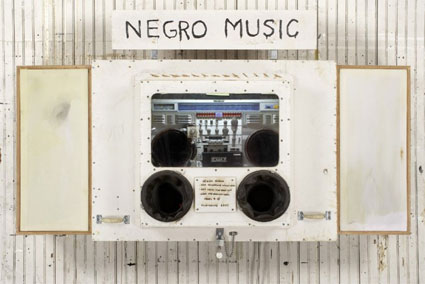 Negro Music, 2008
Detail of Negro Music
First there's Negro Music which you could regard as interactive. It's a big white-painted box with a retro gangsta-style boombox inside, you insert your hands inside orange rubber gloves, rummage inside the box, select a k-7 of your favourite "negro" music, fiddle with the control buttons and play the music as loudly as you wish inside the gallery.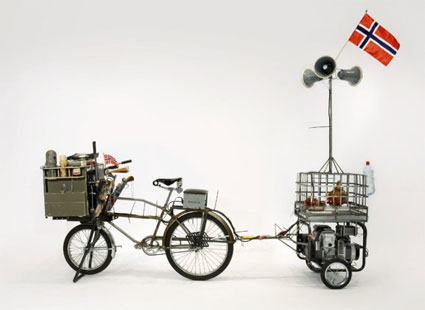 Waffle Bike, 2008
And Waffle Bike! Sachs has even crafted a mighty waffle-maker-bicycle, complete with a mini-fridge, a cage for chicken to lay fresh eggs as well as components to hold ingredients like whipped cream, and others we have never heard of in waffle-heaven Belgium like Pam cooking spray, and lingonberry jam.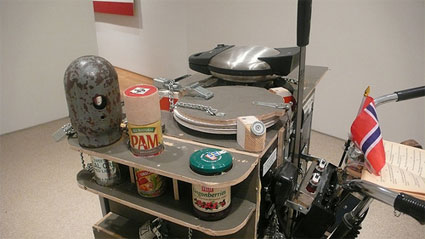 Detail of Waffle Bike
Hardcore is already the third in a series of large-scale gun chests inspired by Renaissance dueling cabinets. The huge cupboard is shockfull of handmade wooden guns along with the tools that were used throughout their fabrication.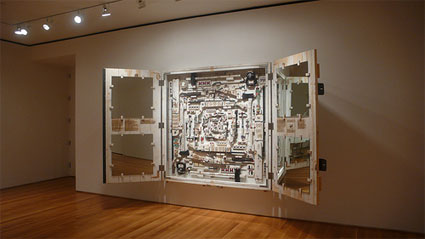 Hardcore, 2008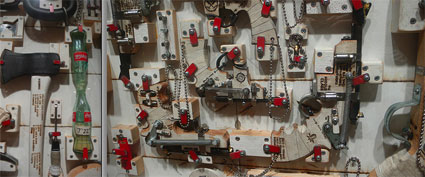 Details of Hardcore, 2008
Exhibiting these cabinets is not without a risk. As art on trial reports, Manhattan art dealer Mary Boone displayed one of them in her gallery back in 1999. The cabinet contained homemade guns but also a vase containing live 9-millimeter cartridges which visitors were invited to take as souvenirs. Ms. Brown was arrested by the police and charged with unlawful distribution of ammunition. When it was determined that the homemade guns were functional, police added unlawful weapons possession charges.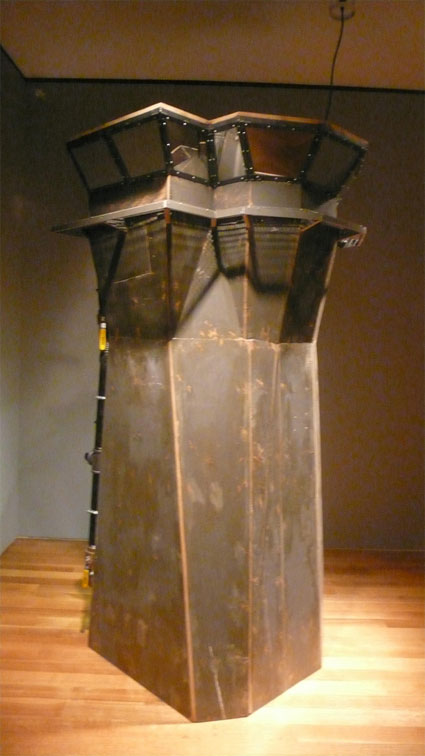 Then there are the Animals which give the tile to the show. There's a couple of installations made to please some of them such as La Guardia, an impressive tower for the exclusive use of cats and featuring a litter box requiring minimal cleaning chores, a McDonald's that serves cat food, a Japanese Zen garden with a video of clouds and birds chirping, and a penthouse with a paw-operated catnip atomizing spray.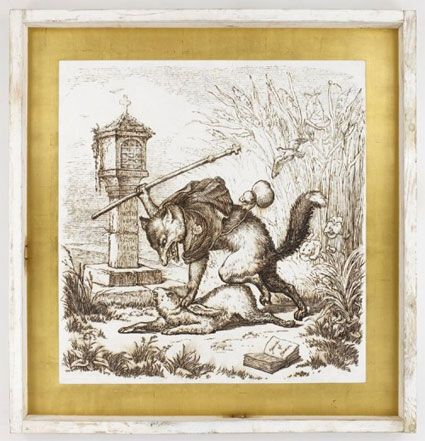 Hours of Devotion, 2008
There's a white whale on a black piano and a tiger lamp. Most of the show is just good old Sachs fun, bricolage and subversion. The public loves it so why should Sachs change the magical formula?
The real surprise (at least for me) were the pyrographic works depicting cruel fables. They are conventional in their making and very La Fontainesque, although one suspect that most of the stories end very badly for whichever weaker creature stands in the way of the choleric wolf or the lecherous lion.
At Sperone Westwater until June 21. My Tom Sachs images.
Previously: Tom Sachs at the Fondazione Prada in Milan.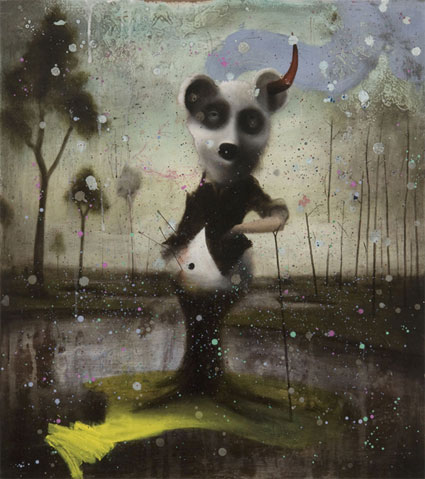 There is an end in flight, 2008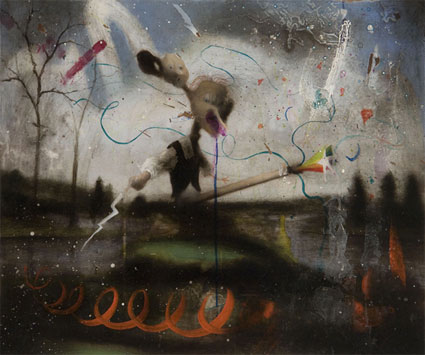 Trumpets of triumph, 2008
why on earth?, Anthony Pontius' solo exhibition at 31 grand closed on May 24 but i liked it so much that i can't help mentioning it here. Pontius recontextualizes historical imagery, stories and concepts in the today's world, mixes past and present techniques, and builds a universe which under some aspects looks familiar but is difficult to interpret and understand at first sight. The second sight doesn't help much but that doesn't prevent his paintings and studies from being utterly charming.