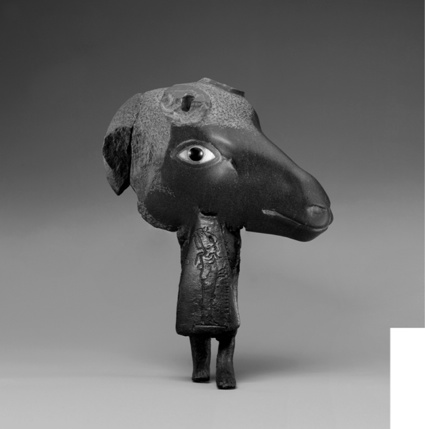 Iconoclashes (Collaboration with Clement Valla), 2013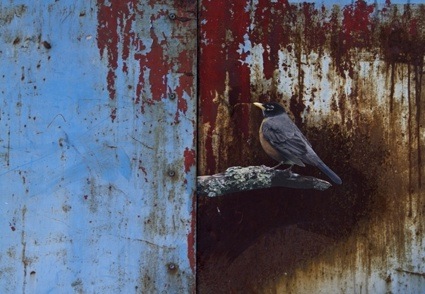 Birds, 2006 ongoing until 2017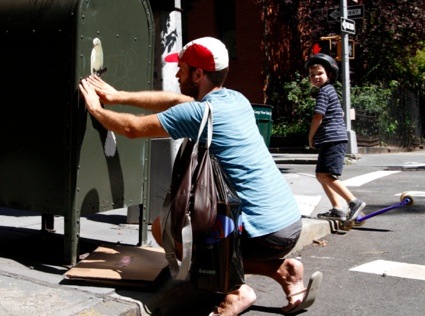 Birds, 2006 ongoing until 2017
Erik Berglin is a young Swedish artist whose practice spans from interventions in urban environments to fact/fictional storytelling about forgotten stories to appropriation of images found online. Recent works have been exploring the possibilities to generate images with the help of computer algorithms.
Berglin graduated from the University of Photography in Gothenburg only 4 years ago. Yet, he mostly works with photos others people have made and uploaded online. Many of these photos have been roaming from flickr to forums, from tumblr to google image pages before the artist encountered them. There's something very nonchalant about the way Berglin watches the world go by through his computer screen. It is nonchalant but it is also consistently good and very contemporary in the sense that he is a contemporary artist who is young enough to be perfectly at ease with the internet and who brings his own artistic sensitive and critical point of view to it (whereas i often feel that most artists nowadays are either 'traditional' artists who work 'with the internet' because this is the thing to do indeed or they are media artist who strive to modify their portfolio so that it will be more appealing to the art market.)
In any case, the art that Berglin masters to perfection is the good old art of appropriation. He picks up an image, modifies it or not, brings it into a new contexts and gives it a new meaning. The result is a portfolio full of humour, poetry, and absurd comments on our absurd society.
Here's my interview with the artist: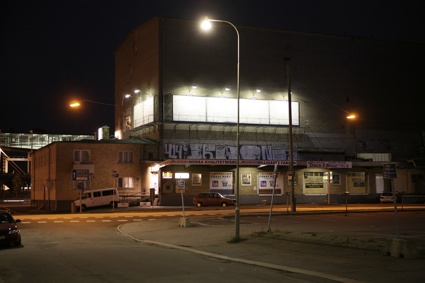 A NON-INFORMATIVE WORLD, A recording of an action at Masthuggstorget in Gothenburg. the 19th of august, 2007. Collaboration with John Skoog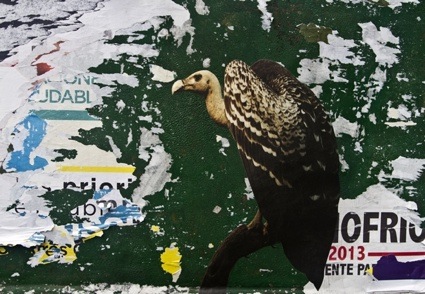 Birds, 2006 ongoing until 2017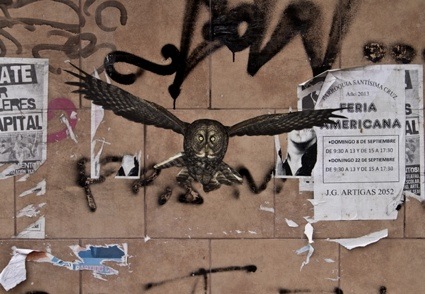 Birds, 2006 ongoing until 2017
Hi Erik! You been installing life size photos of birds on the streets since 2006. The series, called Birds, is an homage to John James Audubon who worked 12 years (1827-1838) on his book Birds of America. What made you want to make a homage to Audubon's and his work?
I usually start of new projects without thinking to much about why, if I would be concerned about that I would probably not make any art at all. Therefore I also start a lot of projects that in the end are not very interesting but I think it is important to follow your instinct and try ideas before questioning weather they are good or bad.
A teacher once told me the importance of letting yourself be "after hand inspired" (does not translate very well to english) finding reasons once the project is moving. This is very much the case with BIRDS. It started during my first year at art school together with my friend John Skoog. It started of as a 2 week performance piece, we slept in the gallery during the opening hours and put up birds (in scale 1:1) around the city at night. In the gallery we left small traces of our activity, like bird books and maps with indications of where we´d been, etc. We put up around 1000 images of birds and in a small city like Gothenburg it was quite noticeable.
At this time I did not know about Audubon's project but I thought is was so much fun that I kept putting up images of birds wherever I travelled. I also started doing research about interesting stories involving birds in art history, technology, popular culture, etc for another show (Archaeopteryx and other birds).
In an old bookstore in Brooklyn in 2008 I found a reprint of Audubon's Birds of America. I knew instantly that I wanted to make a similar book with the documentation from BIRDS project but first I had to keep it up 12 years – just like Audubon.
BIRDS, filmed by Jonas Nordborg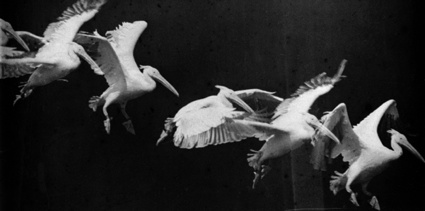 Archaeopteryx & other birds, 2006 – ongoing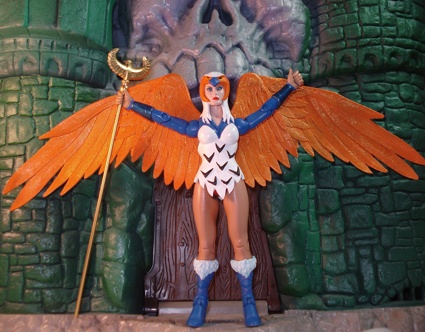 Archaeopteryx & other birds, 2006 – ongoing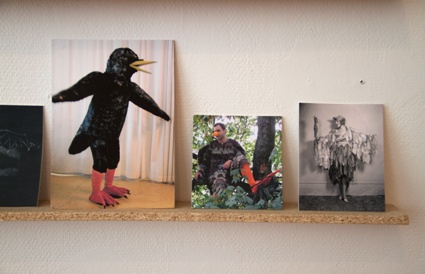 Archaeopteryx & other birds, 2006 – ongoing
You mention on your website that it is 'really hard to keep something up for 12 years'. Why so? Is it because it gets boring? Because you get caught in new projects?
I think I wrote that on my page to keep it real somehow. I am a very restless person, so to work on the same project for 12 years is not really something I should be doing. It can get boring from time to time but of course I don´t work with this project full time. Now it´s only 3 years left so it´s becoming real in a way. I am really excited about making the book and showing it in world wide exhibition tour!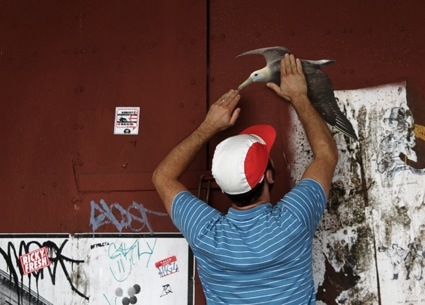 Birds, 2006 ongoing until 2017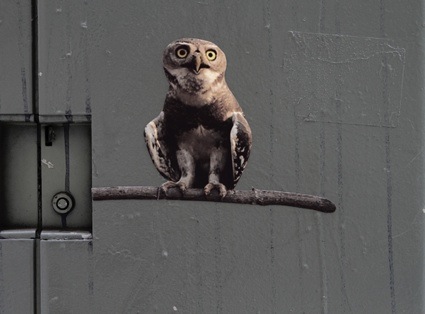 Birds, 2006 ongoing until 2017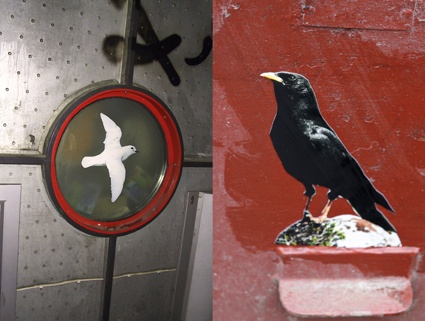 Birds, 2006 ongoing until 2017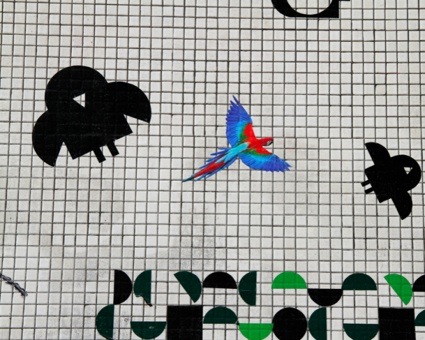 Birds, 2006 ongoing until 2017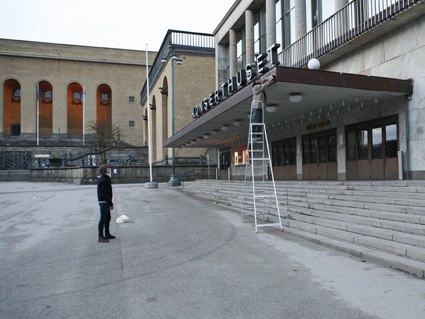 Birds, 2006 ongoing until 2017
How do you decide which bird will end up where? Is it completely random?
Oh no, it´s absolutely not randomly. I can walk around for hours without putting up a single bird. It feels very important that the birds fits in its surroundings, in terms of color but also shape. If the birds is sitting on a branch for example it all have to make sense on that spot. I only make 1-3 images of each bird, cutting them out by hand and there quite expensive to make – so it´s important that it looks good on the wall. I try to make them look natural, so that one might think, at least for a second that they´re real!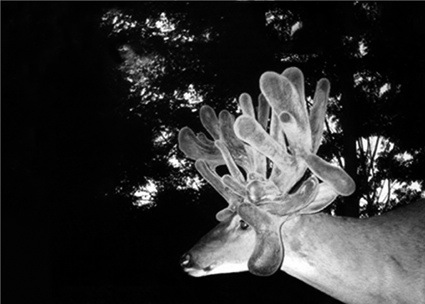 Blinded By The Light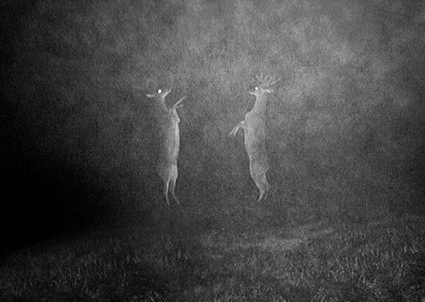 Blinded By The Light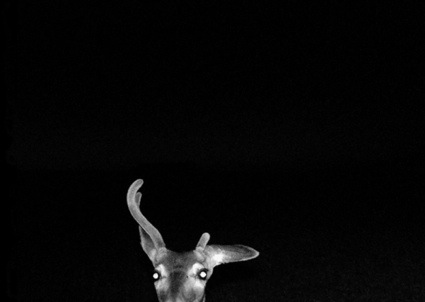 Blinded By The Light
I'm curious about the source of the images you use in some of your works. In Blinded By The Light, for example, you use found (and truly superb) images made by automatic cameras placed in the woods by hunters to locate prey. Where exactly did you get hold of these photos? On hunting forums? And how did you discover their existence?
I am interested in images that are forgotten or lost (kinda like things one can find in a flea market). The last years my artistic practice has therefore made me explore the internet as a public space full of lost and forgotten things. The images of deers in the forest are a result of that. The web is flooded with images, only on social medias there are millions of pictures uploaded each day. I think this vast material is interesting to explore. With the trail cam pictures I also thought is was amazing that the images where made without a decisive moment and in complete lack of human thoughts or esthetics. It was as if the deers where taking self portraits since their movement triggered the exposure.
When I first saw these images I thought it was the most sublime thing I´d seen. I got extremely obsessed, I wanted to see more and more, without planing to make a project about it. I started collecting thousands of images from hundreds of different sites and forums for hunters around the world. For them the images are not beautiful, there just proof that it´s time to go hunting. In that sense I consider this material lost and I try to give them a new meaning.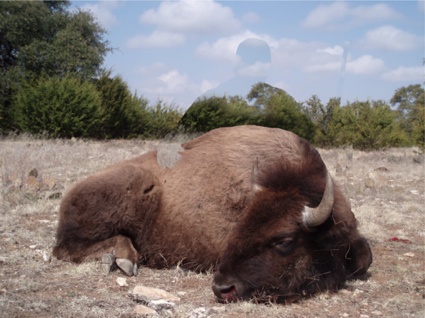 Surrounding Camouflage, 2012 – ongoing
How about the images you collected for the hunting trophies series? Where do they come from?
This project actually came just before Blinded by the light and they are definitely related, I worked on them simultaneously and sometime found material on the same sites. But with that project I had a clear vision with how I wanted to use the material – erasing the hunters from their images.
Did you work on those to highlight that hunting is bad? Or do you take an absolutely neutral stance?
In general I want to be an observer, I guess that could also mean I´m neutral. I want to present things that I´ve noticed or found peculiar, but it´s up to the viewer how they want to interpret the work. I always try to have a fine balance between content and esthetics, I think both are important in order to make interesting art.
I don´t think hunting is bad, on the contrary, game meat is by far a better option if you wanna eat meat. However I definitely think trophy hunting is outrageous and Surrounding Camouflage is definitely an attempt to highlight the absurdity with killing animals without intention of using the meat. During the time I was working with these image I became very fascinated in the esthetics in these images, there seemed to be very strict conventions about how they should look.
Don't you ever get into trouble for using found images?
No. I think it´s fair use and also part of our contemporary society. And for at least the last 100 years artist have been using found objects to make art that reflects our times and I think that approach is even more valid today. But who knows, maybe I end up in prison.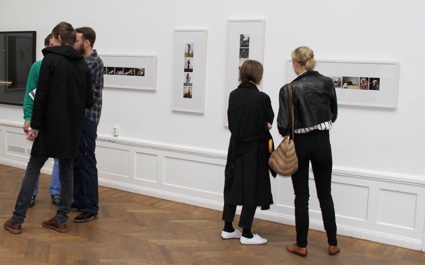 Everything Is Borrowed, 2010 – ongoing
Everything Is Borrowed are collages made using found images that belong to your "constantly growing collection of found images." I like the idea of a collection of found images. So how do you curate this collection? What makes you decide that an image will be part of your collection?
My collection is a mess, that´s why I would never refer to it as an archive, it´s just thousands of random images. I guess it started of as a folder with images that inspired me, I´m sure everyone has a folder like that. When talking about art it´s quite common to start talking about other artworks with more or less resembles. I am just the same and since I am a nerd I always think of art when seeing other images made by anonymous people. I started arranging famous artworks with random pics from my collection which I associated together.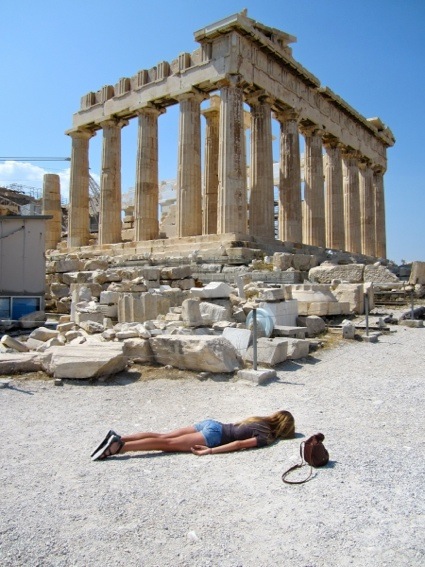 Planking Piece, 2013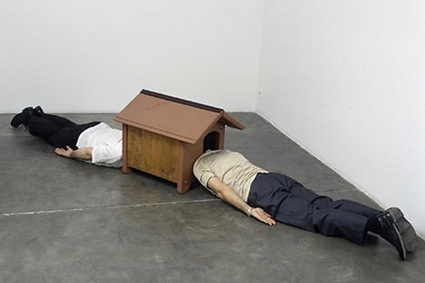 Planking Piece, 2013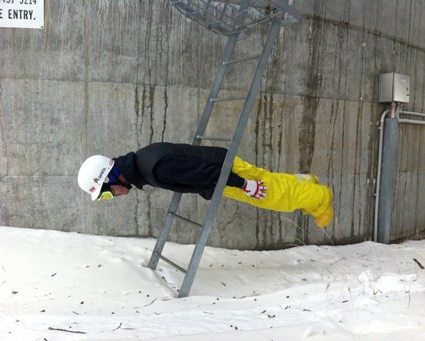 Planking Piece, 2013
And what makes you want to repurpose some of your found images and place them into an art context? If we look at a series such as Planking Piece, all the images are made by someone who is not you and show an individual performing a plank. Again, the individual is not you. So how would you define or even justify your intervention as an artist?
In the planking images I was fascinated that a meaningless activity of laying flat on the ground could become such a viral success. People all over the world without regards of age, income or ethnicity were doing it. I instantly thought of documentations of performances from the 60 and 70 that I love. Richard Long, Vito Acconci and especially Charles Ray and his work Plank Piece (from who I stole the title).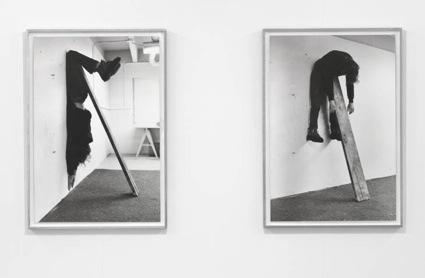 Charles Ray, Plank Piece I-II, 1973
It seemed obvious to me that planking was an instructional performance piece that could be performed by anyone, anywhere. I wish I had come up with these instructions from the beginning but planking is just another "meme" which origin no one really knows. But the images of people planking has a great quality in terms of contemporary art, they spoke to me and had a profound impact. The seemingly dead bodies, the meaninglessness of the act, the lack of faces in the images, it appealing.
Sometimes the work of an artist is merrily to recognize the potential in our everyday life arranged this in an interesting way. My collection and my selection of planks is a document of this phenomena and a historical document. As an artwork it will probably make more sense in a hundred years from now, when planking is long forgotten.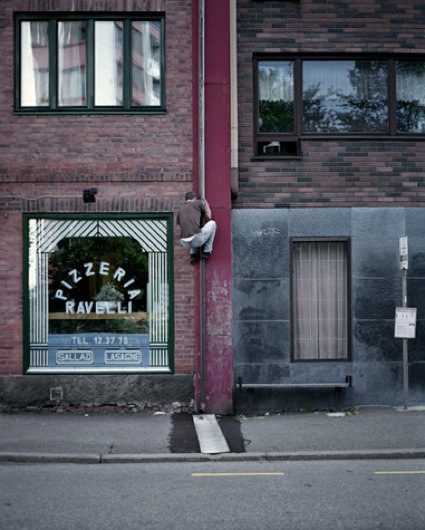 New And Old Possibilities, 2006 – ongoing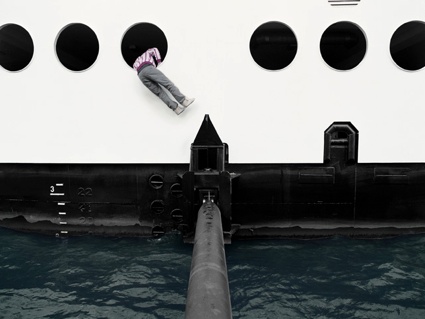 New And Old Possibilities, 2006 – ongoing
Have you ever thought about what your work might be like if internet hadn't been invented yet?
I love subjective documentaries (Werner Herzog, etc) so maybe I would be doing that kinda stuff if I was not doing what I am doing now. But before I started working with material found online I was doing interventions in urban and public spaces with found objects so maybe I would have kept doing that. However I think the internet and public spaces are very similar and in many ways I have the same approach to things I find online or in streets.
I was reading an interview of you in which you explain that you were working on a project called The Lions Den. The story behind it is incredible and sad (a man who goes to great lengths to find the lion what will kill him.) What happened to the project?
That project is still in progress, I´ve been collecting some materials but not had time to finish it. I work on most on my projects for many years and In The Lions Den is part of a bigger work which includes sad and forgotten stories about people who died under strange circumstances. Stories Concerning Eldfell is the first chapter in this work, In the Lions Den will be nr 2 and then I want to follow up on a story about a woman in Ghana.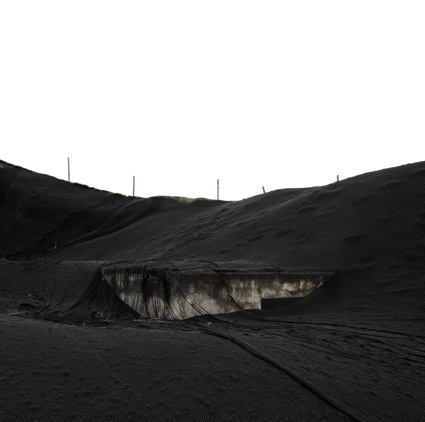 Stories Concerning Eldfell 1973 – 2013, 2009 – 2013
I'm now curious about the series about the woman in Ghana that you mention. what is the story behind it?
Hahaha sorry but I´m not sure I want this in the interview since I will not be able to make anything out if this until a few years from now.. but I can tell you shortly that it is about a voodoo woman that lay a curse on the construction of a huge dame (a the time the biggest in the world). The construction would put the most fertile part of Ghana under water and force a lot of people to move, but it would also generate electricity for the hole country + a huge American steal factory. Because of the scale of the hole operation, the voodoo woman knew that in order to give the curse validity she had to make a huge sacrifice. So she drowned her self in the river… but I will not tell you what happen after.
Any upcoming research, work, event, exhibition you'd like to share with us?
I have projects for the next 20 years, the problem is only to know which one to do first.
Last year I did 20 shows and this spring 8, so actually right now I decided to not have too many shows for a while and focus on finishing new projects. But it´s really hard for me because doing shows is what I enjoy most. Because of money and time I think my next show will be a miniature museum: The Museum 1:10. The visitor will be able to walk around a model of a space an look at miniature versions of my new work. This way I can show lots of things in any space. The show will have an audio guide and a comprehensive catalogue. Maybe I build the miniature as a replica of Moma and just make it to a huge retrospective in miniature…
Thanks Erik!
(And huge thanks to Geraldine who introduced me to Erik's work!)