Previously: OrganOOn at Electrified.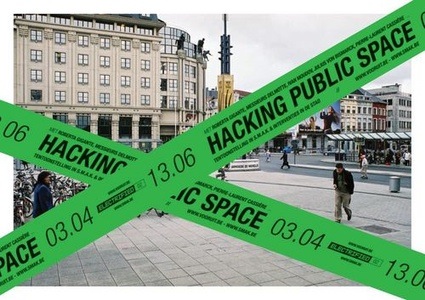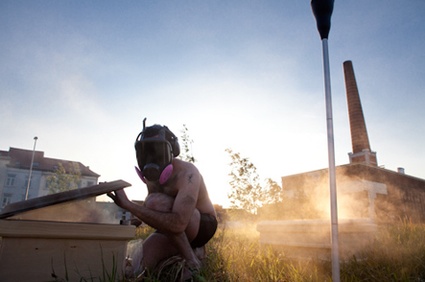 Lucas Murgida. Photo: Reinout Hiel for Vooruit. All rights reserved
It seems like ages ago that i dragged my photo camera and laptop at the biennial Electrified – Hacking Public Space in Ghent, Belgium. Yet, it was one of the most refreshing events i've visited this year. In a rather unusual move, Electrified brings together two contemporary art institutions which have different orientations: S.M.A.K. is a museum with a focus on visual art and Vooruit is an art center dedicated to media art, sound and performance art. At the core of the collaboration is a desire to expose the frictions but also the connecting threads that the two institutions might want to explore together.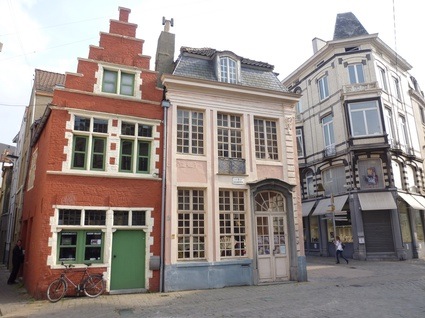 Ghent: City center
The theme of the biennial this year is Hacking Public Space. Sixteen artists, with strikingly different backgrounds, are showing new and existing work in the S.M.A.K. museum. More than half of them are also undertaking actions -or 'city hacks'- in the town. Many of these actions are unannounced, some of them even remain a surprise for the organizers until almost the last moment. The actions are video documented and gradually inserted into the exhibition space over the course of the biennial.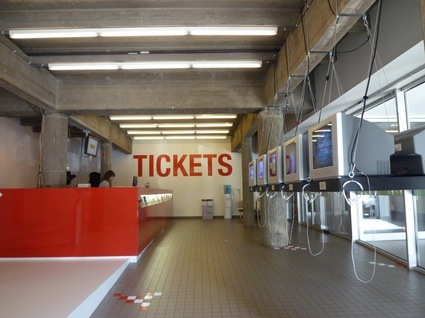 Video documentation of the performances in the entry hall of Vooruit
For Electrified 02, public space has to be explored in its broadest sense, one that doesn't distinguish between real and virtual public space. In this context, the term 'hacking' refers to the guerrilla-like nature of some actions on the internet and at the same time to equally clandestine 'squatting' in the physical public space. Moreover, a Flashback section brings the biennial into a historical context by documenting the work of artists who pioneered actions in the public space in the 70s, 80s and 90s. Alessandro Ludovico, the famous editor of Neural magazine, has curated a Flashback section that presents online works which hack the internet territory. On June 2, Ludovico will give a lecture about the online works he selected for the biennial. Don't you dare miss it if you're in the neighbourhood!
Here's a small selection of interventions created by some of the artists invited to take part in Electrified 02: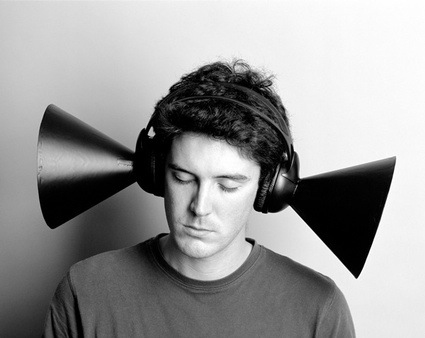 Pierre-Laurent Cassière, Autoportrait au schizophone, 2006
Pierre-Laurent Cassière 's contribution to Electrified 02 keeps on exploring the limits of human perception and sound pollution. In 2006, Cassière created the Schizophone, a simple (not tech required!) set of headphones that makes anyone who wears it doubt their perception of sounds in the environment. With no electronic applications, the two conical hearing aids are shaped so that the slightest shift in space (even just turning one's head) causes the wearer to experience a sense of disorientation. Video.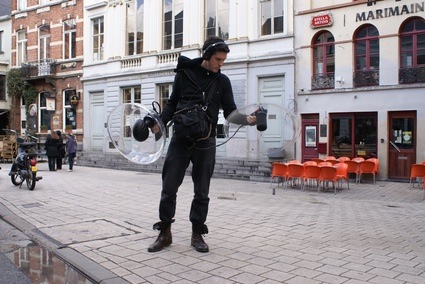 Pierre-Laurent Cassière in Ghent. Image by Kurt Stockman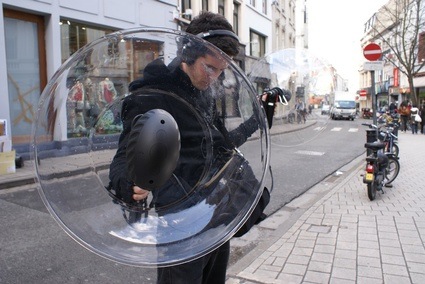 Pierre-Laurent Cassière in Ghent. Image by Kurt Stockman
The Transphere (urban soundscape bending), a sound object which Cassière devised at last year at Summercamp Electrified, is a sophisticated evolution of the Schizophone. The Transphere, an instrument for 'urban soundscape bending, behaves like an electro-acoustic 'performance' in which the performer breaks into the normal arrangement of ambient sounds. The instrument consists of two parabolas, one in each hand, whereby one acts as a microphone and the other as a speaker. Schizophone is available for you to try at S.M.A.K. while Transphere is 'activated' by several unannounced actions in the city. With Trans-Sphere, an instrument for 'urban soundscape bending'.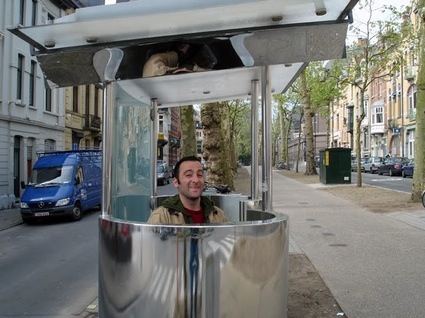 Lucas Murgida, Private(s). 2.0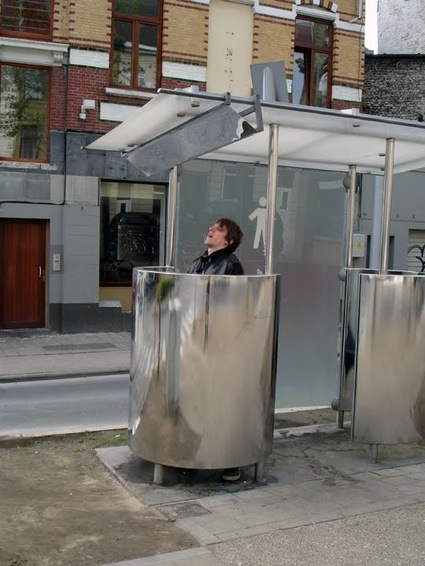 Lucas Murgida, Private(s). 2.0
Furniture-maker, lock specialist and artist Lucas Murgida added a mirror to 2 of the public/private male urinals in the city, giving passers-by a sneak peek of the joy of public urination as a unwitting man relieves himself. People assume they can encounter privacy in public places. Some men find it behind a tree, down an alley, or under a bridge. In parks people lay claim to a patch of earth by spreading a blanket on the ground. Phone booths and bathroom stalls have been especially installed in public space by cities to give citizens private moments. Murgida reverses the "unspoken social contract" that gives a person the right to create privacy in public space, reminding us that public/privacy is nothing but an illusion and a creation of society.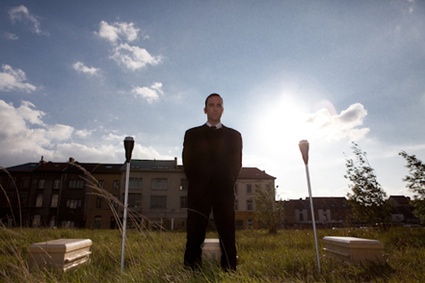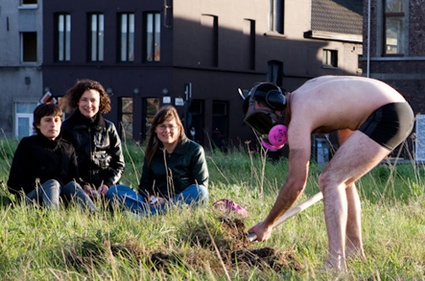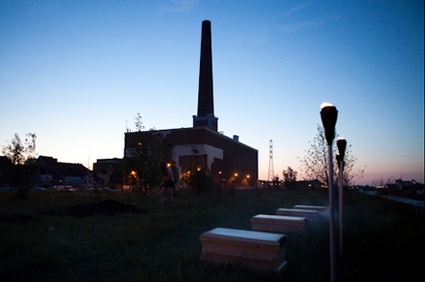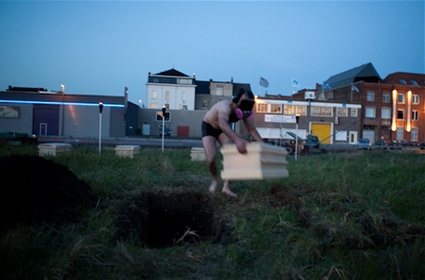 Lucas Murgida. Photo: Reinout Hiel for Vooruit. All rights reserved
In another public intervention, Murgida dressed as an undertaker, then stripped down, donned a gas mask and buried homemade, child-size (but fortunately empty) coffins in a strip of green by the dock.
With his performance the artist grabbed passersby's sensitivity and emotion. People had no clue about what was going on, they didn't know why a man in underwear and gas mask was silently burring a child's coffin but the image could only linger in their mind long after they went back home.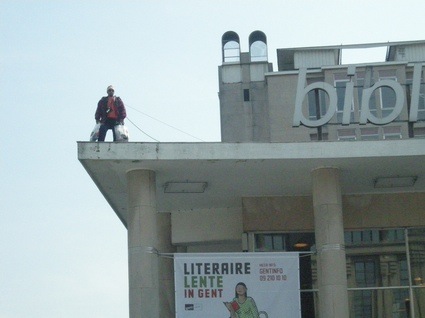 Ben Benaouisse. Image by Steven Thanghe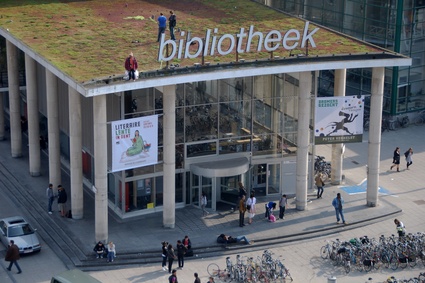 Ben Benaouisse. Image source: Gentblog
Dancer, performer and visual artist Ben Benaouisse dressed as a homeless immigrant and perched himself on the roof of the public library and other buildings around the city. In his role of a 'roofless' (a homeless man on a roof) he addressed passersby and asked them to take a picture of him, capturing thus the view that Ghent inhabitants might have on tramps of immigrant origin. The portraits can only be collected by accident, when they pop up on blogs, on flickr or sometimes in newspapers.
Other artists participating to the biennial: Carlos Rodriguez-Mendez, Amilcar Packer, Simona Denicolai & Ivo Provoost collaboration Alec De Busscher, Dogma00, Javier Núñez Gasco, Messieurs Delmotte, Wilfredo Prieto, Miet Warlop, Helmut Smits, Christophe Bruno.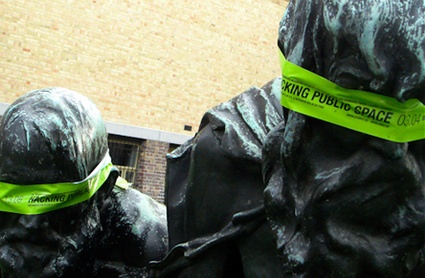 Photo: Reinout Hiel for Vooruit. All rights reserved
Previously: Lucas Murgida's performance at the Conflux festival in 2008.
The biennale Electrified – Hacking Public Space is on view at Vooruit Art Center and S.M.A.K. in Ghent (BE) until June, 13, 2010.