DVD-to-Mobile is a software that turns Windows Smartphone into a Pocket DVD Player. A 128 Mb memorycard is sufficient to store a full length feature film.
You can download a trial version.
Subtitled and foreign language DVDs are also supported, they say: but who can read DVD subtitles on a handset?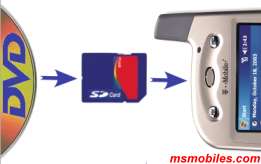 From MSM Mobile.