A nifty solution to the "boredom of filming wedding ceremonies" or the danger of filming in a dangerous environment…
Dokumat 500 is a fully automatic documentary robot. The Robot consists of a modified tripod and a video camera. The tripod moves autonomously around and pans and tilts the camera. It switches the camera and a spotlight, mounted next to the camera independently on and off. So, the documentary videos are edited directly inside the camera and the robot supplies a complete finished end-product. All you have to do is switch on the device and insert a cassette.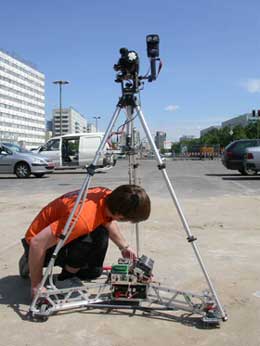 Don't miss the hilarious movie.
By Niklas Roy (you know… Pongmechanik, Grafikdemo, etc.)