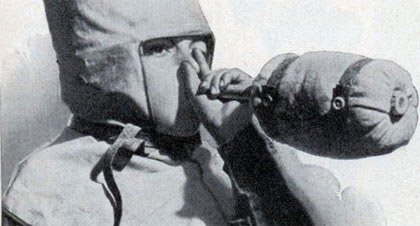 Modern Mechanix has digged this "civilian-designed" gas mask from a 1940 issue of Popular Science.
To provide some sort of gas protection in case of an emergency, an ingenious Scandinavian inventor has designed the improvised mask shown at the left. It consists simply of a hollow wooden tube and a cloth bag filled with chemicals. Air purified by the chemicals is sucked into the mouth through the tube, while the nose is held shut with the thumb and forefinger of the hand holding the mask.
Our gas mask collection:
The Radiograde species, Hidden Agenda, Gas masks for kids, Holocaust installation by Santiago Sierra.