After a stop, I've decided to resume the series about the London's Interaction Design WORK IN PROGRESS Show (11).
Inspired by a guy called Tom who told her that he had bought a woman's double-breast jacket because it had shorter sleeves that kept his wrist tatto exposed, Sohui Won has designed a wearable system for showing tattoos on the body.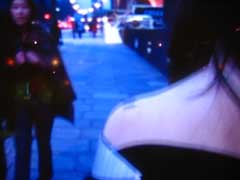 If someone comes close to you, the system pulls the fabric down and shows off the tattoo in the shoulder, ankle or wrsit.
Video at the bottom of the project's page.