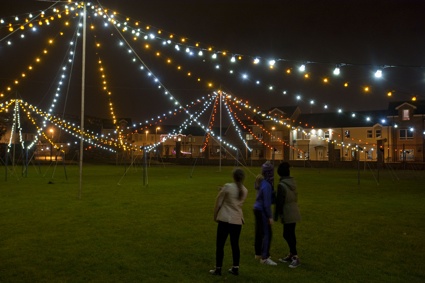 Ron Haselden, Fête. Photo Chris Hill
A couple of weeks ago, i was in Derry/Londonderry. It was my first trip to Northern Ireland. Beautiful landscapes as i'm sure everybody knows, super friendly people, vegan-approved yummy food at the Legenderry Warehouse, some stunning socially-engages exhibitions i'll tell you about later and a city-wide event called Lumiere. Lumiere is a festival of 17 projections and installations that lit up as the night came onto the city. It is a crowd-magnet, a place to bring your family and marvel at what artists and designers can do with light. But don't be mistaken: some of the works had depth and bite.
Here's some of my favourite:
Cleary Connolly, Change Your Stripes. Photo Chris Hill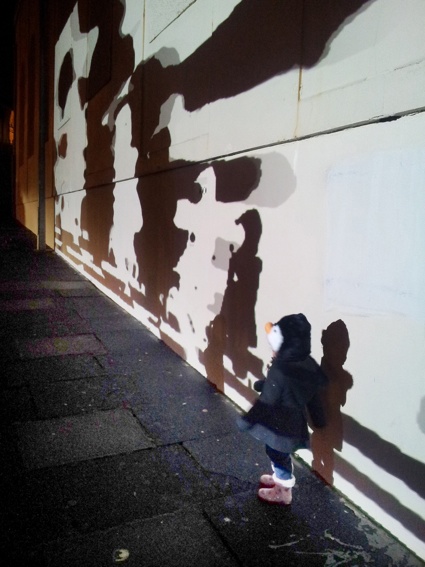 Cleary Connolly, Change Your Stripes. Photo Denis Connolly
I don't think i would have been that impressed had i seen Change Your Stripes by Ann Cleary and Denis Connolly inside a gallery. But in the street of Derry, when evening is coming and people are out to walk the dog and stumble upon the installation, it gains a touch of magic. The artwork only comes to life as you walk past.
The huge ondulating black and white stripes are projected on the facade of the Derry Credit Union. They move as people walk by it. Passersby silhouettes are multiplied and distorted in a fluid, dancing stream like in a living version of a fairground Hall of Mirrors.
At this point, i feel like i should add a few words about Derry/Londonderry's political context. First of all because i found the installation to be absolutely brilliant but far less fascinating than the surrounding Bogside murals. And second because it is difficult to avoid mentioning politics when you find yourself in a city which carries political tensions in its very name(s). Please skip the coming paragraph if, unlike me, you are not crassly ignorant about the local history.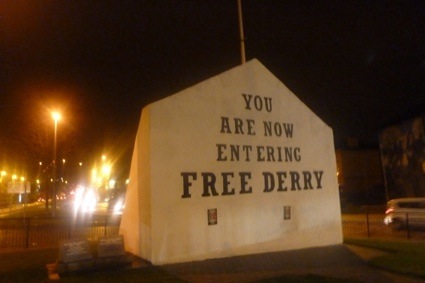 The Free Derry Corner might be a good introduction to the whole Derry or Londonderry issue. It was painted in 1969, shortly after the Battle of the Bogside, one of the first major confrontations of The Troubles, the 30-ish year old conflict about the constitutional status of Northern Ireland and the relationship between the unionists and loyalists (the mostly Protestant community who wanted Northern Ireland to remain part of the UK) and the Irish nationalists and republicans (the Catholic community who dreamed of a united Ireland.) If you're a nationalist you'll call the city Derry, and if you're a unionists you'll use the name Londonderry.
Now allow me to open a parenthesis. From now on i will refer to Derry/Londonderry as 'the city'. I'm already tired of typing that double name over and over. End of the parenthesis .
The sum up above is a bit rough but that should provide you with some context. The Bogside is also the area where Bloody Sunday took place in 1972.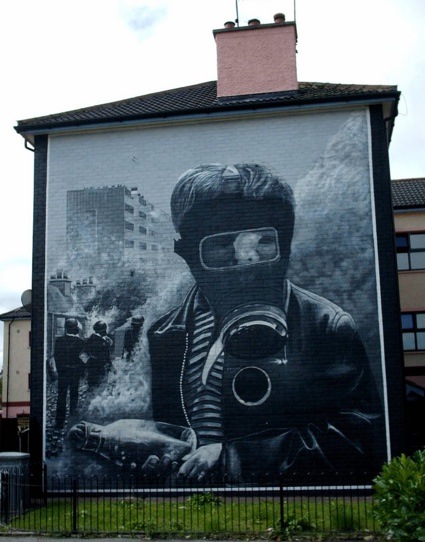 The Petrol Bomber (Battle of the Bogside), painted in 1994. Image by Keith Ruffles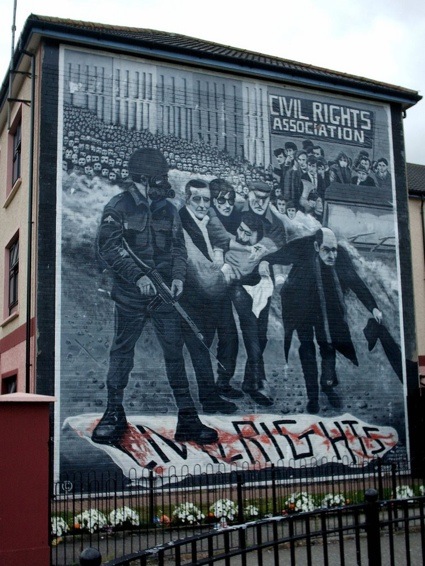 Bloody Sunday Mural. Photo by Keith Ruffles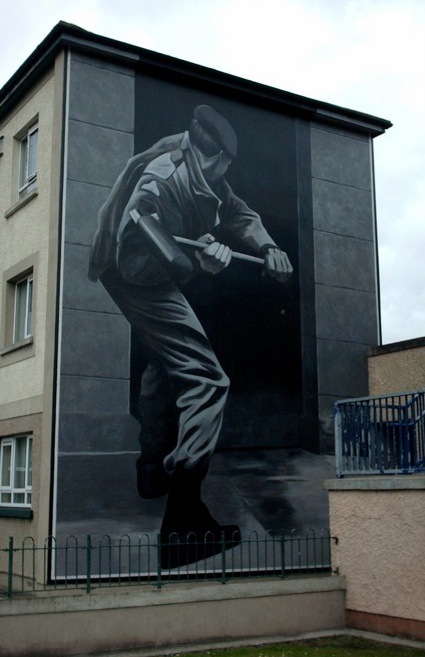 Operation Motorman, The Summer Invasion. Image by Keith Ruffles
But let's get back to Lumiere.
Some artists openly engaged with the local context, others didn't. As was to be expected, Krzysztof Wodiczko created a sharp, deeply moving work about local people's perception and memories of the past conflicts and their hopes for the future of the city.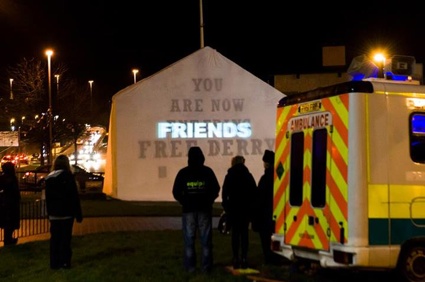 Krzysztof Wodiczko, Public Projection Derry-Londonderry, at Lumiere Derry 2013. Photo Chris Hill
Krzysztof Wodiczko, Projection at Lumiere Festival Derry Londonderry Ireland. Video by Maria Niro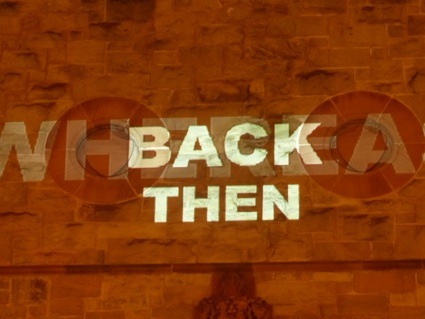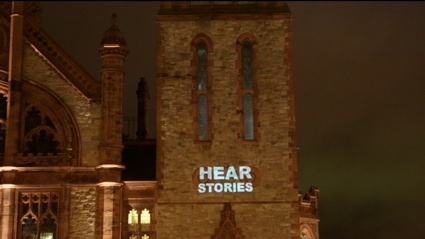 Krzysztof Wodiczko, Public Projection Derry-Londonderry. Photo Maria Niro
Public Projection for Derry~Londonderry was a series of extracts from interviews the artist had conducted with local people. Their words were screened from an ambulance (a fairly ubiquitous vehicle during The Troubles) onto several facades throughout the city .
Wodiczko talked to a cross-section of people, from ex-police officers to victims of the Troubles, from young people growing up in the aftermath of the conflict to people who had got into troubles for being on the 'wrong' side of the political divide at a certain time.
I saw people with tears in their eyes in the crowd….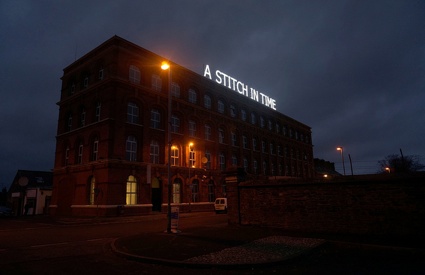 A Stitch in Time, Tim Etchells, 2013, Photo Chris Hill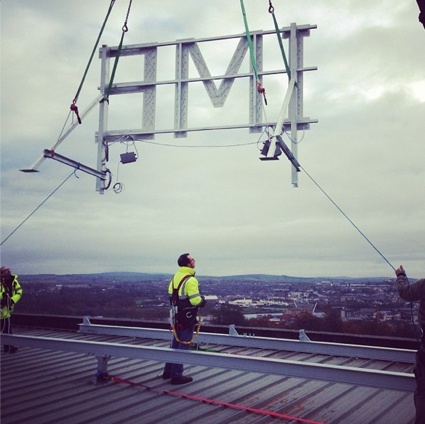 Tim Etchells piece being lifted into place on the roof of Rosemount Shirt Factory. Instagram by Artichoke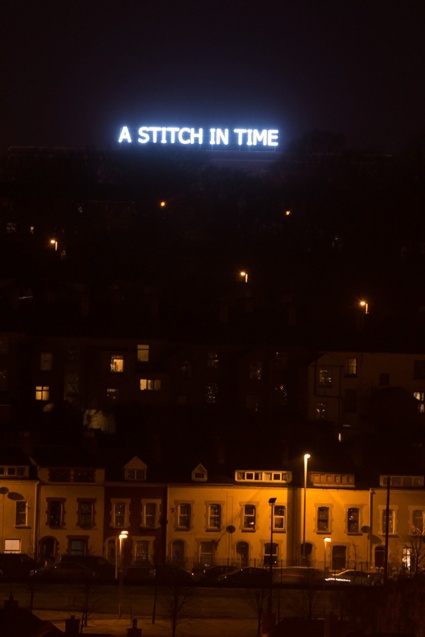 Tim Etchells, A Stitch In Time. Picture Martin McKeown
Tim Etchells installed a few words that paid homage to Derry-Londonderry's shirt-making industrial past on top of the old Rosemount Shirt Factory.
The work was 23 metre long and 2-metre high making it visible from afar.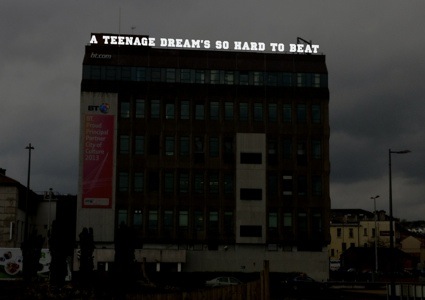 Deepa Mann-Kler">Deepa Mann-Kler, Teenage Kicks. Photo via saatchi online
And so was Teenage Kicks. By this time, you've figured how much i (and the Lumiere festival) like to see big letters invading a city.
The 30m-long neon sign reading "A teenage dream's so hard to beat" sat on top of the city's BT building. It was inspired by the 1978 pop song of the same name, the greatest hit of Derry band, The Undertones.
"My impetus for this artwork is to celebrate a key moment from the history and culture of Derry," explained Deepa Mann-Kler. "I am an Indian woman who grew up in England, but came to live in Northern Ireland in March 1996. One of my abiding memories while growing up in Leicester, were of Northern Ireland during The Troubles, the TV footage of the army, rioting, and then the music of The Undertones."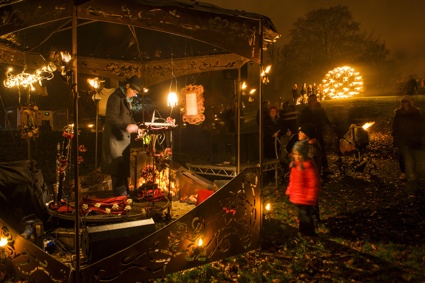 Fire Garden, Compagnie Carabosse, 2013. Photograph by Chris Hill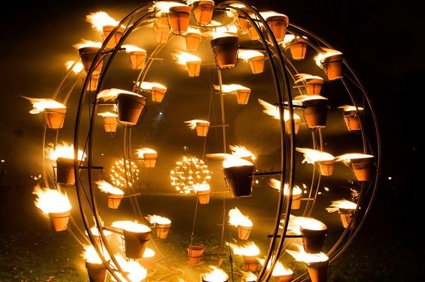 Fire Garden, Compagnie Carabosse, 2013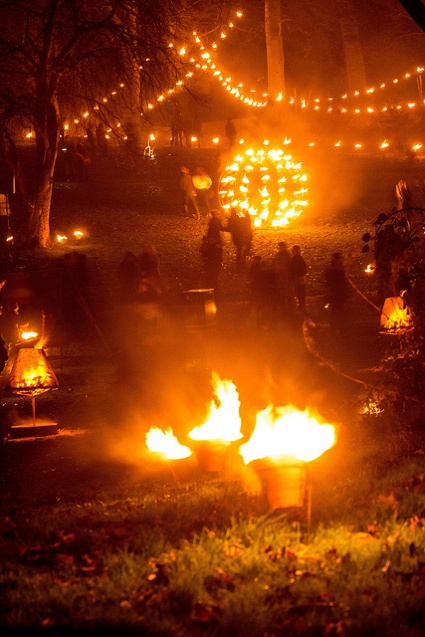 Fire Garden, Compagnie Carabosse, 2013. Photo Martin McKeown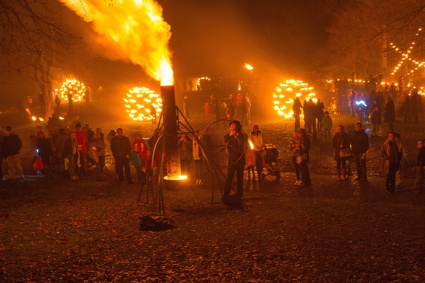 Fire Garden, Compagnie Carabosse, 2013. Photo Martin McKeown
Fire Garden. Video by Derry~Londonderry 2013
Fire Garden by Compagnie Carabosse lit up the whole St. Columb's Park and made you feel like you had just stepped into the set of one of those lavish BBC period drama.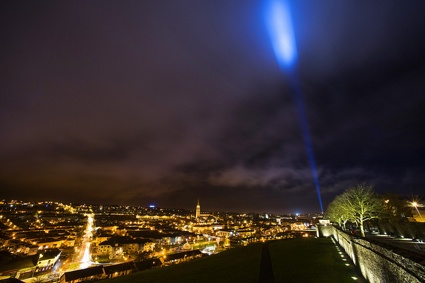 Holywell Trust and the Nerve Centre, The Empty Plinth. Photograph by Chris Hill
The empty plinth was originally topped by a statue of Governor Walker, until it was bombed (twice) by the IRA in 1973/4. It has remained unadorned since then.
Nerve Centre and Holywell Trust gave it a new life with a simple column of white light, as a symbol of togetherness and tolerance of a protestant and catholic cultural identity.
These sound like suitable words to close the post.
A few more images though…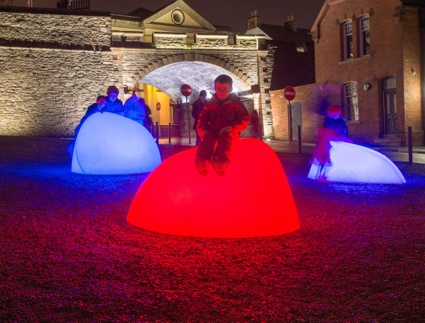 Daan Roosegaarde, Marbles. Picture Martin McKeown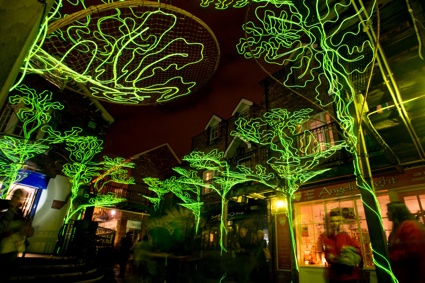 RMS Design, Grove of Oaks. Picture Martin McKeown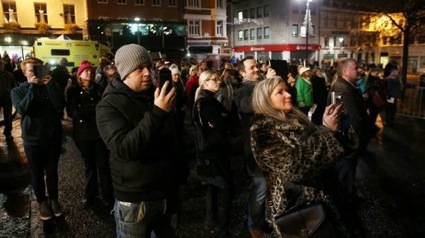 The Lumiere public. Via Telegraph Belfast
Lumiere was produced by Artichoke for Derry-Londonderry UK City of Culture 2013.
Related: Krzysztof Wodiczko: The Abolition of War.