machinaZOIS, by Davide Grassi, is a modified pinball machine that explores the possibilities of raising fundings for contemporary art. The player identifies him/herself with the role of a contemporary artist or producer and, while playing the game, has to raise as many financial subventions as possible by applying to 5 different financial sources. At the same time, s/he has to take care of thousands of other bureaucratic aspects related to the production of the work.
A Committee of Experts then decides whether to approve or deny it.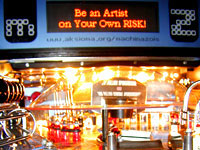 On December 21st 2004, machinaZOIS – Your Electromechanical Patron! will be at Moderna galerija Ljubljana, Slovenia.
Via Aksioma.