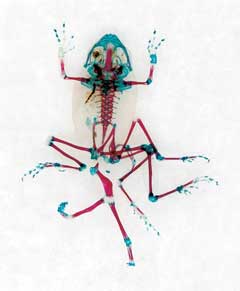 Dear friends and readers living in New York, i'm going to hit your turf soon for a panel rhizome has kindly asked me to set up at the New Museum in Manhattan. If you know me a tiny bit you might have guessed that my first thought was for biotech art. I wasn't sure my proposal would be accepted as the topic is far less popular than interactive screens in public spaces or "sustainable" gadgetry. It's a bit more risky as well. But they said yes and i'd love to meet you on Friday 14, at the New Museum theater, 235 Bowery (map).
The Media Art in the Age of Transgenics, Cloning, and Genomics panel is scheduled at 7,30 pm. There will be the cream of biotech art: Caitlin Berrigan, Adam Zaretsky, Brandon Ballengee, and Kathy High.
If Caitlin doesn't bring her chocolates, i will bring some yummy chocolate cat tongues from Belgium because we're having a party after the panel (details about that will follow.)
Image on top left by Brandon Ballengee: Cleared and Stained Multi-limbed Pacific Tree frog, Aptos, California. Digital imaging courtesy The Institute for Electronic Arts, School of Art and Design NYSCC at Alfred University, Alfred, New York.