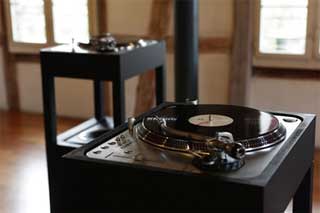 Compact/box, by Bernhard Moosbauer and Oliver B. Rubli, is an installation of turntable sculptures playing records that brings electronic music samples back into the analog world, says be:side who sent me the link to the work. Each of the specially produced 12inch vinyl records have up to 100 endless grooves and each groove contains an endless 1.8 sec. music loop at 133BPM.
The room is filled with up to five "compact/box" modules, each represents one "instrument" within the "orchestra." Visitors are asked to change the playing loops on each of the modules. That leads to a constantly changing sound and rhythm.
More orchestras: with Vacuum cleaners and other household devices; zippers; Gameboys or laptops.
And turntables: the turntable microwave; postvinyl; Computer/Turntable hybrid; Bootleg Objects; video turntable, Yokomono, etc.