In Audiotag, a prototype by Lalya Gaye and Margot Jacobs, from Future Applications Lab in Sweden, previously recorded personal messages are left at hidden places in public spaces to be whispered to by-passers as they lean towards it.
Small boxes, covered by recognizable stickers, are fixed in urban environment. They contain a sampler microchip, a microphone, a speaker membrane, a digital proximity sensor connected to a transistor, and a recording button.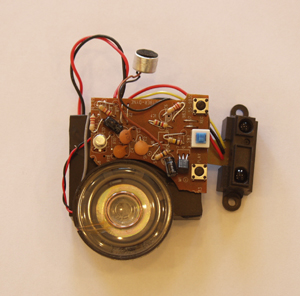 Passers-by notice/recognise the sticker because of its particular yet discrete design, reaches towards it and hear the content of the tag. Others happen to pass by the device (up to 25 cm) without seeing it, and hear its content by accident.
Via Smart Mobs.