Just back from Venice after a visit of what was my fourth and definitely not favourite Architecture Biennale. Mind you, I'm in a minority here, most of the reviews i read so far were very enthusiastic.
I still have to go through the hundreds of pictures i made, the catalogs, leaflets i grabbed and notes i scribbled. Before i come back to you with a fleshier report, here's a quick and easy post about Cloudscapes, one of the most talked about works presented inside the Corderie, a 319 metres long space once used to make ropes and cables for the Italian navy and now hosting a part of the main exhibition.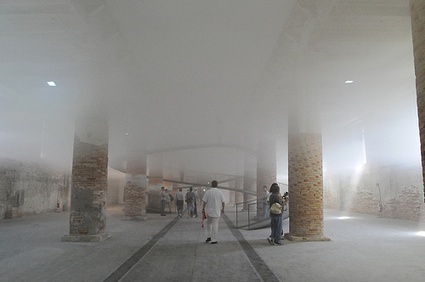 Transsolar + Tetsuo Kondo, Cloudscapes, 2010. Photo: Giorgio Zucchiatti
Architect Tetsuo Kondo has teamed up with German climate engineering firm Transsolar to fill a closed space inside the Corderie with clouds. Clouds, after all, are part of our architecture: they frame outdoor space and filter natural light.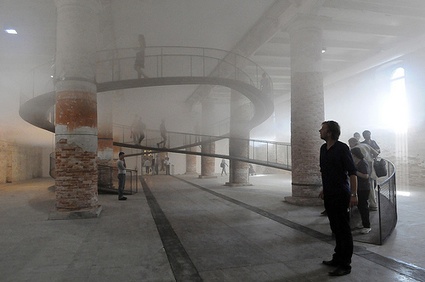 Transsolar + Tetsuo Kondo, Cloudscapes, 2010. Photo: Giorgio Zucchiatti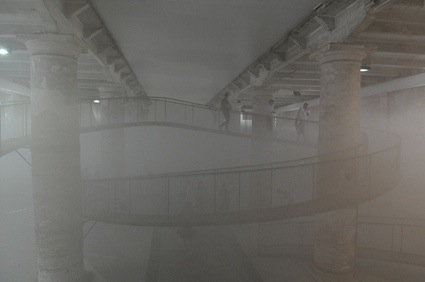 Transsolar + Tetsuo Kondo, Cloudscapes, 2010. Photo: Giorgio Zucchiatti
Visitors can experience the cloud from below, within, and above as they climb up 4.3 meter high helical ramp erected in the center of the room. The cloud is based on the physical phenomenon of saturated air, condensation droplets floating in the space and condensation seeds. The atmospheres above and below the cloud have different qualities of light, temperature, and humidity, separating the spaces by a filter effect. The cloud can be touched, and it can be felt as different microclimatic conditions coincide.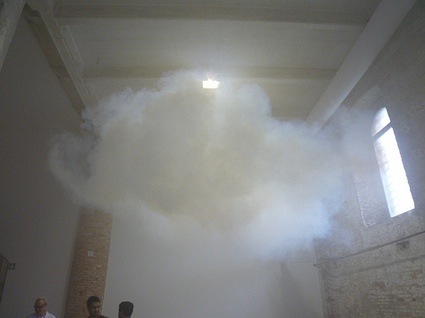 The cloud is created through climate engineering. Three layers of air are pumped into the room: cool dry air at the bottom that keeps the cloud floating, hot humid air in the middle to fashion a dense fog and hot dry air at the top.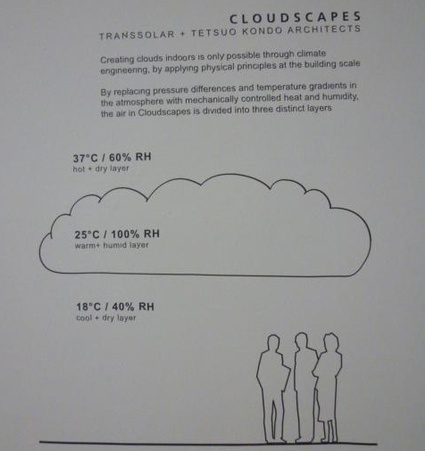 More information in this short interview of founder of Transsolar Matthias Schuler and silent Tetsuo Kondo by Hans Ulrich Obrist:
Matthias Schuler and Tetsuo Kondo interviewed by Hans Ulrich Obrist at the Venice Architecture Biennale 2010
And here's a video of the cloud experience with comments from Matthias Schuler in german:
See also Diller and Scofidio's Blur Building for the 2002 Swiss Expo.
The Venice Architecture Biennale continues until 21 November, 2010.