This edition of the Venice Biennale confirmed once again that the Chinese do know what appeals to Westeners. Curator and critic Hou Hanru has invited female artists -Cao Fei, Yin Xiuzhen, Kan Xuan and Shen Yuan- to create site specific works in the spectacular petrol warehouse and in the Vergini Gardens.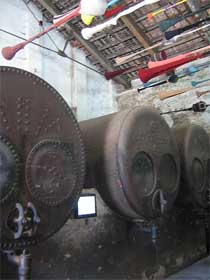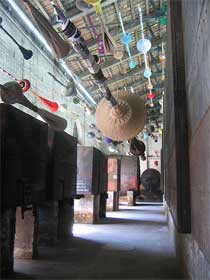 Actually that warehouse is so spectacular that you almost forget about the artworks exhibited there. Yin Xiuzhen managed to compete with the space by hanging 100 missiles, each of them shaped like TV tower and wrapped in knitted fabric, above the petrol containers (in the original project, the huge containers were covered with textiles as well.) There is an unmissable contrast between the feminine, crafty and soft texture of the textile and the masculine (the most appropriate word is "phallic") shape of the TV towers-turned-weapons which perfectly befits the traces of war and blood that the visitor can detect in the former armory.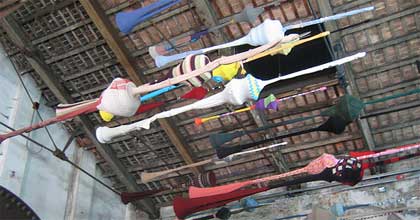 I briefly blogged two of the artist's previous works: International Flight, a seven-metre-long replica aeroplane, and the Portable Cities, a series which uses dirty clothes and discarded materials Xiuzhen finds in the cities she visits to create 3D models of those cities. For another of her previous works, Fashion Terrorism, she turned old pieces of clothing into soft replica of items which cannot be brought on planes (pistols, knives, axes, etc.). She then packed the items in her suitcase and traveled from Beijing to Germany, going through customs and security searches.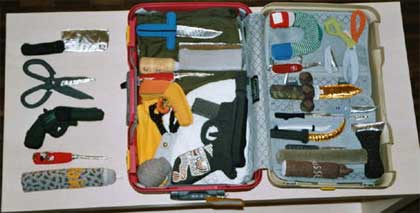 Fashion Terrorism
The most talked about work is Cao Fei's exploration of the online world (yawn!) Second Life. Let me just point to New World Notes where Wagner James Au had the artist talk about her project. And to a second interview of Cao Fei at Art Fag City.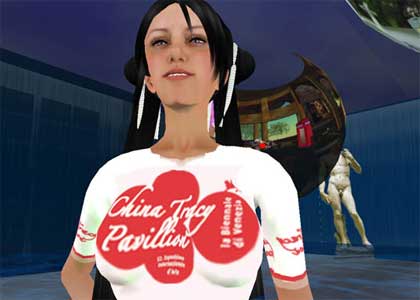 Although the work wasn't part of the show, i can't resist posting another image and link to Cao's Cosplayer series.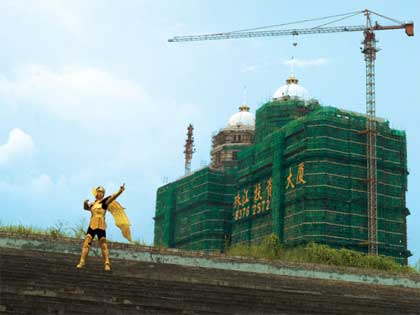 Cosplayers: Golden Fighter
Kan Xuan's contribution to the pavilion are 2 video works, the first one is a fascinating animation of a Buddhist sculpture and the other stars a naked girl dancing on a pedestal in the back of a garden. Meanwhile Shen Yuan's giant bits of baby milk bottles and accessories are scattered all over the garden.
My images.