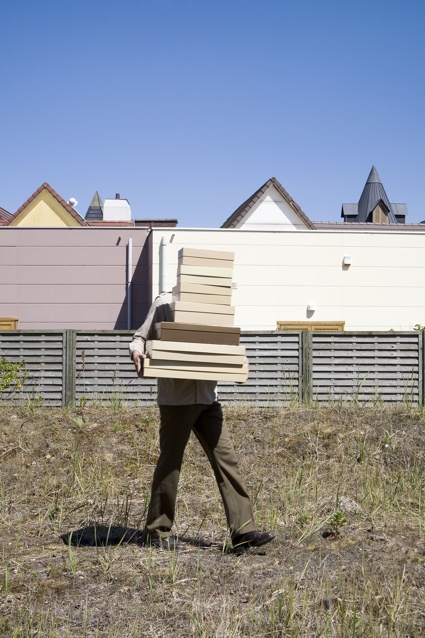 Charlotte Lybeer, Maasmechelen Village, from the series The Villages
From 2003 to 2008, young photographer Charlotte Lybeer spent extended periods of time in gated communities and contemporary theme parks to document how these places neatly designed around a central theme managed to give an illusion of safety and dream lifestyle. Strangely enough, she told me when we met for a drink in Antwerp a few weeks ago, living inside gated communities only increases the feeling of unease, the paranoia. Everything is fine and safe as long as you're among the people you have chosen to live with, those who have the same -architectural but also moral- values as you, but as soon as you step outside and face 'the real world', the fear rises much stronger than ever.
Her latest project, The Villages, was commissioned by Z33 House for Contemporary Art for their ongoing exhibition The Architecture of Fear.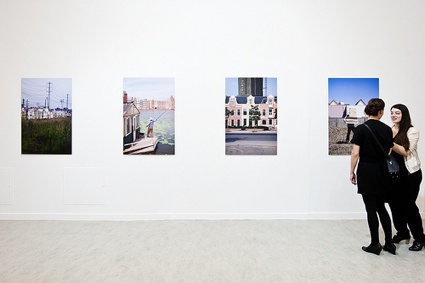 Opening Architecture of Fear. Photo: Kristof Vrancken / Z33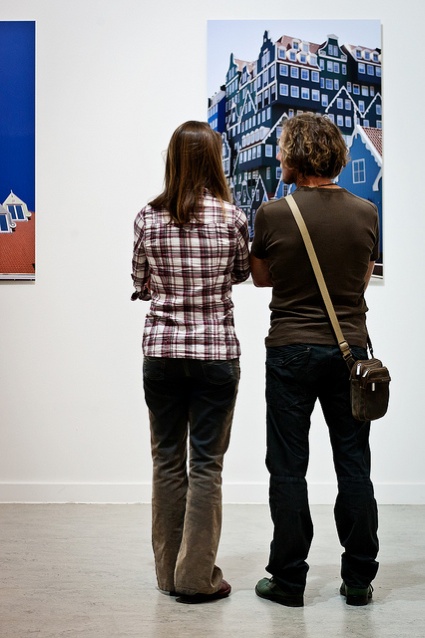 Opening Architecture of Fear. Photo: Kristof Vrancken / Z33
For this new series, Charlotte visited a variety of places in the world, from luxury shopping villages to holiday resorts and residential districts, which have in common a fake, idealized Flemish/Dutch architecture. These "paradise" enclaves were created by developers from behind a desk and usually have nothing to do with authenticity or local context. The artificial settings are empty capsules aimed at creating a pleasant environment for mass consumption and tourism.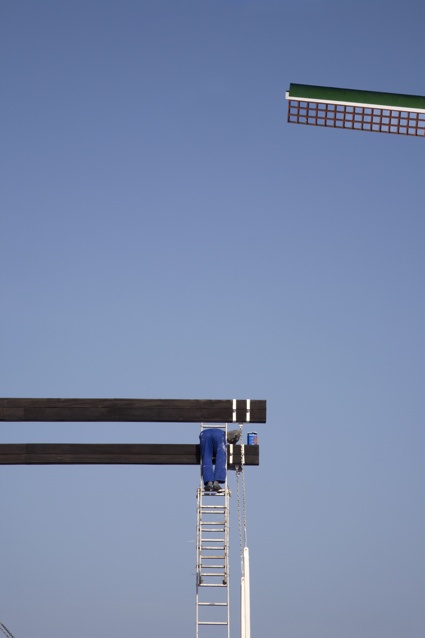 Charlotte Lybeer, Orange County, from the series The Villages
Orange County, a holiday resort in Turkey with replicas of typical Dutch facades as well as of the windmills of Volendam and Amsterdam Central, is particularly striking. It's a little piece of Holland heaven under a perpetually blue sky and set against the backdrop of mountains. Lybeer also found plenty of Dutch/Flemish architectural clichés in the Belgian designer discount outlet Maasmechelen Village and much more surprisingly in Northeast China, where a Dutch businessman born in China had the ambition of opening Holland Village, an amusement park and residential complex in Shenyang. Holland Village featured replicas of famous Dutch public buildings and windmills. It never opened.
The artist's photos -whether they capture details, passersby or a whole street- translate perfectly the feeling of eeriness that pervade these places. Everything is so neat and pristine that you wonder if people are actually allowed to set foot in this postcard-perfect architecture. The facade of the INNTEL Hotel in Zaandam (NL), however, doesn't attempt to fool anyone. The architect of the building fearlessly piled up several houses of the typical Dutch building tradition on top of each other.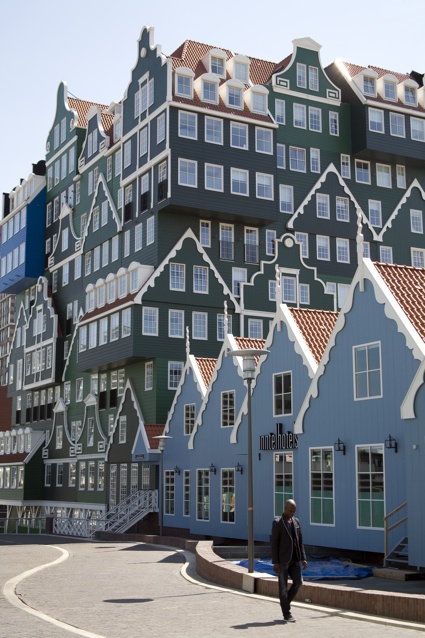 Charlotte Lybeer, INNTEL hotel in Zaandam, from the series The Villages
Charlotte gave her series the title The Villages because these secluded places replicate the feeling of safety of a village, a place where you know who is who, what to expect and where things appear to be immutable.
Does getting so close to gated communities and to the people living there makes you better understand why one would want to live there or does it have the opposite effect, makes you feel that a gated community is something best left to paranoid people? More generally, can you refrain from making judgements about their way of life? because when looking at your photos it seemed to me that you felt some tenderness towards these people. It's all very subtle and respectful.
I lived for 2 months in most of the gated communities I photographed, so during that time I try to understand the choice of living in a gated area.
I definitely don't want to generalize it. For some people I understood their reasons, and for me some people are just to scared or not adventurous enough to live inside the ungated world. I question more the idea of project developers and architects who construct that kind of housing, than the people who choose to live in it.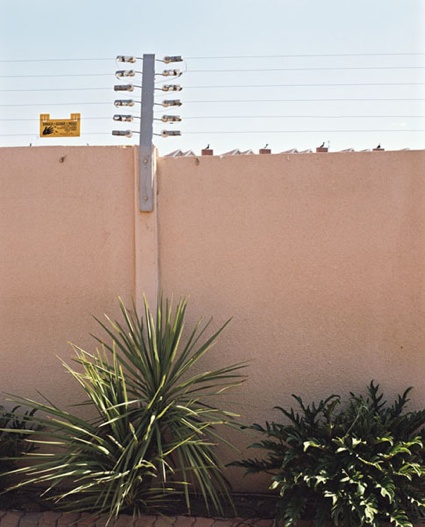 Fences, from the series Woodhill, Gated Lifestyle Community (South Africa, 2005)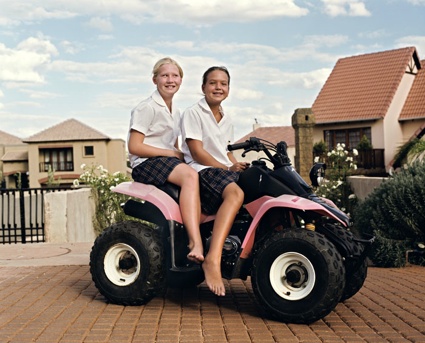 Uniform, from the series Woodhill, Gated Lifestyle Community (South Africa, 2005)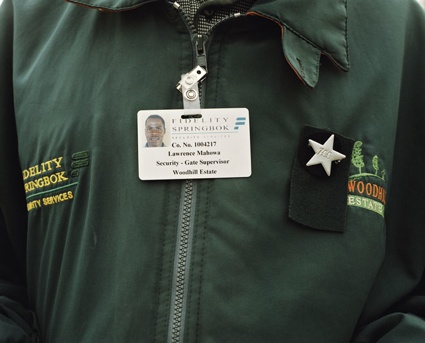 ZCC, from the series Woodhill, Gated Lifestyle Community (South Africa, 2005)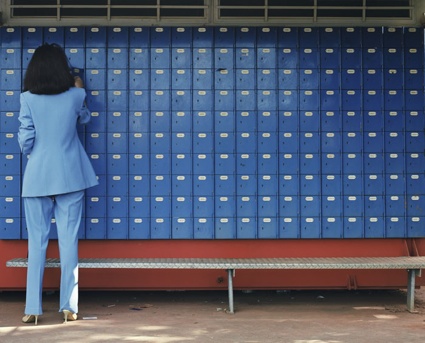 Postboxes, from the series Woodhill, Gated Lifestyle Community (South Africa, 2005)
I guess that the reason why you first decided to document a gated community was that you were curious about them but also that you might have had some preconceptions before going there. Were these preconceptions met or did you find that life in a gated community was nothing like what you had expected?
I always do lots of research before I travel to a certain place. So I'm very much prepared. Nowadays you can find so much information on the internet, it's almost possible to see every corner of a place virtually. So for the project in China (2007) and Dubai (2008) I planned before the locations I want to photograph (sometimes I decided already on the framing) and the I waited until something happened in the framing, that made my picture. Of course I also like to let me be surprised by the reality of the moment and the place. Sometimes an unexpected glimpse of strong sunlight can make the image or a person who passes by and just fits perfectly in the atmosphere… thats what I like about documentary photography, you can make a combination about the planned and the coincidence.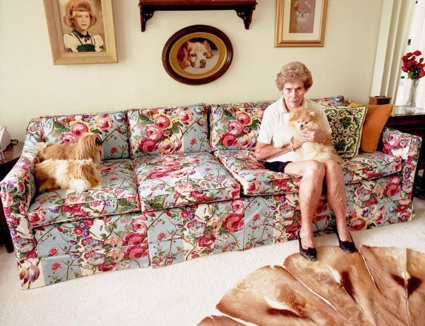 From the series The Fountains, Where Living is a Pleasure (Florida, 2003)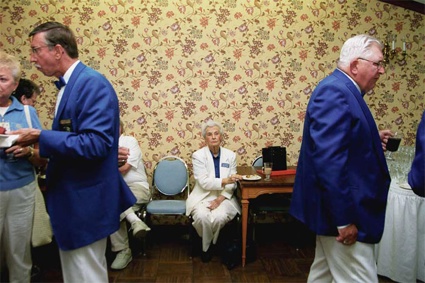 From the series The Fountains, Where Living is a Pleasure (Florida, 2003)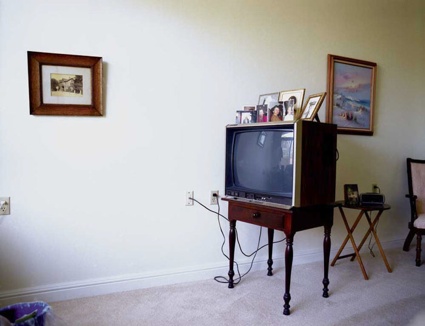 From the series The Fountains, Where Living is a Pleasure (Florida, 2003)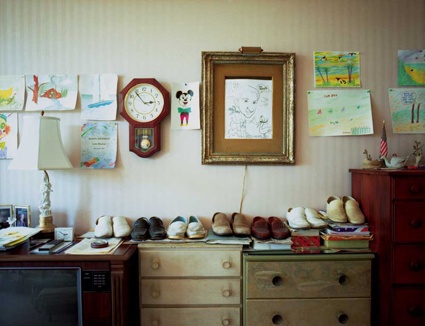 From the series The Fountains, Where Living is a Pleasure (Florida, 2003)
One would expect people living in gated communities not to be very open and welcoming to the intruding photographer that you are. How do you get access to them? Do you have to ask for official authorizations? Is it a difficult process? How ready to help you are people living there? Which kind of relationships do you form with them?
In most of the places it is not allowed to photograph, so I always ask for permission.
I write letters, phone or email the gated communities and most of the time they don't give me permission.
Once I'm there, people are a bit distant in the beginning and they don't easily trust me. But when I stay in a gated communities, I'm everyday everywhere, so they can not really avoid me.
I also look quit innocent, so that helps too. And I try to explain my intentions and be honest about my goals. People appreciate that. Some are even proud their living environment is interesting enough to be photographed. They get used to me after a while. That's also one of the reasons why I stay there for 2 months, so people have the time to adjust at me and vice versa.
I still have contact with some of the elderly people in Florida, they liked my visit allot, I was a part of the entertainment there.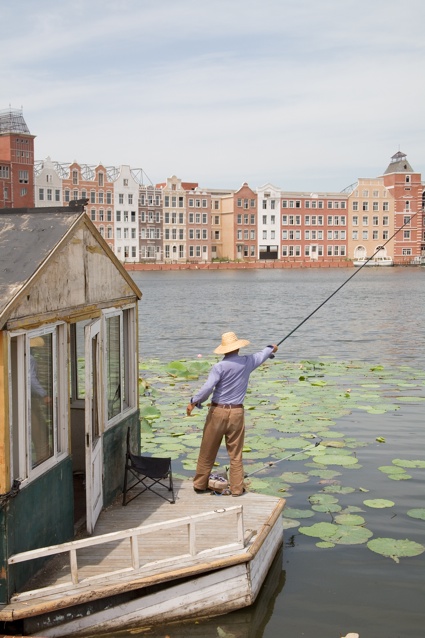 Charlotte Lybeer, Holland Village, from the series The Villages
You've investigated and photographed gated communities in several parts of the world, Florida, South Africa, Belgium. Are their reasons to live in a closed environment the same wherever you go? What motivates them to seclude from the rest of the city?
Not at all. In Florida I photographed a gated retirement community. So it's something between an elderly house and a club med.
I understand their choice of living there, no traffic, everything they need is withing close reach, silence, clean, many friends… I can understand that many people prefer to spend their last years of their live in such an atmosphere than in a grey small boring elderly house in Belgium. But I don't say it would be my choice.
In South-Africa, safety was the main reason. Families with young children lived there.
You also photographed Dubai. Is there something in Dubai that you find similar to life in gated communities? An atmosphere of artificiality for example?
Dubai looks like one gated community. Everything is artificial and controlled. the absolute climax of the topic.
It was for me also the most difficult place to work, the security persecuted me for an entire day… just because I took pictures with a camera with many pixels. They noted down everything I did, from drinking something until speaking with somebody. They even ask me to hand them down all my photos.
Thanks Charlotte!
Curator Ils Huygens made a lovely interview with Charlotte Lybeer (in dutch):
Architecture of Fear remains open at Z33 in Hasselt, Belgium through December 31, 2011.
Previously: Discussing democracy, torture and secret services with Jill Magid.