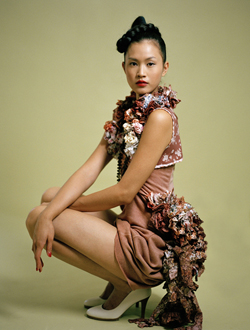 Design & Sustainablity – How to get textile designers on the case?
Carole Collet is Course Director of the MA Textile Futures at Central Saint Martins, College of Art & Design which is part of the University of Art in London. Although it is the biggest university in the world, its programs deal very little with sustainablity. She explained how her message wasn't really heard when she first proposed the College to integrate sustainability issues into the course. She just went ahead with her idea without really waiting for an official blessing from the institution. I then realized once again that i tour design and art school and still strive to meet lecturers or students who acknowledge the importance of being more eco-conscious. There are exceptions here and there of course. Tom Igoe recently told me about his scheme to push a sustainability discourse at the ITP School of the Arts in New York. With success as the list of student projects to be presented at the ITP Spring show demonstrates: the projects developed with sustainability in mind are clearly tagged with a green label.
Why should we be particularly interested in textiles? Because we wear them, live in them, sit on them, they are used in design, architecture, they surround us. If you look at the bigger picture, you realize that textile has dramatic environmental impacts on the world. Within 40 years there will be 3 billions more people living on the planet. Textile is a very polluting industry. An increased world demand of textile, especially of polyester, can have appalling consequences. Problems range from the use of textile chemicals, pollution to waste water problems, conventional cotton culture is damaging (workers have to wear protective clothing, etc.) But there are alternatives: organic, recycled, more naturally coloured cotton.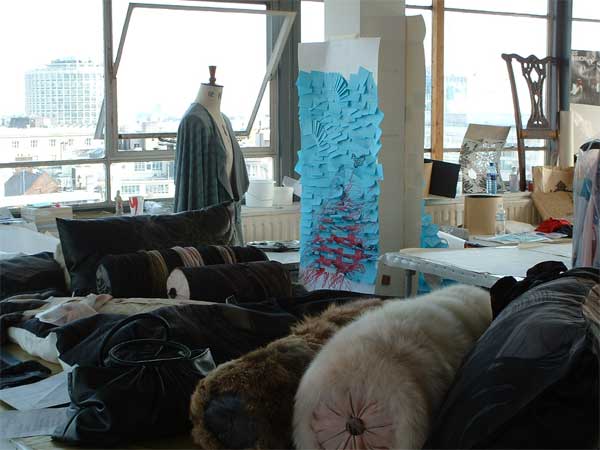 Carole Collet presented some of the possible design approaches and solutions for those issues developed in her course, highlighting that textile sustainability has to be looked for not only in the design outcome but also throughout the design process.
Sustainability was integrated in the curriculum in 2000. No intention to call the course "sustainable textiles" as it would brand them and send the wrong message. Any design department should integrate sustainability in its curriculum naturally.
The course deals with recycling and re-use of textile but there are limits to how successful this can be. She once brought her students to LMB, a recycling factory based in London. Students were horrified at the idea that what they design ends up there. Some of the clothing are particularly hard to recycle: what do you do with a diving suit? Or a single stiletto?
Several projects were developed by her students after their visit to the recycling factory:
– Ecopotty that turned diving suits into flower pots, stilettos became coat hangers, etc.
– Davina Hawthorne makes form-fitting clothes out of recycled wool (image on the top left corner of this post.)
– Exhibition of eco-fashion, Estethica, is now part of the London Fashion Week and the initiative is meeting with a growing interest. Last year, a dozen designers who respect the principles of fair trade, organic fabrics and recycling were invited to show their works.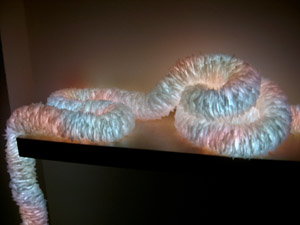 – Carole de Lépine designed, in collaboration with the British recycling company Smile Plastics, a collection of tableware, made entirely of discarded plastics. Her design is appealing, in a bid to "challenge the aesthetic of recycled products." Besides, tableware designs are multifunctional as they can be used as lamp shades simply by cutting out appropriate parts.
– The Monomaterial approach by Cristina Iglesias Papadopoulou
using tyvec which you can recycle up to 40 times
– Lucy Fergus recycled wasted silicon parts to design lighting (image on the right.)
– Recycled polyester (PET turned into fabric). Recycling is not always a straightforward affair as it can be done with more arm than good if you don't pay attention, that's why designers have to become material experts.
Another objective of her course is to challenge the usual aesthetic of eco-design (tainted with hippie tie & dye image)
An excellent example of what is possible is Constance Moog's fashion prints: the prints are ecological and their look is very contemporary and stylish. The system she developed is totally ecological, she never used water in her process (water pollution being an important issue in the textile industry). Her prints were realized using contemporqry techniques such as digital printing, laser cutting, ultrasonic.
– Setareh Arefi: Sustainable Iranian craft. The student used recycled and second-hand carpets, locally hand-made felt form 100% wool, using different processes such as heat-transfer printing, laser-cutting and etching, dying with eco-dyes and burning.
No chemical nor dye were used.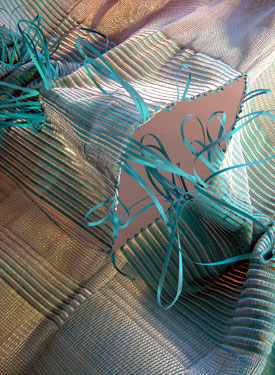 <Collet then described several technologies that can be harnessed by the fashion and textile industry:
– Photovoltaic flexible panels to power PDA, laptops, etc,
Kate Deacon, one of her students, developed Intelligent Warp, some smart blinds which use photovoltaic technology to respond to light volume in a room. A fully closed blind that has no exposure to light remains closed. As natural light makes contact with the fabric it starts to contract. The heat of the sun warms the Shape Memory Alloys so that it contracts then allow sunlight through. Deacon also created touch-sensitive blinds that light up when you stroke them.
Biomimicry
Lotusan paint is self-cleaning and is so far mainly envisioned for use in architecture: it induces biomimicry by causing rain to pearl off and slide down the wall. This is said to reduce the "build-up of micro-organisms (algae, bacteria, fungus) which flourish in damp and dirty conditions.�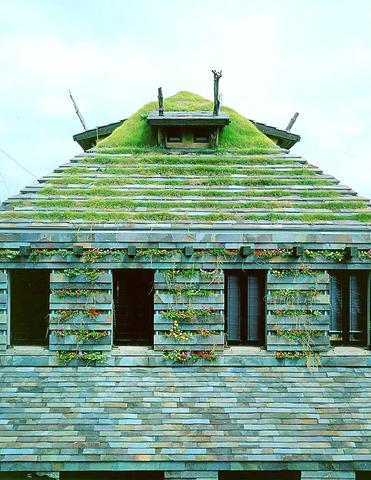 The Tanpopo House or Dandelion house, by architect Terunobu Fujimori, uses dandelion to create patterns and generate aesthetic.
Similar examples from her clasees:
– Student used nails to create patterns that the rain falling down on the walls will keep on modifying and embellishing
– tiles which change appearance over time.
Carole Collet ended her talk with a brief presentation of one of her latest projects: Nobel Textiles, a dialogue between the science of design and the designs of science. 5 textile designers are paired up with 5 Nobel laureates. Her partner in the project is John Sulston while Rachel Wingfield (who was also participating to the Luminous Green symposium) teamed up with John E. Walker.