Taking its cue from Star Trek: The Next Generation, US firm Vocera has created a wireless voice communicator.
To contact someone, users just have to press the talk button on the lapel badge, and say their name to be immediately connected.
The system combines wi-fi and VoIP technologies to link up the badges via a central server.
The difference with the Captain Kirk version is that Vocera allows people to reject incoming calls.
The system can also forward calls to mobile phones, can be trained to understand strong accents and can be configured with personalised ringtones.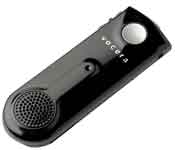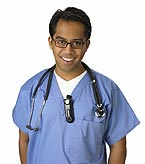 The gadget can either be clipped to a lapel or worn on a lanyard around the neck and is proving popular in hospitals to make it easier and faster (the badge save an hospital staff an approximated 3,400 hours each year) for nurses to find and get advice from doctors.
But this month, American soldiers in Irak will trial the device too.
Besides, Vocera hopes to sell its technology to retailers and hotels. And engineers are trying to extend the system to enable the badges to retrieve stored information (patient records, data about a drug, etc.) in response to spoken command. Maybe inspired by another Star Trek tech: the talking ship's computer.
From The Economist (paper version.)
Also featured in BBC Technology and textually.