Developed at the Media Lab Europe (Dublin), iBand is a wearable device that allows the exchange of information via a simple handshake.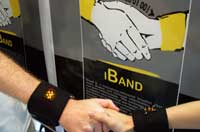 The bracelet (still a prototype) stores and exchanges information about you and the persons you meet. The data gathered is reflected on the bracelet itself and can serve as a reminder or as an ice breaker for further conversation.
The circuit board and battery lay under the wrist and an infrared transceiver is positioned near the back of the thumb. A handshake is detected via IR transceiver alignment combined with hand/wrist orientation and gesture recognition.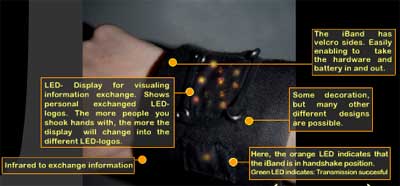 To use it, you first have to enter personal information into a kiosk, which stores it and assigns a unique ID number to your iBand. When you shake hands with another iBand wearer, ID numbers are exchanged and stored. When you return to the kiosk, you can read a list of new contacts collected in the database.
The group (Marije Kanis, Cian Cullinan, Anna Gavin, Stefan Agamanolis and Niall Winters) is working on additional functionality and richer wearable displays to support more complex social networking scenarios.
More on iBand.