Branding Terror. The Logotypes and Iconography of Insurgent Groups and Terrorist Organizations. Available on amazon UK and USA.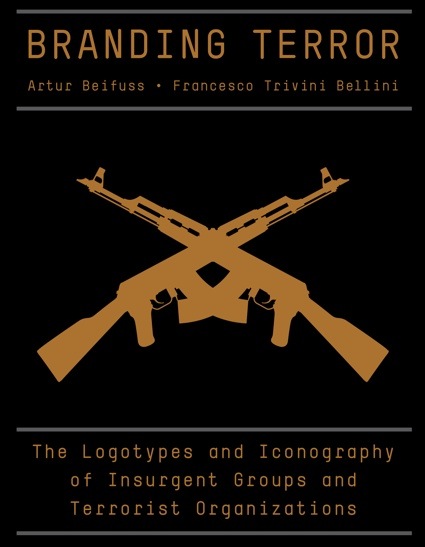 A book about the visual identity of some of the world's main terrorist organizations wasn't going to remain unnoticed. When it was published by MERRELL last year, every single design blog and magazine wrote about it. Yet, i only discovered the existence of Branding Terror last month, when i had a ridiculously great time at the Graphic Design Festival in Breda (NL.)
In a similar way to what happens with consumer goods, the name, slogans, and visual codes of a terrorist group are not only key manifestations of its identity, they also contribute to the reach and influence of the organization. An anecdote that appears in Artur Beifuss' introduction to the book illustrates the importance and impact of this visual communication. A few years ago, an Italian amateur ­league football club adopted for its players' shirts the logo of the Lebanese terrorist group Hezbollah, changing its name to 'Zassbollah' (a combination of 'Hezbollah' and the name of the team's captain, Luigi Zasso) in the process.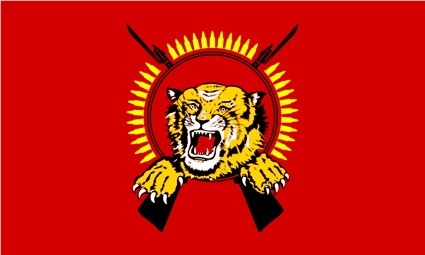 Liberation Tigers of Tamil Eelam (LTTE)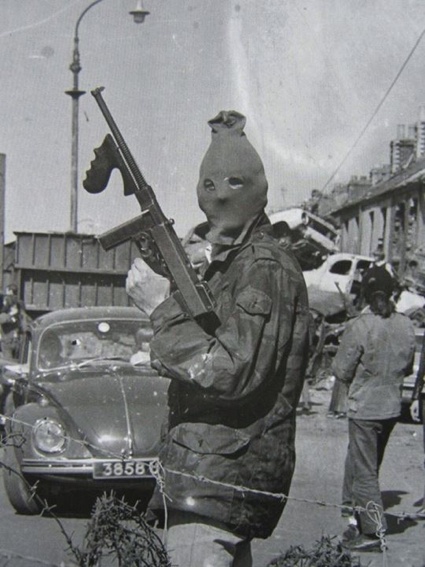 Terrorist mask series #8: IRA (via Branding Terror facebook page)
The book is authored by graphic designer and creative director Francesco Trivini Bellini and by writer and (ex)counter-terrorism analyst Artur Beifuss. Which means that the publication is obviously carefully designed but also that the information about the history, imagery, attacks, ideologies and capabilities of each of the 65 organizations has been meticulously researched.
The authors of the book are conscious that they are dealing with a delicate topic. They approached it in an almost clinical way while acknowledging the suffering of the victims of terrorism.
In his foreword to the book, Steven Heller, a design writer and former Art Director at the New York Times, wrote: The extreme violence committed in the name of these logos makes writing about them in terms of aesthetics or production values seem silly and irrelevant. Yet these terrorist groups are all brands, and are given a certain viability through branding methods. Branding is a tool that has no conscience or morality – it can be used for good or bad, and sometimes for both in tandem.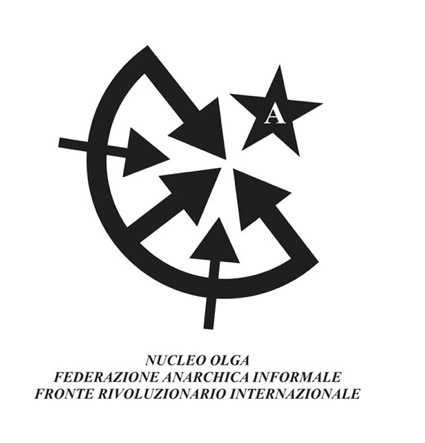 FAI (Federazione Anarchica Informale) From Branding Terror
I contacted Artur Beifuss as soon as i came back from Breda and he was kind enough to answer my questions:
Hi Artur! Are there logos that stand out from the others? Which ones do you think are the most imaginative, the most efficient (strictly from a design point of view of course)? and why?
Yes, there are some good ones, the Hezbollah logo for example. It perfectly reflects the organizations history and ideology. It is interesting to compare the Hezbollah and Iranian Revolutionary Guards logo. Allegedly the Iranian's founded and trained the group that later became to be Hezbollah. Both logos use the same elements to convey its ideological message. I think the Hezbollah logo is very powerful because it is memorable and easily recognizable.
But more important than the logo is what people will do with this logo. In the digital age, logos can go viral modified and used for all kinds of contexts. It is not uncommon to see fashionably dressed women and men wearing t-shirt with Hezbollah logos. Just google 'hezbollah' and 'girls' to understand what I am talking about. Seeing the logo in such a context tells the recipient that Hezbollah's ideology is indeed applicable in contemporary society. At least more than watching bearded men talking to a camera somewhere in the mountains of Waziristan.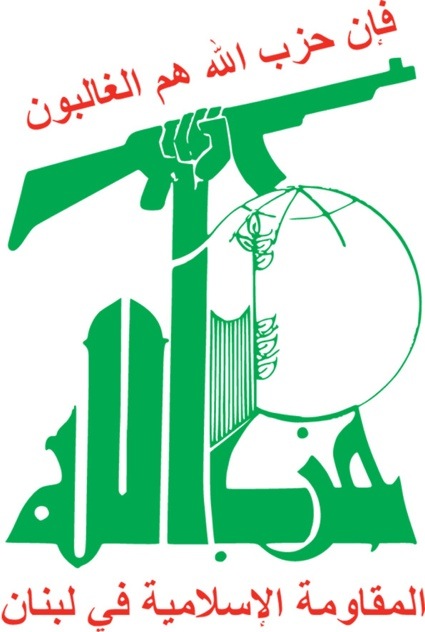 Hezbollah logo
And on the opposite hand, which one do you think is the worst conveyor of ideology?
The one(s) that completely missed the point?
All of the logos analyzed in Branding Terror make some kind of ideological reference. None of them really misses the point. However, there are some logos that are completely overloaded with references and elements, the logo of the Islamic Organization of Uzbekistan is a good example. It has so much Arabic text in it that one does not know where to look first. Also, this particular logo would be lost on all recipients that can't understand Arabic.
Does branding a terrorist organization has to respond to the same rules and requirements than branding any commercial product? Or do you find that other 'laws' are playing?
In a way it has to respond to the same rules, yes. People have to know what you stand for, and the logo should be easily recognizable. However, terrorism means violence and death in most of the times. Even terrorist groups find it difficult to advertise for that. In the letters from Abbottabad for example Al-Qaeda media advisors recommended Bin Laden to keep a distance to the Al-Qaeda branch in Iraq because they started beheading people. This is not something that Al-Qaeda central – if you want to call it like this – wants to be associated with. They were losing followers over that.
You used to be a counter-terrorism analyst? Now that sounds really interesting. What did the work involve? And how did you use that background while working on the book? when did it come helpful?
My position involved searching and analyzing information about terrorism in five languages. Through this job I acquired a good understanding of transnational terrorism. This did help me to make the content of the book multilayered. Also, I knew how to find information that gets as close to the primarily source as possible and how to correctly assess them.
I read that you used the official lists of "designated foreign terrorist organisations" of five governments: Australia, India, Russia, United States and the European Union. First of all do the list overlap? Or do they have different definition of what a terrorist organization is?
The definitions slightly differ. And the lists overlap to some degree. But governments tend to put groups on their list that are of relevance to their own geopolitical position. For example many separatist groups from India you will not find on the list of the United States. Globally active groups like Al-Qaeda are listed as a terrorist organization on most of the lists.
After the book was finished, did you get emails from people sending you other logos? And do you now find yourself in front of a long list of logos you wish you could have included? Could you imagine publishing a second edition of the book for example or do you think that what had to be told has already been communicated in the book?
Yes, some people approached us with their own projects and ideas. And we are always happy to get in touch and exchange ideas. Branding Terror was exhaustive as it is at the time of publishing. All organizations that are on the designated foreign terrorist list of which it was possible to track down the logo are included in the book. Branding Terror was set out as an encyclopedia, a branding manual and a collectible item. We like to see it as a work in progress. There are always new groups emerging and designated as a terrorist organization. It would be nice to have the logos of these groups all in one place, preferably in a nicely designed book series.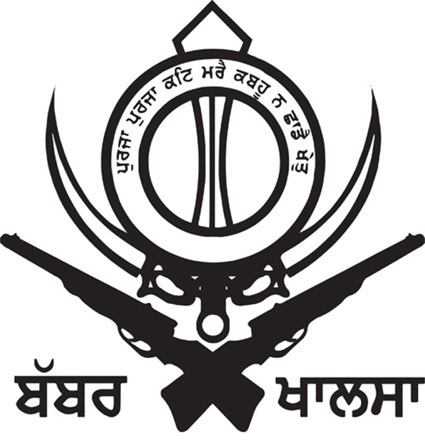 Babbar Khalsa International logo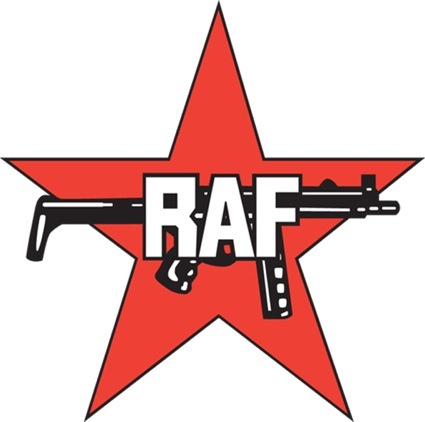 RAF logo
Hanns Martin Schleyer under the logo of the RAF (Red Army Faction) and a sign saying "Prisoner for 31 days" in 1977 (via Branding Terror facebook page)
Terrorism is a bit of a tricky subject. It is associated with subversion and violence and that often get people's attention. And it must be difficult not to pass any judgment, political or moral when dealing with the topic of terrorism. How did you approach the topic? Did you struggle to stay neutral? How did you manage that?
Branding Terror is based on information found in Open Sources. It is a technical analysis of the visual communication of terrorist and insurgent groups. The logo is the unit of analysis. Of course many so-called facts can be considered biased since they were collected and collated by people with a certain political and moral agenda in mind. These people can be ELN members in Colombia or Analysts in a Washington think tank. I used analytical techniques I learned in my profession to approach the topic. But of course it is not easy to read over hundreds of dead bodies every day. But I was not there to judge, just to simply collect, collate and analyze the information.
Have you ever received any feedback from any of the organizations you mention in the book?
No, I have not received such feedback.
What are you both working on now? Any new projects you could share with us?
Francesco is taking a creative break at the moment. In the meantime I speak on conferences, in design schools and advice marketing companies about what can be learned from Branding Terror. And yes, coming back to your questions earlier, I do systematically collect logos on the side. The next project is trend research, especially analyzing countercultures of the future.
Thanks Artur!
Views inside the book: