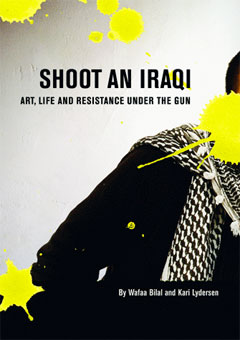 Shoot An Iraqi, Art, Life and Resistance Under the Gun, by Wafaa Bilal, an Iraqi American artist currently an assistant professor at the Tisch School of the Arts at New York Universit and author and journalist Kari Lydersen (Amazon UK and USA.)
Publisher City Lights says: Wafaa Bilal's childhood in Iraq was defined by the horrific rule of Saddam Hussein, two wars, a bloody uprising, and time spent interned in chaotic refugee camps in Kuwait and Saudi Arabia. Bilal eventually made it to the U.S. to become a professor and a successful artist, but when his brother was killed at a U.S. checkpoint in 2005, he decided to use his art to confront those in the comfort zone with the realities of life in a conflict zone. Thus the creation and staging of Domestic Tension, an unsettling interactive performance piece: for one month, Bilal lived alone in a prison cell-sized room in the line of fire of a remote-controlled paintball gun and a camera that connected him to internet viewers around the world. Visitors to the gallery and a virtual audience that grew by the thousands could shoot at him 24 hours a day. The project received overwhelming worldwide attention, garnering the praise of the Chicago Tribune, which called it "one of the sharpest works of political art to be seen in a long time," and Newsweek's assessment "breathtaking." It spawned provocative online debates and ultimately, Bilal was awarded the Chicago Tribune's Artist of the Year Award.
Soot an Iraqi is a tale that walks you through refugee camps and experiments in interactive art. It is both a biography of artist Wafaa Bilal and the chronicle of his one-month experience as a paintball target at Flatfile Galleries. The book pertains to the political, the art, the activist fields. It is not a novel but it reads like one.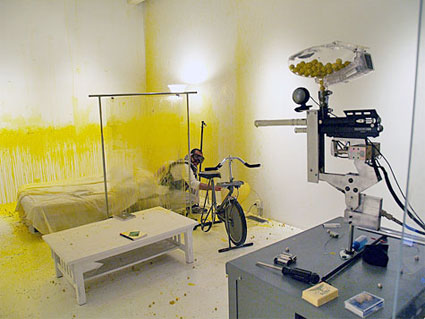 Wafaa Bilal during the Domestic Tension exhibit at the Flatfile galleries in May 2007. © Photo: Dimitris Michalaros
Defining the book is no straightforward enterprise and things do not get any more clean-cut when ones decides to focus on the performance at the center of the book. Domestic Tension is a playful and provocative online game, a cathartic performance that went further than the artist expected, a reflection on the impact that a seemingly innocent online gesture can have in the physical world, an invitation to dialog -no matter how contentiously- about war in Iraq. The artwork attracted the attention and most enthusiastic comments from art critics but it also appealed to the geeky type who'd define conceptual art a pretentious bore. And even there, one should stear clear of any hasty judgment, the experience taught the Bilal (and now its readers) that people you wouldn't expect to have much sympathy for Iraq's plight or for conceptual art turned out to be more supportive than expected. Shoot an Iraqi has a lesson for everyone, even for those who 'know better.' I just wish all lesson-bearing books could be as devoid of self-pity, regrets, anger or hauteur as one is.
City Lights also uploaded a video in which Wafaa Bilal discusses the motivation behind Domestic Tension:
Photo on homepage by Shawn Lawson. Copyright: Wafaa Bilal, 2007. More images in Universe in Universe.
Previously: A few words with Wafaa Bilal and When interactive art becomes bored with you.