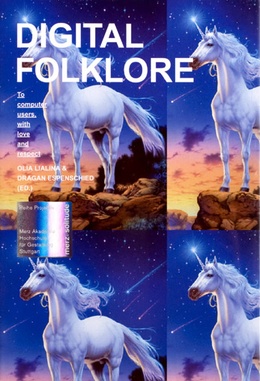 DIGITAL FOLKLORE – To computer users, with love and respect, edited by Olia Lialina & Dragan Espenschied. Brilliantly designed by Manuel Bürger. Published by Merz & Solitude and available on amazon UK, DE and FR*.
Technical innovations shape only a small part of computer and network culture. It doesn't matter much who invented the microprocessor, the mouse, TCP/IP or the World Wide Web; nor does it matter what ideas were behind these inventions. What matters is who uses them. Only when users start to express themselves with these technical innovations do they truly become relevant to culture at large.
Users' endeavors, like glittering star backgrounds, photos of cute kittens and rainbow gradients, are mostly derided as kitsch or in the most extreme cases, postulated as the end of culture itself. In fact this evolving vernacular, created by users for users, is the most important, beautiful and misunderstood language of new media.
As the first book of its kind, this reader contains essays and projects investigating many different facets of Digital Folklore: online amateur culture, DIY electronics, dirtstyle, typo-nihilism, memes, teapots, penis enlargement …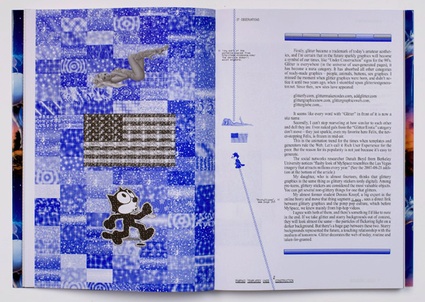 Something both good and absolutely irritating happened while i was reading the book. I usually jot down tons notes on bits of paper while reading a book i have to review. This time however, i was so engrossed and entertained, i have only two lines on the notebook. I wasn't expecting that, i thought the book was for real geeks, not Sunday web drivers like me.
Digital Folklore fills a gap in the computer and network culture you'd never know existed if you attend only big tech or web design conferences. Subcultures peopled by lolcats, memes and unsightly fonts are conspicuously absent from these polished gatherings, but that doesn't mean that they are less relevant to computer culture than what you see in the PowerPoint of usability strategists, information designers and other web gurus.
Almost everything i abhor and love about the internet is in this book. I was hoping not to face again those dreadful Blingee cards that many of my french-speaking contacts from Belgium were so keen on inflicting upon me during the Holiday season but the damn Glitter Graphics are indeed featured in the book. My eyes closed themselves at the mere mention of the Blingee but other than that, i learnt so many things that i'm sure i'm a bit closer to satisfying the authors who, while writing the book, were guided by the moto: "You can and must understand computer culture NOW"! I wish my education had always involved so much fun.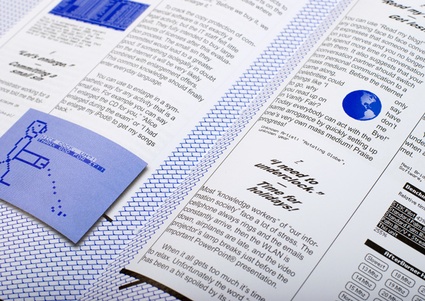 The first part of the book is made of essays, articles and observations by Espenschied and Lialina. Computer culture has evolved and been submitted to guidelines and 'best practice' since they started the authors activity of web users and creators in the mid-90s. As they told Marie Lechner in an interview for Libération: "The excitement raised by the Web as a new medium has disappeared. Nowadays every single interest has its own, perfectly-organised online space, communication has become very standardized. The Web is regarded as a tool also by amateurs. The idea of a homepage supposed to communicate from a bright future is regarded as a silly romanticism."
Then come four essays by former Merz-Akademie students about online phenomena.
The last section presents projects of New Media and Interface Design students at Merz Akademie.
Here's one of my favourite, Bootyclipse. Dennis Knopf's YouTube channel archives and loops the few seconds that precedes the arrival in the frame of a girl who is going to shake her booty in front of a camera. Don't pay attention to what youtube writes, This video is suitable for minors.
I found the design of the book particularly appropriate, smart and playful. The objective of the designer Manuel Bürger was, as he wrote himself, to create a real amateur spirit – though you can feel that there's a "proper" design approach which makes everything practical and clear.
Images nicked from Manuel Bürger.
* The book is also available at Printed Matter in NYC or you can order directly from Digital Folklore website.