Digital by Design: Crafting Technology for Products and Environments by Troika, Conny Freyer, Sebastien Noel, and Eva Rucki (Amazon UK and USA)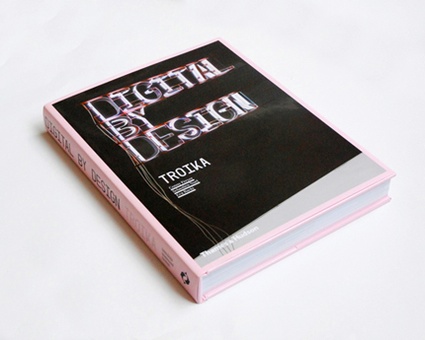 Publisher Thames & Hudson says: 'Digital By Design' is a wide-ranging survey that considers the work of those visionaries who are reimagining the relationship between technology, design products, immersive environments and human interaction for the twenty-first century. The result is a captivating assessment of pioneering approaches in art and design that encompasses a broad spectrum of humanist values, humor, magic and sensory experiences.
'Digital By Design' features more than 100 objects, products and installations that exemplify this progressive new wave of technology infused art and design. Digital By Design features a foreword by Paola Antonelli and is completed by a series of incisive interviews by noted contributors such as Dunne & Raby, Ron Arad, Steven Sacks and Machiko Kusahara.
Concept
In 'Digital by Design', Troika presents a new world of art and design in which the latest digital technologies are explored and exploited, enriching our lives and experience in new and unanticipated ways. Pushing the boundaries of interactive technology and 'intelligent design', the designers and objects featured in 'Digital By Design' are the ones tearing away the closed doors of the science labs and institutions, creating realms of experience, customization and beauty that engage their audience, surroundings and users in new, playful and subversive ways, ultimately bringing the future into the hands of the people.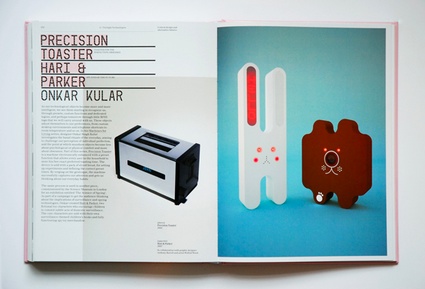 This is the book that makes digital (or should i say 'interactive'?) design finally steps out of the gadget and design blogs and announces "Hello mainstream! Here we are!'
At the risk of seeing burst into laughter those who say that i play admirably well the 'naivety' card, i will say that i'm a bit confused. There is the word 'design' in the title, the book is written by some of the most talented interaction designers in the world, the forewords and interviews star some of the people who are most intimately associated with design (Paola Antonelli, Dunne & Raby, Ron Arad, Steven Sacks and Mashiko Kusahara.) Yet the description of the book occasionally mentions the word 'art'. And here and there inside the volume, you'll find several installations created by artists.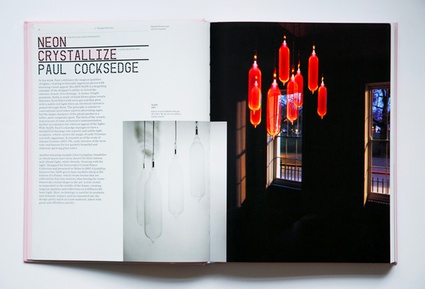 I'm not happy. Not happy at all. The moment i turn my back on that damn issue 'Is it design? Is it art?' and pretend the question doesn't make much sense, the book lands on my coffee table and brandish its hefty pink arm to throw back the issue at me. Last week only, i was wearing my 'so what?' smile when i saw Pors&Rao's The Uncle Phone and 22 Pop exhibited as art works in one of the booths of the ARCO contemporary art fair in Madrid. A few years ago, these two projects were developed at Interaction Design Institute Ivrea. They were interaction design products at the time. No matter the label you give them, i still like these two projects/art pieces.
Here i am back in the days when a designer would be outraged because i bring up the 'art' word. Or vice-versa. Sometimes designers purposedly -or because it's part of their culture- play with the blurring between art and design. Most of the time they don't. Are the borders between (interactive/digital) design and art so flimsy and vague that we cannot discern any difference between them? Is it fair to throw them in the same basket? Does the whole RCA dream of being exhibited at ars electronica? Would that happen if it were a book about product design where technology wouldn't play a prominent role? Would tea cups be mixed with sculpture? I don't have an answer for that but, even if i believe that both disciplines can only benefit from spending more time with each other, i was hoping that the book would not make the issue even muddier for me. Does it matter? Let's say it doesn't, let's say digital design is a state of mind, a culture and keep on with the review, shall we?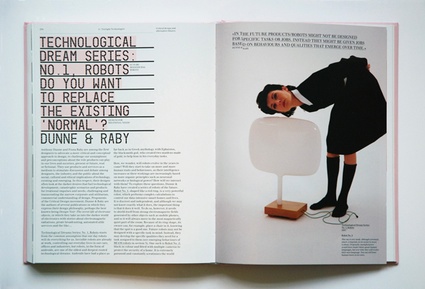 Digital by Design is wonderfully well designed. The graphics are impeccable, the balance between words and images is most charming. The text is limpid, simple and lively. You'll be happy to see your favourite projects featured in the book and, as well as you might think you know the digital design field, i'm sure you will also make quite a few discoveries. Books like this one are precious, go for it!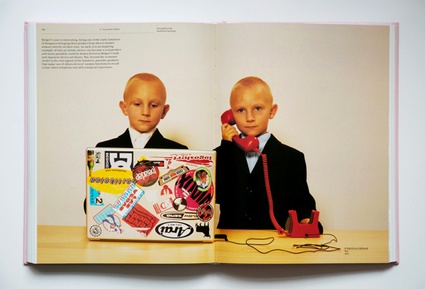 More images "inside the book'.
Image on the homepage: UVA's Constellation – Covent Garden Winter Lights.