An Atlas of Radical Cartography, edited by artists Lize Mogel and Alexis Bhagat (Amazon USA and UK)

The editors say: An Atlas of Radical Cartography is a collection of 10 maps and 10 essays about social issues from globalization to garbage; surveillance to extraordinary rendition; statelessness to visibility; deportation to migration. The map is inherently political– and the contributions to this book wear their politics on their sleeves.
An Atlas of Radical Cartography provides a critical foundation for an area of work that bridges art/design, cartography/geography, and activism. The maps and essays in this book provoke new understandings of networks and representations of power and its effects on people and places. These new perceptions of the world are the prerequisites of social change.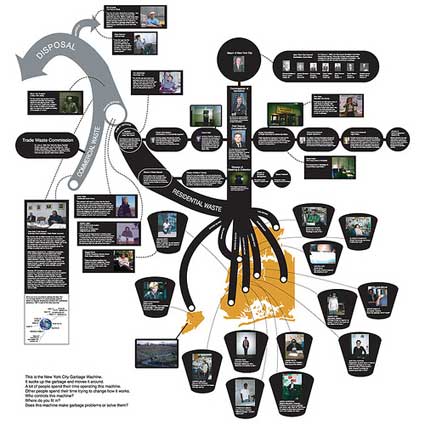 New York City Garbage Machine, by the Center for Urban Pedagogy
The slipcase contains a set of ten maps and a collection of essays by artists, architects, designers, and writers who illuminate the maps and explore their role as political agent. An Atlas is one of the most intelligent, thought-provoking and original publications i've read in a long long time.
First there is a purely aesthetic pleasure of unfolding the maps and discovering the careful, unique and innovative design of each one.
Then the essays are engrossing. They are written by people who have a story to tell you, they are passionate about it, they are angry or worried by the current state of affair but they are also smart enough to know that the best way to solve a problem is to adopt a pro-active attitude.
Right from the cover, showing an "upside-down"map, we are faced with the fact that even the most banal and innocent-looking map has its own agenda, that it is extremely difficult to separate cartography from politics and ideology. Far from being neutral accessories which would merely help you go from point A to point B, maps are often used as instruments for controlling and shaping beliefs. Conversely, maps can also be at the service of protest and social change. That's what the contributors of the Atlas demonstrate. Deliberately, openly and quite convincingly.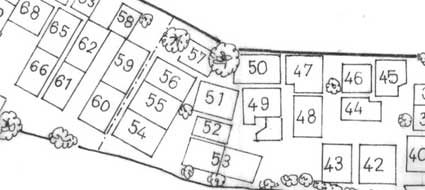 Unnayan | Chetla Lock Gate, Marginal Land Settlement in Calcutta, 1984 (detail)
The first map transports you a few decades ago in Calcutta (now Kolkata). Formed in the mid-late 70s, Unnayan was a civil activist groups which campaigned on dwelling, health, labour, schooling and various rights-related issues met by communities in urban and rural areas of eastern India. Unnayan was involved in projects that including preparing maps that identified settlements which existed in Calcutta at the time but were blanked out in officila maps. Elaborated in collaboration with the communities, the maps helped them locate water pumps, roads, but it also made these communities visible on a space which official maps would otherwise define as "vacant land." The vast majority of these maps are destroyed by floods or stolen. Jai Sen, a member of Unnayan, reconstructs fragments of these experiments and puts them on record in Other Worlds, Other Maps: Mapping the Unintended City, his contribution for An Atlas of Radical Cartography.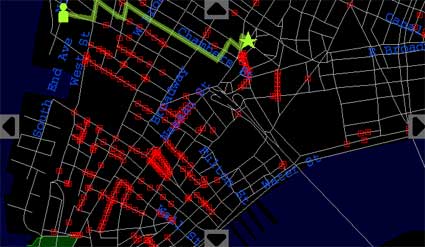 Institute for Applied Autonomy, iSee
All the other maps are contemporary.
The Institute for Applied Autonomy discusses tactical cartography and how locative media technology can be used by activists as cold and precise weapons to foster critical social engagement. They illustrate the concept by detailing their project iSee, a web-based application developed in collaboration with NYCLU and the Surveillance Camera Players to chart the locations of CCTV cameras in Manhattan. By checking iSee, users can find routes that avoid these cameras ("paths of least surveillance") allowing them to walk around their cities without fear of being "caught on tape" by unregulated security monitors. Their essay explains how stories about the iSee application spread all over the media and generated a series of discussions and debates amongst a -so far- unsuspecting audience. The work also extended to camera-mapping workshops which assumed the double role of rendering the proliferation of surveillance cameras tangible to a general audience and creating an empirical basis for challenging policing and public safety policy.
Visible Collective/Naeem Mohaimen interviews Trevor Paglen about his investigation into extraordinary rendition flights, the tension between art and activism as exemplified by a look at Mark Lombardi's drawings and Ashley Hunt's maps, the reasons why cartography shouldn't be confused with geography, etc.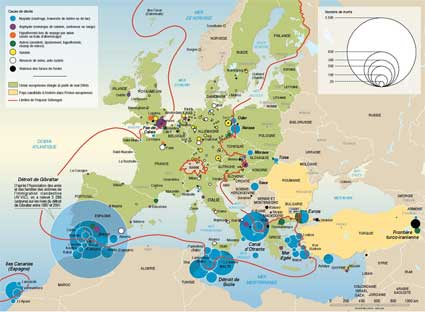 Olivier Clochard and Philippe Rekacewicz, Death at Europe frontiers
I found An Architektur's contribution to the book illuminating. Because of what i read in the media and because of the intense pleasure i experience when i am treated like a delinquent by the "immigration" officers each time my plane land in the U.S., i often have this vision that the U.S. is the evil one in the quest of security and border control. An Architektur, a collective that applies sociopolitical questions to space and architecture, proves me wrong by exposing the European Union's efforts to tighten its borders against asylum seekers and people looking for a better life. Hence, the need to close hermetically the access to EU and to park inside a migration camp anyone managing to jump above the wired fences. An Architektur points to several maps which illustrate the issue such as Migreurop' s From European Migration and Asylum Policies. to Camps for Foreigners map (PDF), – Hackitectura's map that rethinks the frontier between Morocco and Spain, replacing the concept of border as space of separation with site of connection and reciprocal flow, etc. A striking example is the article and map called Death at Europe frontiers where Olivier Clochard and Philippe Rekacewicz document the death occurred while trying to reach the territory of the European Union. Only documented death are taken into account but their number goes way beyond the 7 000 between 1993 and 2006 (3 000 from December 2003 to 2006). The map shows that danger doesn't stop when the border is crossed. Once inside the EU, migrants have to face racist attacks, unsafe working conditions for the illegals, police repression, internment camps, etc.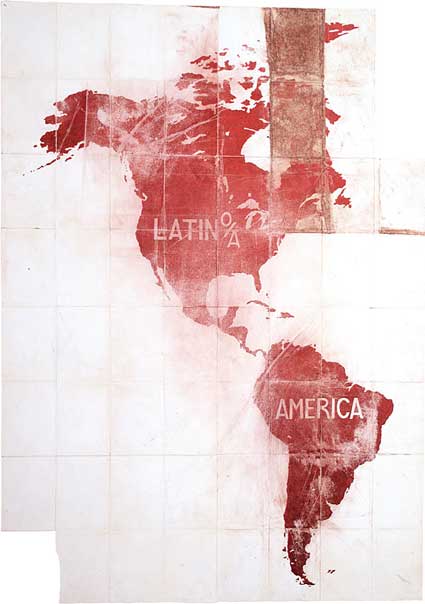 Pedro Lasch, Guías de Ruta / Route Guides, 2003/2006,
These were just a few lines about 4 of the maps and essays you'll find in An Atlas of Radical Cartography. There's also Pedro Lasch's beautifully symbolic map of the America/Latin America relationships, Lize Mogel's politically heavy re-lecture of the map of the San Francisco Bay Area, Jane Tsong's children science textbook-style drawings which reveal what it takes to be able to turn on the tap in her bathroom, the Center for Urban Pedagogy's well-documented New York City Garbage Machine describes the fight for power over the bins, Brooke Singer's The US Oil Fix demonstrates the impact that the US addiction to fossil fuels has on the rest of the world and Ashley Hunt's A World Map tackles the world capitalist system.
An Atlas takes also the form of a touring exhibition which is making a stop over unitl May 6, 2008 at Dowd Fine Art Gallery, SUNY Cortland, NY.
Related: Resistant Maps (part 1) – Introduction, Resistant Maps (part 2) – GuerrigliaMarketing.