Bluevend is a wall-mounted Bluetooth vending machine designed for the distribution of creative mobile phone content. Pockets Shorts and Bluevend (both funded with the support of NESTA) is for everyone who is baffled with WAP, tired of Crazy Frog and who is unsure of the safety of buying anything by mobile.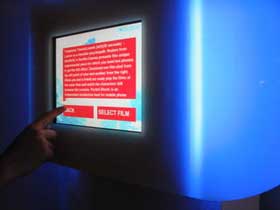 I read about that device a few days ago and i found the idea so interesting that i wrote its developer Lisa Roberts, Director of BLINK, to get more details about it.

Can you give me more technical details about Bluevend?
Inside the perspex case, lit from inside with blue LED strips, is a pc with a bluetooth 30 metre USB adapter. It was developed initially to solve a problem for our Pocket Shorts filmmakers who, though they made films for mobiles wanted a presense and a chance to promote their work during key film festivals.
We needed to find a solution that didn't involve showing them on big screen as that would have defeated the object of the scheme so Blink came up with Bluevend with Daniel Blackburn (from carbonbased games and Tile Toy fame). We also worked with the Designers Republic on the interface design.
You've already shown Bluevend in a series of venues…
We tested it first in the delegates centre at 2005 Edinburgh International Film Festival as we have a Pocket Shorts partner in Scotland. Then we went down to Brief Encounters in Bristol and then Rotterdam. It has been part funded by Nesta, University of Huddersfield and Arts Council of England and continues to evolve.
I have a lot of interest from San Francisco Film Fest and SXSW in Texas but there are very few smart phones in use in America compared to here so it would have only been something to marvel at rather than of practical use.
I really want to enable filmmakers to upload as well as download films to and from their mobiles. We envisage the uploaded films would go into a folder for selection later or ideally if we have a web connection we could administrate it all online.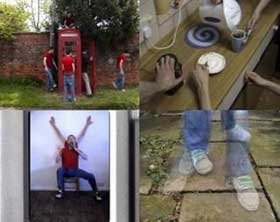 How successful has the installation of Bluevent been so far? Do mobile phone users welcome the opportunity of downloading free creative contents?
The overall success rate has varied between public tests and we still view Bluevend as a prototype – across the 3 site tests Bluevend has averaged 60% successful film transfer. This could mean that the users could have manually canceled the download, wandered out of the Bluetooth range, lack of memory on their phone or they might have even disrupted the transfer buy getting a phone call or text. So its a bit of a tricky area.
Are people comfortable with using bluetooth technology?
Most people with Bluetooth on their phone are confident with using it – they know they can choose to be discovered or not and wireless transfer of anything still has a bit of a thrill connected to it especially in this case as you can walk away and share a free film with your mates.
Do you have any plan to show it at other locations in the near future?
I am talking about it at Pixelache in Helsinki on the 30th March with a demo version – and then to Edinburgh IFF again in August – we hope to run a competition then as its the festivals 60th anniversay. After the One Take competition we did with Art Helder, NPS Korte Film Online and the Rotterdam International Film Festival and the magnificent short films that were made, edited, titled, uploaded and shared in a matter of days we feel confident that this is the way forward for a new generation of filmmakers. No budget films with everything you need in your pocket.
With phones like the N70 series Nokia (my particular favourite) you can shoot, edit, add titles, and transitions, share films for free via bluetooth with your close friend and via mms or email to others, gather peer review and then… when phones eventually get inbuilt projectors you'll be able to present your own adhoc screenings anywhere and everywhere. (See here.)
More information on Bluevend blog.