Seen in New York this week and the one before:
Tina Kim Gallery is showing the delightful and eerie Kyung Jeon: a story, 13 works on traditional Korean rice paper that trace the story of a boy and a girl as they descend together into a symbolic world of dark forces and mythic transformation.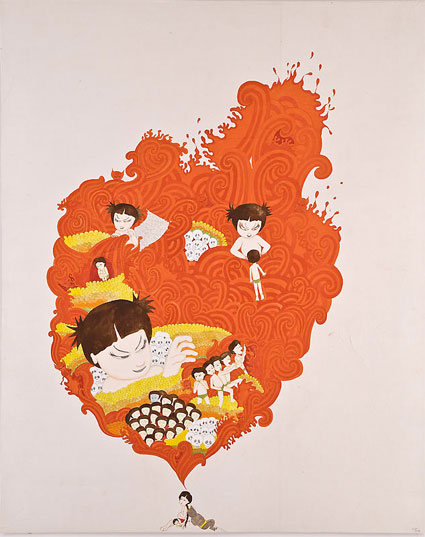 Chapter 11: Rest, and a vision, 2008,
Drawing their influences from such disparate sources as children's fairytales, traditional Korean genre painting, and the worlds of Henry Darger and Hieronymus Bosch, Jeon's narrative follows a boy and a girl from the moment they leave their Edenic paradise. Along the journey, they stop at a crossroad and wonder which way, negotiate a labyrinth, meet allies and face enemies.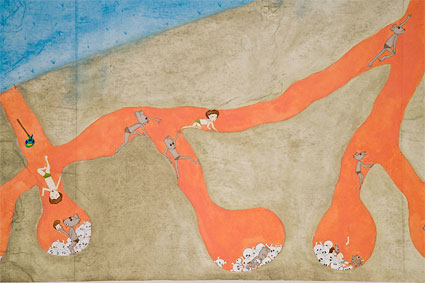 Chapter 2: The boy and girl in a land of ignorance., Detail
Totally different is SACRED_PROFANE, a solo exhibition by Alicia Ross at Black & White Gallery.
Referencing the title of Titian's 16th century painting Sacred and Profane Love, the series of Samplers and Motherboards, Love Swing sculpture and Rockwell's a Surrealist installation bring side by side traditional needleworks and hardly veiled pornography, challenging the irony of representation of the female form with standard moral differences between sanctified love and fantastical desire. I found them so perfectly representative of today's America, a country where young women are sexualized, where porn thrives. Yet, a country where tv series show women making love while wearing their bras and where boys bands wear chastity rings.
The images of the Samplers series are downloaded from search engine results, digitally removed from the original background and put through another program that translates its pixels into cross-stitch.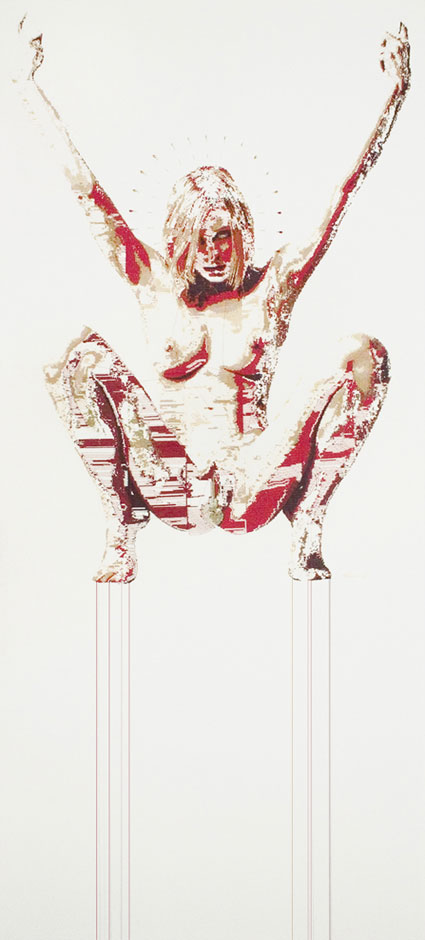 Motherboard_7 (Sacred_Profane), 2008
Using the sewing machine like a drawing instrument, Ross customizes the stitches, outlines and colours according to her inspiration. Besides, the line is being blurred between the types of websites that housed the original content. Some of the figures were fished in pornography sites, others were taken from sites that display famous works of art and fashion websites.
Covered in knitted an almost virginal beige yarn and fitted over a prefabricated sex-swing stand, Love Swing speaks to the wavering stability between woman as nurturer and woman as object of sexual desire.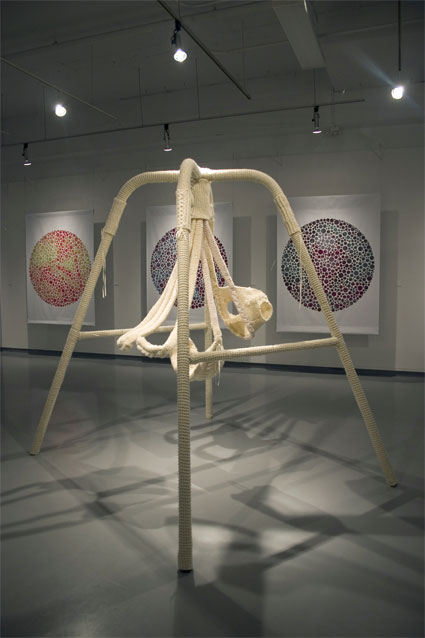 Love Swing, 2006
In the Ishihara Test Series videos, web-sourced porn video is fitted into the template for testing color deficiencies. The twist in the work is that men are considerably more prone to colorblindness than women. Hence, Ishihara becomes an ideal mechanism with which to confound the male gaze.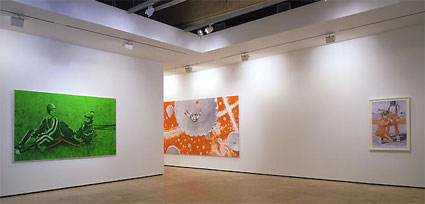 Installation at Lehmann Maupin
A refugee from Grozny, Chechnya, Alexey Kallima fled to Moscow shortly after the Russian invasion in 1994.
Timely and heroic, the paintings and drawings examine the ongoing Russian/Chechen conflict and his personal and highly political response as a refugee. The series on show at Lehmann Maupin, Chechnya Women's Team of Parachute Jumping and Its Virtual Fans depicts young woman in varying stages of parachuting that recall the segregated teams Kallima observed as a child.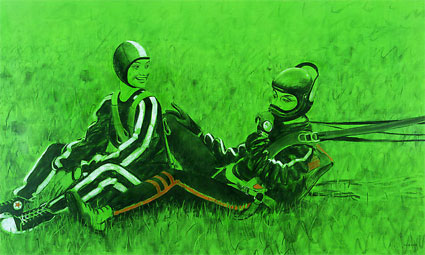 From the series Chechnya Women's Team of Parachute Jumping and Its Virtual Fans
While Russian propaganda maintains that the conflict is over, the Chechen economy has been paralyzed and segregation is still prevalent.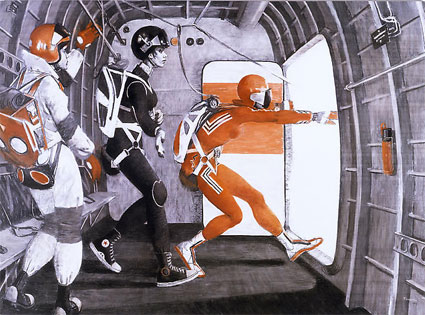 From the series Chechnya Women's Team of Parachute Jumping and Its Virtual Fans