Eduardo Fernandes, Flávio Reis, Geandre Tomazzoni, Gustavo Godoy, Frederico Ming, Maurício Brandão, Olavo Ekman, Rodrigo Araújo and Sandro Akel are the members of Bijari, a Brazilian collective of artists/activists whose portfolio is one of the most impressive i've ever seen. They work for commercial corporations without loosing their soul, freshness and identity, they are also well-known for their VJ activities and somehow they even find some time to invade cities with their critical and witty interventions that comment on contemporary urban issues.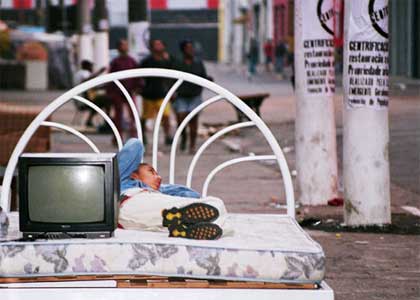 Bijari is 10 years old this year. How did it all start and how did you grow over the years? Were you planning to cover so many areas (artistic urban interventions, web design, graphic design, video installations, etc.) right from the start?
The art collective was born in 1997, when we began to meet for common interests, research, chats, parties. Since 2001, we think about art with regard to the city, architecture and urbanism issues (most of us are graduates of the Faculdade de Arquitetura e Urbanismo da Universidade de São Paulo). Through the extended field of art and the countless symbolical forms that it offers, we distinguish a very interesting way of developing considerations and criticisms about the metropolitan condition as well as about architecture, since we never have made architecture strictly speaking.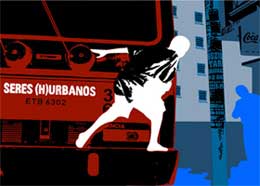 Diversity and elasticity always were our priorities, and we are constantly researching and linking diverse knowledge areas, in order to create more possibilities of transformation in our works as well as to extend the number of potential clients, something very inconstant in this market.
Bijari engages with many media and technologies. Does it mean that each member of the group has a specific role and its own competences? Or is each project always developed through a "total team" work?
Nowadays, we are an enterprise with nine partners, distributed over a horizontal structure in which we perform all productive and administrative functions. We participate and function as art directors on the commercial market (video, VJ, graphic design, web, scenery). At the same time, we have our own art project that gives us some independence as to the necessity of art-products commercialization (most of them aren't "consumable" like a sculpture is, for instance, consumable at an art gallery). Thus, a lot of those works are more focused on the process than on the final products.
Among us, there are varied talents and, depending on the nature of the work and availability of each partner, we organize groups for each job. A job differs from other one and the group organizes itself according to this. Some works are made by all of us but other not.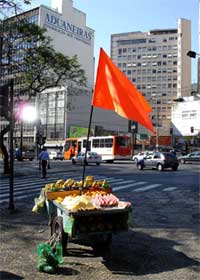 Resistant Architecture was an artistic investigation of non official activities and architecture of excluded citizen in central Sao Paulo. Can you give us more details about these non official activities and architecture of excluded citizen. Which form do they take? What was the outcome of your artistic project?
The Arquitetura da (R)esistência project (there is there a play on words: resistance-existence) was conceived through a look on the non-official urban equipment and architecture of downtown São Paulo city. Analyzing clandestine and parallel inventions and constructions over and for the urban network, we have created devices that drive attention on the manifestations that we regarded as creative and resistant expressions in front of the restrictions of the official, controlling and standardizing city. Through them appear some design and desire for adaptation and resistance.
Their image expresses concepts of polyphony, multiplicity and organicity which are typical of Brazilian culture. Thus, we want to establish an inclusion of this present and non-official memory, allowing other looks stirring up reflections on this phenomenon and asserting the dissonant image that is typical of the real city.
Bijari also developed a very intriguing "Chicken Project". How exactly did the intervention use the volatile? How did people react to your action and what did the project reveal that you might not have
suspected?
Using a camera to register, we've inserted a chicken in a street refuge where hucksters and pedestrians fought against cars and buses. After that, we moved the chicken to the front of a famous shopping center in Faria Lima avenue. The chicken acted as a kind of thermometer that could reveal us differences among people that use the same space.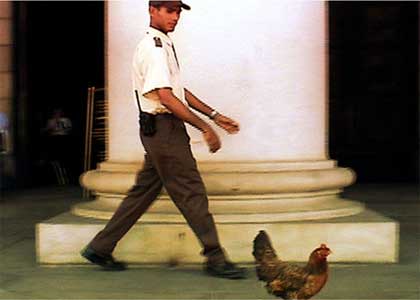 On the one hand, the chicken was the solution! Several people started to cluster and run after it. The gallinacean had become an object of fascination and provoked greed – an opportunity to take away, bring home and maybe eat! On the other hand, it was a problem! In another place, after the chicken had begun to move in front of the shopping center, pedestrians deviated, looked distrustful, somewhat astonished by its presence in the city. Some people deviated, other hesitated before crossing it. Little by little, we were surrounded: three keepers appeared after a watchman had reported the situation by radio. A minute after, there was a guard vehicle over the sidewalk. Some nervous men accosted us, demonstrating some fear because of the situation: there was a new element scratching and pecking at their ground.
We thought that we would have met with situations of resistance, or strangeness, but we never considered the presence of so many watchmen. This short story illustrates the approach of architecture Bijari is concerned about – the one that develops in spite of the ready space established by political wishes imposed from top to bottom. In fact, we understand architecture as a space under permanent construction, subject to participation and pressing inclusion.
Are there urban phenomena you see emerge whatever the country you are in due to gloablization trends? On the other hand, what are the urban characteristics of Sao Paulo (or Brazil) that are peculiar to the place?
The great metropolis is an excluding place. The perception change on the appropriation of space – and its consequent appropriation from those who live in it – is the goal of our work.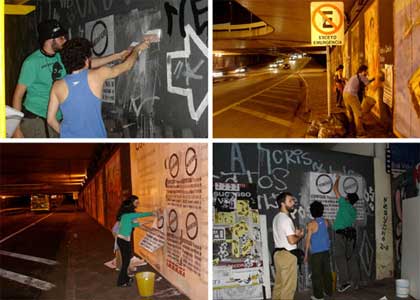 The constellation of global cities, where city chains influence and polarize other ones around it, configure homogeneous cities that acquire the same aspect, one becoming like the other. It's impossible to recognize if we are in São Paulo or Hong Kong. Urban space becomes pasteurized, sterile. We loose local identity and design tramples the living body of the city. This trend is sold to us as the unique truth and the paradigm for progress and modernity.
By creating a resistance to the general movement of globalization, the city preserves its own characteristics and learns to say no to certain ready-made proposals for a new world. The city is a living body; architecture must be thought as the possibility of building a space that welcomes its manifestations and essential activities.
In the last four years, we conceived projects that question the functions of public place, revealing relations of power hidden in everyday settings. We did and do this by using artistic artifices that serve to crop and amplify some aspects of the city. In an inverted process of architecture that builds solid structures, we create almost ephemeral works that guide themselves by rupture of standards in each individual, allowing a reflection on the approached themes.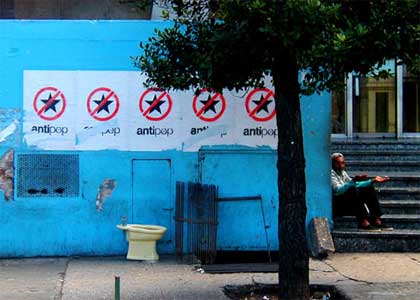 Bijari is also involved in a series of projects developed for the commercial corporate market. How do the purely artistic projects relate to "hired" ones? Do the commercial and the art works feed each other?
We produced commercial works for some enterprises. Working commercially allows us to get some financial income and, also, to support part of our artistic research with a certain level of independence.
We take advertising as a reference for us because of its brutal visual and communication power, although the sense used in our art projects are completely inverted. The knowledge as a tool in trade or advertising works helps us working formally better in the image construction.
Lastly, we use our knowledge in interventions, installations and urban performances for developing projects in Guerrilla Advertisement trend, non-standard media. In those works we try to convince clients to invest in pieces or happenings that privilege contents creation and new experiences that are not pure branding.
How do you feel about the advertising world finding inspiration in and using the tools and mechanisms of alternative culture as it is happening more and more in urban areas*?
I guess new media are appearing, people are more and more online, communication pulses and information flows are more opened, in several paths and from interlocutors different from official media.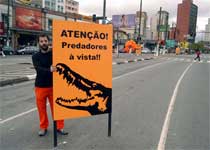 There will always be moments in which market has devours art and uses it in order to create new products and esthetics that support themselves for generating behavior and consumption trends. This is a natural cycle, in which art also devours market and its esthetics, where all created things are transformed in new forms and purposes, acting as incentive and feeding artists' reactions, their offsprings will in turn be devoured and absorbed by market and advertising.
It's important that, among this, anything gets fixing and changing mind of the people to a more conscious present and active participation in this world. Our times are very dynamic; people must gain enough mobility to accompany its speed, and enough action that ensures that they don't become mere coadjuvant actors.
Any advice for young creatives who dream of setting up a group like yours?
It's important to keep updated with what's going on in the world, references, researches, to be attentive to the senses and always present some critical sense imbued with pro-activity.
Working in group demands that we reconsider our egos, become tolerant, learn to listen, become very persevering and focus on long term goals.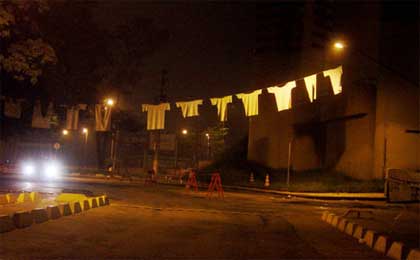 How is the contemporary art scene in Sao Paulo? Could you name us a few artists who deserve to get more attention from the public?
Because we are a group of nine artists, it's difficult to know on which each one is connected at this moment. But, generally, we have some common references and we can quote those in areas we act them.
Beginning from video universe, we admire works of video-makers as Michael Gondry ("Eternal Shine of a Mind without Remembrances� and videoclips for White-Strips and Chemical Brothers), Spike Jonze and Johan Soderberg (with his instigating charge sheet against global consumption "Surplus�).
From Brazil, we would quote the documentary-makers João Salles and Eduardo Coutinho that possess a very strong work associated to urban urgencies. Thinking on integration of video with multimedia, Joshua Davis and his crazy work developing systems for standards generation.
It's to be remembered also the recently deceased Korean Nam June Paik, father of video-art and member of Fluxus group, that acted at 1960 and 70 decades proposing plays, actions, performances, concerts, demystifying art, bringing it closer to the dynamics of daily life. Mentioning a contemporaneous video-artist, the young Uruguayan Martin Sastre and his creative fantastic-realistic videos in which he performs as character of his paranoid stories (in one of them, he proposes that Lady Di isn't dead and lives hidden in Uruguay).
Migrating to art works, more specifically those related to public space and possibilities of interaction non mediated nor controlled by conventional forms of communication (interest focus of our art nucleus), we can quote satirical aspects of work of English artist and graffiti-painter Bansky, the playful and new-tech of Graffiti Research Lab, the engagement and formal precision lend from mass-media expressed in Barbara Krueger and Jenny Holzer works, as well as social expression/liberation vehicles of the Polish Krzysztof Wodiczko.
Quoting some artists that work with this approach here in Brazil, we can mention works of Daniel Lima and Frente 3 de Fevereiro [February the 3rd Front], that mixes theater, music and art with an appeal for the black cause. The Integração-Sem-Posse [Integration-Without-Possession] project (on which we were involved), linked to social movements fighting for housing; Contra-Filé group searching short-circuits in media and solo works of Cildo Meireles, Maurício Dias and Walter Riedweg, Rubens Mano, Marcelo Cidade and graffiti-painters Zezão and Orion, just quoting some of them…
In the VJ area, scene in which we many times act, we mention the japs of Glamoove (that have developed a powerful software for image mixing), improvisations on jingles by Eclectic Method (UK) and VJ Anyone (UK) with whom we are developing a project (see also w.roland.com/audiovisual).
Other generic references that have inspired us but aren't directly related to our artistic making: Dutch architect Rem Koolhaas and his critic and acid look on contemporaneous metropolis, studies involving deleuzean concepts and psychoanalysis in the structuration of contemporaneous being by Suely Rolnik, the book Abusado [Bold] by Caco Barcellos on Rio de Janeiro city's drug traffickers, the Canadian electronic music producer Richie Hawtin and the fanzine Sociedade Radioativa [Radioactive Society] drawn by cartoonist friends.
Thanks Flavio for having orchestrated the interview!
* cf. this article.