A few words about the most fascinating book i read this Summer…
Photojournalist Geert van Kesteren covered Operation Desert Fox (the code-name for a four-day bombing campaign on Iraq in December 1998) for the Dutch weekly Vrij Nederland. On his second visit to the region he managed to get an exclusive interview with Uday Hussein, Saddam's son (who was killed a few years during a brief gunfight in Mosul). He returned to Iraq in April 2003 and spent several months working on assignments for international newspapers and gathering images and information for Why mister, Why?, a photography book that aligns clues to help us understand what went wrong during the American occupation.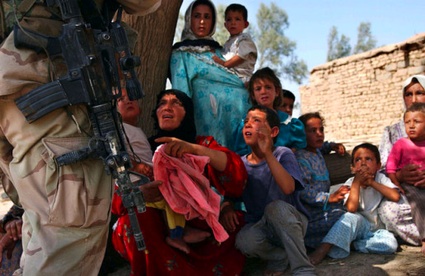 "Near Tikrit, Iraq, August 4, 2003" © Geert Van Kesteren: from Why, Mister, Why?
His more recent volume, Baghdad Calling documents the lives of Iraqi refugees living in Jordan, Syria, and Turkey. After a few weeks taking pictures, Van Kesteren realized they didn't manage to convey the sufferings he was witnessing. However, he quickly found that many refugees had used their camera phones to collect images of the homeland they knew they would have to leave.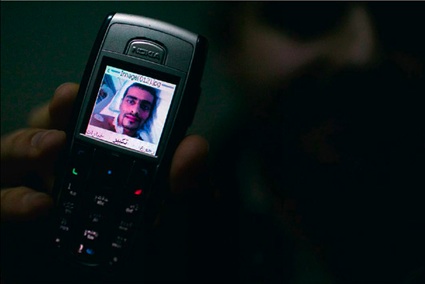 Amman, Jordan, 2007. © Geert Van Kesteren: from Baghdad Calling
Besides his own professionally shot images, the book presents hundreds of the photographs that Iraqi citizens had accumulated on their mobile phones and digital cameras. The images often reveal places where journalists dare not tread for reasons of personal safety. Since 20 March 2003, Iraq has indeed been the deadliest country in the world for the press. More than 180 journalists and media support workers have been killed. Nowadays, photographers and journalists have to stay within Baghdad's Green Zone, lest they are kidnapped or killed.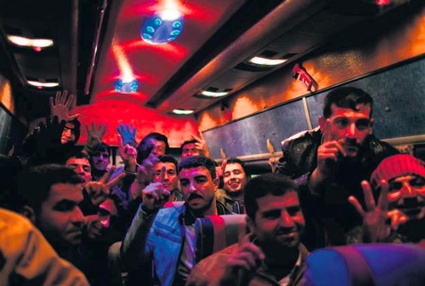 Refugees return from Turkey on a bus, 2007. © Geert Van Kesteren: from Baghdad Calling
Besides van Kesteren's own photos and the amateur snapshots, the book contains many interviews with refugees. For once, the principals protagonists take control over the narrative. Their first-hand accounts of the horrors that have befallen them makes a compelling reading. Unfortunately, these very short stories do not seem to have any happy ending in sigh. There's no morale. Not even romance. Coupled with images of corpses laying in the streets, family celebrations, exploded cars, desert squares in broad day light, empty schools and demolished infrastructure, the testimonies of displaced families creates one the most engrossing forms of photojournalism i ever came upon.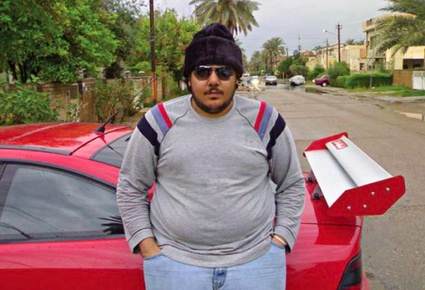 Unidentified photographer, A man leans against his sports car in a Baghdad suburb
Baghdad Calling is an appeal to those countries of the Western coalition to shoulder their responsibilities and afford the Iraqis some hope of a better future.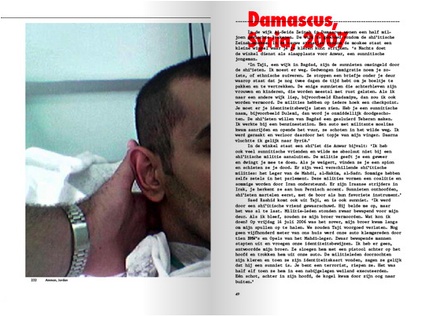 A view inside the book
Brigitte Lardinois, who used to be Cultural Director at Magnum Photos London wrote in her forewords to the book: "Van Kesteren collected data. This book is therefore a new departure in photojournalism. Many photographers are looking for ways to enhance the power of their message. They are forced to do this by a dearth of editorial outlets in the West. Assignments from magazines and newspapers seem to be dwindling, challenged by the new media offering interesting means of telling stories and conveying information.
"It is notable that photographic books can be seen as a medium that is heading in new directions. Now that magazines are showing less interest in probing stories, photographers are turning to autonomous production of a medium tailored to their personal wishes and vision. A book is a wonderful medium for this, as are websites and multimedia. There is agreater leeway to explore stories in depth, to add nuance, broach aspects for which no space is available in conventional media such as a magazines and newspapers."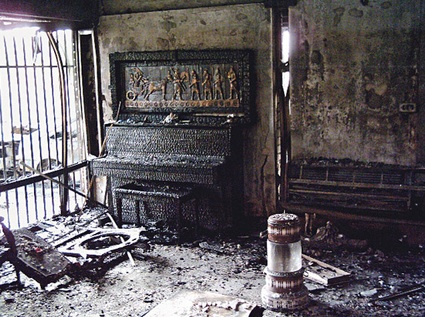 Unidentified photographer, Digital image made by an Iraqi citizen and sent to relatives/friends who live as refugees abroad, 'Here are some pictures of my fiancée's house in Baghdad after an attack of terrorists…', Iraq, 2005-2007 © Baghdad Calling/collection Geert van Kesteren
Check out the exhibition Baghdad Calling until September 13 at the Photo Museum in Antwerp.
The Independent has a picture gallery. So does Photoeye. You can also leaf through the book.
Image on the homepage: Baghdad Calling, IRAQ, 2005-2007, © Baghdad Calling/collection Geert van Kesteren.
Related stories: Book Review – Shoot An Iraqi, Art, Life and Resistance Under the Gun, Positions in Flux – Panel 1: Art goes politics – Wafaa Bilal, Why do people desire walls?