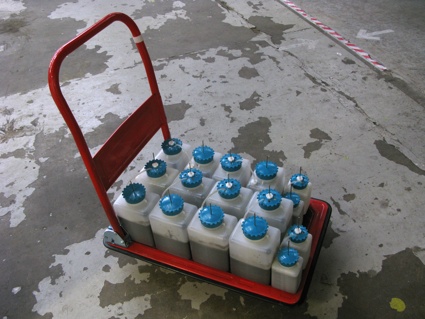 Installing bacteria battery cells for the installation. Photo: Daina Silina
The networked sound installation Biotricity No.5 uses a fairly new "green energy" technology called microbial fuel cell to explore the intricate relationship between nature and technology, biologic systems and electronic networks.
The installation consists of neatly aligned bacteria-fuel cells. Once they are connected together, the cells form a mini bio-power plant that turns into sound the process of generating electricity from bacteria living in mud and water.
>BIOTRICITY. Bacteria Battery No 5
Biotricity No.5 was developed by Rasa Smite, Raitis Smits and Martins Ratniks together with sound artist and composer Voldemars Johansons and young biologists from the University of Latvia.
Biotricity No.5 was also the starting point of a workshop organized by Baltan Laboratories in Eindhoven during The Dutch Technology week. Participants learnt how to make a cell from bacteria living in soil and waste water and how to assemble a 'bacteria-battery' system. But because the event was as much about art as it was about science, participants were also invited to develope collaborative and conceptual ideas for "bacteria-battery" future design, tools for measuring and modulation that can be used for artistic interpretations, sonifications and visualizations.
Since i was curious about the possibility for 'everyday people' to create energy using mostly muddy water, and how the experimentation could translate into artistic concepts and projects, i asked Rasa Smite to talk to us about her experiments in bacteria energy. Rasa is a media artist-innovator and network researcher based in Riga, Latvia. She is chief-editor of Acoustic Space journal series, and organizer of the Art+Communication festival in Riga. She is also is an Associate Professor of New Media Art Programme and researcher at Art Research Lab (MPLab)/Liepaja University and the director of RIXC, The Center for new media culture in Riga.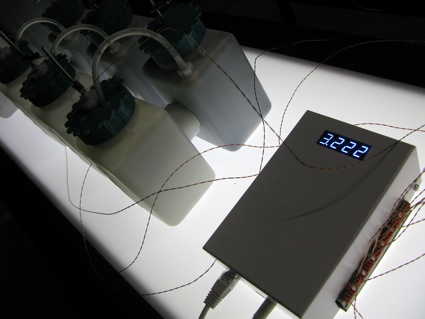 Bacteria Battery in the third day (after the installed was set up) — already 3.22 Volts! Photo: Raitis Smits
Hi Rasa! During the Biotricity workshop at Baltan Laboratories in Eindhoven, participants learned how to make a cell from bacteria living in water and to built 'bacteria-battery' system. How easy is this exactly? Do you need to use sophisticated tools and materials hard to find in shops or on the internet?
We are using so called microbial fuel cell (MFC) technology that generates electrical energy from living micro-organisms that can be found in the commonly available resources such as, for instance, waste water, soil or mud. Experimenting with 'bacterial energy', we intend to use readily available components in order to make this technology more accessible and realizable for everyone interested in green energy production. All you need for building these batteries you either can buy in shops or build yourself.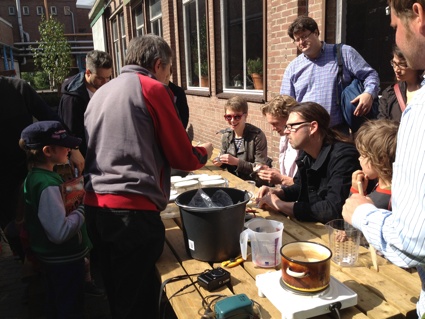 Raitis Smits gives an introduction on the workshop "Biotricity — generating energy from wastewater". Photo: Rasa Smite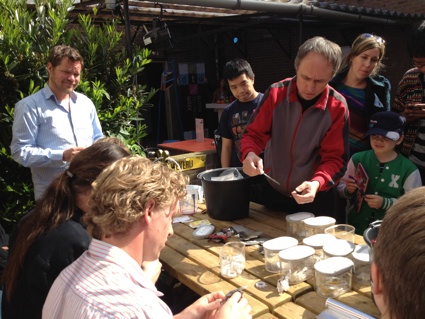 Raitis Smits is showing how to make electrodes and build containers for Bacteria Battery. Photo: Rasa Smite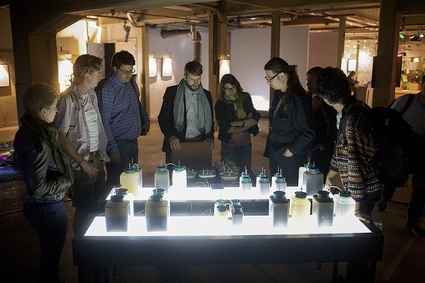 Voldemars Johansons introduces the "Biotricity" workshop participants how to sonify the electrical signals produced by bacteria. Photo: Boudewijn Bollmann
Could you tell us briefly about the kind of experiments participants developed during the workshop? Do you have photos of the process and of what has been made?
A workshop itself is an experiment in terms of how much electrical energy we manage to get from the self-built cells. There are several components behind this process. The most important are the bacteria themselves, who live in water sediments, namely, in mud. We are curious how powerful each time the specific mud will be. Collecting the mud as well as thinking and deciding from which site to do so, usually is also a part of the workshop. In Eindhoven we used our own pre-collected mud from the pond in Genneperpark next to the Dommel river, as it was suggested by local expert – workshop organizer Baltan Laboratories.
For building a cell, participants use 2 plastic containers (in size of about half a liter or one liter) – one with a mud and the other one with a (clean) water. We put inside electrodes in both containers, which consist of stainless steel mesh and carbon material (which participants can make themselves by burning any cotton-based material). Then we build agar or jelly bridge between both cells as we need semi-penetrable 'connector' between those two. In the dirt-container we pump out all oxygen, so the bacteria who are splitting organic matter into smaller substances are now producing hydrogen protons and liberate electrons (which otherwise would be 'taken' by oxygen). The protons are traveling through the jelly bridge to the clean water (towards the oxygen), while we can collect electrons from the dirt-container by using the electrode. Now we can get electricity in outer chain and to connect there LED light or other small-voltage consuming devices.
As the workshop in Baltan was related to our exhibition work, the second part of the workshop was led by sound artist and composer Voldemars Johansons. He introduced workshop participants how to sonify electrical signals and to make sound structures representing and interpreting electricity generation process.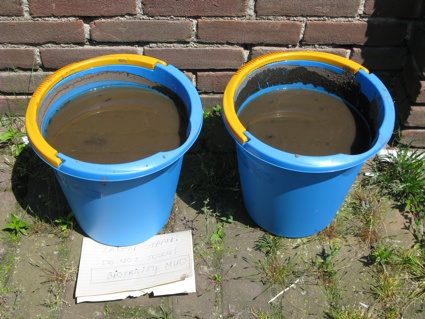 Pre-collected mud from the pond in Genneperpark next to the Dommel river in Eindhoven for the installation and workshop. Photo: Daina Silina
How did you and the other artists you work with familiarize yourself with microbial fuel cells? Self-experimentation? Study with scientists?
We are used to say that we are artists-researchers and cultural innovators, who work with the science and emerging technologies. But as art has different aims then the science, then collaborative work with scientists is more important in the beginning. But then, at the certain stage, art has to fulfill its own tasks and it takes its own path. If we trace back to Renaissance, this path (of art) was not yet separated from the science then. Later, when science became the only mean of determining truth and explaining a 'real' world, art remain in the position of dealing with more uncertain phenomenon, emotional and subjective worlds. Just now, very recently, when our modern society has become even much more complex, it becomes clear that there are no any single discipline which could deal with this complexity. Therefore, art as research with its imaginative, intuitive, emotional and subjective approaches again is getting a recognition as a complimentary discipline to the sciences. More then that we would like to argue, that changing role of art in our society is the one of a catalyst – for social, scientific, and technological transformations.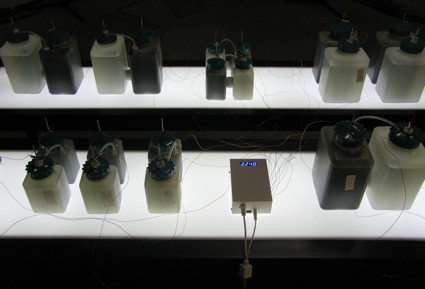 Bacteria Battery in the first day (after set up) produced just 2.24 Volts. Photo: Raitis Smits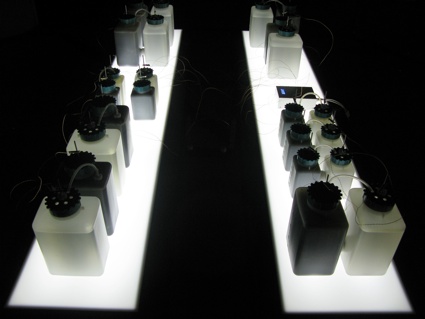 Bacteria Battery – networked bio-energy & sound installation by Rasa Smite and Raitis Smits in collaboration with Voldemars Johansons. Photo: Raitis Smits
Baltan will also exhibit an installation you developed together with sound artist Voldemars Johansons and video artist Martins Ratniks: BACTERIA BATTERY No.5. Could you briefly describe the piece and how it works?
For Baltan exhibition we use self-built 12 microbial fuel cells, each of which generates small voltage of electricity – 0,2-0,7 V. Connected together they create mini bio-energy power station. By using micro-electronics, the signals from bacteria electricity generation is being processed and interpreted into multiple channel sound structures. With sonification we also are aimed at exploring interrelation between biology and computing. In order to make visible the micro-environment, where the bacteria live, we also have made a video from images taken with the electronic microscope.
What exactly can artists bring to the discourse of green energy production? How different is their perspective and approach compared to the one of a scientist?
We, artists not necessarily have to make the models for batteries or prototypes for infrastructures – however we are also keen on doing so. More relevant is that artists are questioning and reflecting. Artists are approaching energy technology issues from social, cultural and ecological perspective, thus reaching more diverse levels in social structure of our society. For instance, as a part of our artistic research project on Bacteria Battery last year we organized series of collaborative working sessions titled "Biotricity" together with both scientists and local communities in very different settings. We did first bacteria battery tests in science laboratories at Latvian University.
Later together with artists the scientists participated in our temporary 'rural-labs' in country side of Latvia, where we explored Latvian vast lands and available resources there for future energy infrastructures (global-local, peer-to-peer, information-energy etc.). For instance, we organized "AppleThink" event where along with apple-juice-squizing workshops and an apple-market, young biologists where showing to local village people how to build bacteria battery from apple-waste.
But most exciting was our experiments to install bacteria battery outdoors, in the pond of our cottage. In the pond, one electrode is installed in the bottom in a mud, while the other one is floating on a surface, in clean water. Because of the larger surface in the water of lakes or oceans, it is more easy to get more power then in half a liter containers. For instance, this technology is used in deep ocean research. However, this technology is also used for powering very small medical devices, as these bacteria also are living in human blood. Yet, we think, that this technology is particularly unique because it contains a potential to be used in remote, rural and undeveloped areas, as well as for building autonomous and self-sustainable infrastructures.
While looking at the video of BACTERIA BATTERY No.5. i was surprised by the size and number of batteries. This form of green energy doesn't seem to be efficient. But is it because the research regarding bacteria batteries is still in its infancy or because you didn't have access to more sophisticated tools and materials to build them?
Well, both, in a way. Yet our primary interest with this project was to obtain a knowledge on how to build a mini bio-power station by ourselves. Also, we are not so much interested in 'instrumentalizing' this technology (in terms of how to make it more efficient) as it is rather the engineers' task. For us half a liter or liter big size cells of which the battery was built, seem just a right way to represent the alternative ways of our visions on future energy infrastructures, which can be produced from local resources, and connected as peer-to-peer networks – locally and globally.
For instance, this technology has been used already in rural Africa, where people for the first time could get in their homes could plug-in LED bulbs and and charge cell phones in five-gallon dirt-powered buckets. So, we really like that this technology is so robust, and that it has so minimal requirements such as mud, dirt, waste, water – at least some of which can be found anywhere on this world, even in the most remote and inaccessible sites.
More then that, we feel affected by the fact that the electricity in this technology is produced by living micro-organisms. Building our installations together with biologists, we realized that the bacteria electricity generation process is not so stable and not always predictable. It depends on the environment, for instance the level of heat, and most likely on some more not yet discovered reasons. And then it came to our mind that probably we should negotiate with the bacteria as we did in our Talk to me (2010-2012) project, where we invited people to talk to the plants encouraging them to grow faster, taller and more beautiful.
As bacteria are living organisms, very old ones and very important for global ecosystem, and if we want them to make more energy… may be we should learn to communicate with them? More pragmatically, but also scientists see the potential of this technology, as they are carrying out their research on how exactly the bacteria conduct an electrical charge and this will help them make this technology more efficient sooner or later.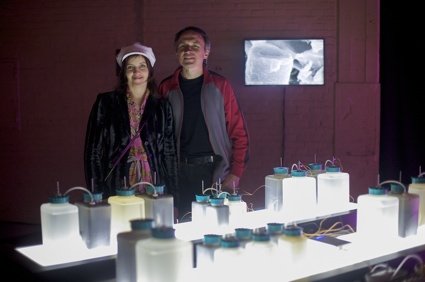 Rasa Smite and Raitis Smits at their Bacteria Battery installation in the exhibition organized by Baltan Laboratories during the Dutch Technology Week (May 31 – June 7, 2013) in the Schellensfabriek, Eindhoven. Photo: Boudewijn Bollmann
Why is it called BACTERIA BATTERY No.5.? is this the 5th version of it? Are you planning to go further with the Bacteria Battery project? with a version number 6? How would it be like?
It just happened that our first exhibition was the fifth collaborative session with young biologists from the Latvian University. This exhibition, where we showed "Bacteria Battery" installation for the first time was RIXC's Art+Communication festival 2012 which with the title Art of Resilience took place in Riga, in October 2012. The installation was a result of four previous work-sessions, which took place throughout the year 2012 in different settings – in science laboratories as well in rural areas and local villages in Latvia. We still have used number 8 in the title at recent WRO2013 festival exhibition, but we stopped it. More relevant was the number 5 – as it was our first result after longer research process.
Currently we are preparing the installation for a forthcoming exhibition on theme of Synthetic Biology at Ars Electronica center. Organizers already have collected a mud for us from the dirt in the streets of Linz city after the recent flood. This Summer we also will be continuing experiments in pond. We will install several cells, which will be connected to the Internet, streaming live images and data from electricity generation process. Thus we will be monitoring electricity generation process in out-door conditions via the Internet all year long, and it seems, that we are the first ones, who has done something like this. What we experienced in the previous experiments is that the microbes actually prefer being in natural conditions, even in cold winter, under the ice, electricity generated by pond is more stable then one in containers. Minimal fluctuations we only could observe in the mornings and evenings. Live stream from the pond-battery is also a part of the installation in Linz.
We regularly are updating news on bacteria research process and results at Renewable network blog site: http://renewable.rixc.lv, and on Facebook: rixcriga.
Thanks Rasa!
More art projects using microbial fuel cell: Nomadic Plants.