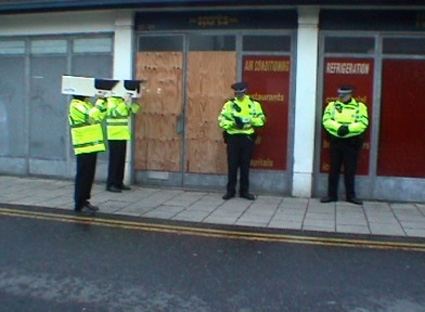 Back in October 2007, Rob O' Copp was fined £30 by a Police Community Support Officer (PCSO), for cycling a short distance across the pavement towards a cycle stand in Nottingham City Centre, in England.
Although their uniform is deceivingly similar to that of police officers, PCSO do not belong to the Police Federation, the staff association for all police officers. Their powers are very limited but citizens might not know it. For example, PCSOs have the same powers of arrest as other ordinary citizens. They cannot detain any 'offender' for more than 30 minutes. Their job is to deal with low-level disorder and anti-social behaviour, leaving regular police officers to concentrate on more serious crimes. More generally, PCSOs patrol the street to reassure communities by their high-visibility presence.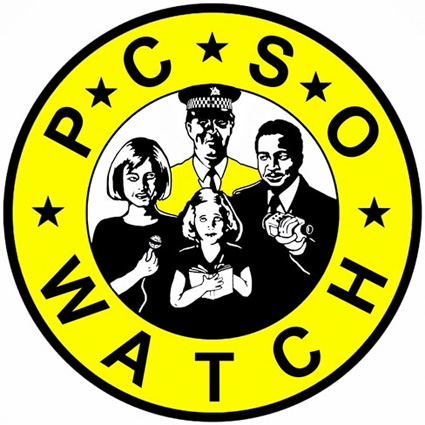 His mis-adventure with a PCSO inspired Rob O'Copp to set up PCSO Watch project. Along with a fellow undercover agent, he gave us a glorious and entertaining presentation of their activities at the Radiator festival a couple of days ago (proper report will follow, at least that's the plan) .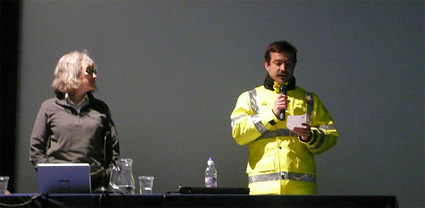 PCSO Watch project has declared that 'We are all Police now' and launched the The Office of Community Sousveillance operation. 'Sousveillance officers' have spent several weeks collecting information, data, and stories about PCSOs and the Community Protection Officer (CPO). During the Radiator festival , they are operating from a mobile field unit placed temporarily in hotspots around the city. The unit is in fact a caravan stationed legally in the center of Nottingham. Wearing a fluorescent jacket similar to the one PCSOs and COPs don and occasionally putting on a mask in the shape of a CCTV camera, they patrol the streets of Nottingham keeping an eye on the ones who keep an eye on the whole city.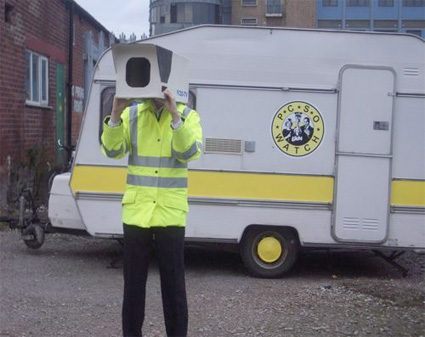 The Office of Community Sousveillance is asking for your help in contributing your stories about PCSOs and their Community Protection Officer (CPO) colleagues, stories will be added to their blog.
Members of the public who would like to be interviewed anonymously or wearing a disguise for a video archive are invited to contact: Officer Rob O'Copp at The Office of Community Sousveillance
email [email protected]
phone 07530 946082
On view at Surface Gallery and in the streets of Nottingham through January 24, 2009.