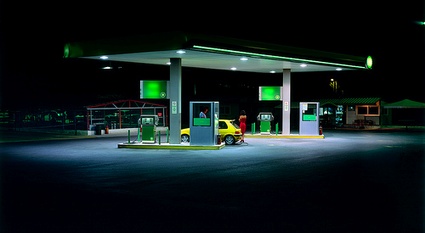 Panos Kokkinias, Gas Station, 2003
AUTO. SUEÑO Y MATERIA [AUTO. DREAM AND MATERIAL], the new exhibition at Laboral Centro de Arte y Creación Industrial analyzes contemporary car culture through the lens of some 100 artworks.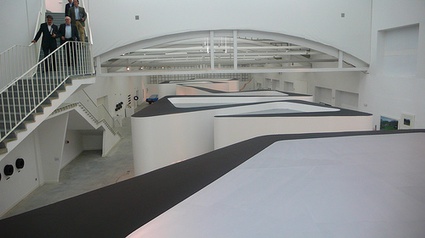 Lovely interior architecture by longo + roldán arquitectos
What an interesting moment to organize an exhibition on cars. Reading online newspaper over the past few months, i had the feeling that an era is closing. Buying a new car is suddenly not as desirable as it used to be: consumers have a new or stronger eco-conscience but most of all, they've been hit by the financial crisis. Sales of vehicles are hitting rock bottom. Governments are discussing or unveiling rescue packages. Jobs in the car industry are threatened. Car companies from all over the world are forced to resort to creative marketing strategies to seduce consumers: major manufacturers are offering hefty discounts while Hyundai is allowing customers to return their new cars if they lose their jobs.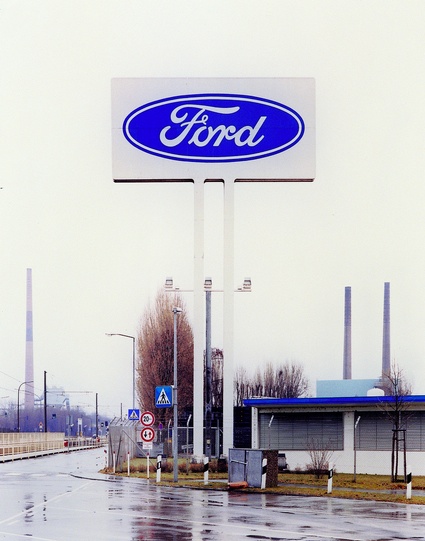 Frank Breuer, Untitled (624 Köln), 1996
Cars have shaped the 20th century probably more than any other product of technology. Ever since Carl Benz created the first "horseless carriage" (1885), the automobile has had a deep impact on almost every single aspect of our life: landscapes, architecture, geo-political relationships (necessity to gain control of the areas that produce its fuel), social and labour movements, even the air we breathe. Cars are also objects of desire, ambitions and dreams. They symbolize independence, power, they've starred in movies and their commercials feature the sexiest women around.
Referring in particular to the Citroën DS (the only car that has ever managed to get my attention), Roland Barthes famously said: "I think that cars today are almost the exact equivalent of the great Gothic cathedrals: I mean the supreme creation of an era, conceived with passion by unknown artists, and consumed in image if not in usage by a whole population which appropriates them as a purely magical object."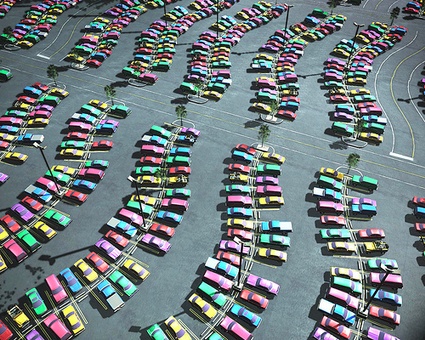 Sven Pählsson, Sprawlville or Life at the Highway Exit Ramp, 2002
AUTO. SUEÑO Y MATERIA keeps a balance between the dark sides and the most attractive aspects of car culture: mobility, speed, power, sex, damages to the environment, alteration of the landscape, energy waste, traffic, etc. Most of the pieces on show embraces several themes at a time. I found the exhibition fascinating and timely but a bit encyclopedic. I'll try and give you a tour in a couple of posts. This one is going to focus on the imprint that car culture has left on rural and urban landscapes: fast highways of course but also rural roads built on purpose for tourists to leisurely enjoy picturesque landscapes, sidewalks for the un-motorized, signage to control traffic, architecture that had to be adapted or created from scratch in order to enable driver to refuel their car, simply park it or lure them into spending the night by the road, etc.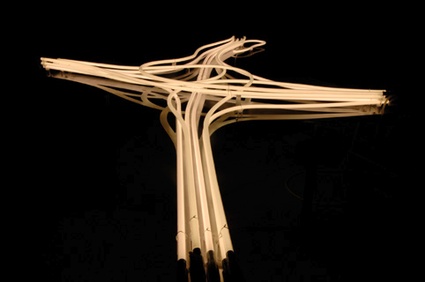 Koen Wastijn, Traffic of Traffic, 2008
Koen Wastijn is a sculpture made of neon tubes bent and twisted in the shape of Brussel's highway interchange which, for the artist, is "the most beautiful Belgian sculpture."
The luminous characteristics of the sculpture remind Belgians (like me) of that tale our parents like to repeat us over and over again: Belgian highways are so brightly lit that they can be seen from space. The sculpture evokes also the number of time we've been stuck in jam right into that knot. The car, this icon of speed and movement becomes a box in which we curse and pray till the traffic finally resumes its fluid course.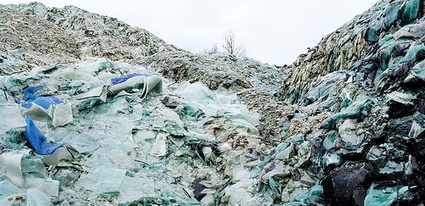 Eric Aupol's photos of a glass recycling center in Picardie, reminiscent of Edward Burtynsky's Oxford Tire Pile (also present in the exhibition), portray waste a an inevitable but also highly aesthetic corollary of industry and consumerism. Its accumulation designs "new" landscapes. Piled up broken bits of glass are paralleled with geological formations.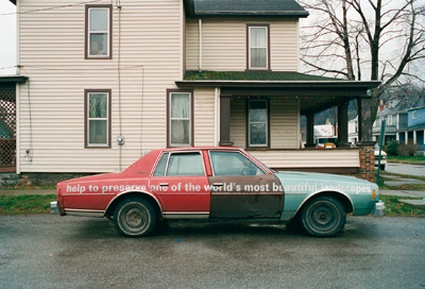 Alain Bublex, Achetez de l'acier, 2006
Alain Bublex tackles this idea of new landscape with the photo Achetez de l'acier (Buy Steel) is a photograph shot with what looks like a Düsseldorf-style detachment. A battered American car from the 1970s is parked in front of a wooden house on a side street in some small industrial
town, the weather is glum. On its side, the car bears the inscription: "help to preserve one of the world's most beautiful landscapes."
The artist explained that his photo highlights the "false paradox" between the issue of preserving the landscape (which is usually restricted to nature) and that of the disappearance of industrial landscapes. Buy Steel and we'll have smoking factories and dramatic landscapes! This solution is in opposition with the one of our time, which tries to convert old factories into cultural centres.
Moreover, the shooting distance from the subject and the lighting patterns reinforces, even more than the sense of our voyeuristic witnessing of a story, the certainty that we are brought in contact with the projection of a mystical dynamic. In this way Kokkinias manages to transform the familiar into an unexplored, remote place, at the same time turning his stories into fantasies which may become true at any moment.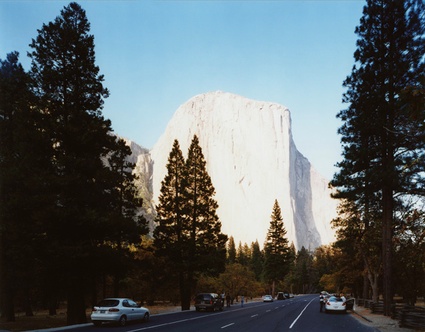 Thomas Struth, El Capitan, Yosemite National Park, 1999
El Capitan, an imposing rocky granite mountain located in Yosemite National Park, has been photographed time and time again by hordes of tourists and masters of photography. Thomas Struth portrayed the rock formation from the road, the place that, as we see in the photograph, is also the place where many visitors stop their car and look at the mountain. Unlike most photographers, Struth chooses not to obliterate the road and the cars. They might not seem to belong to the pristine beauty of nature but they enabled tourists to get a fast and easy access to it.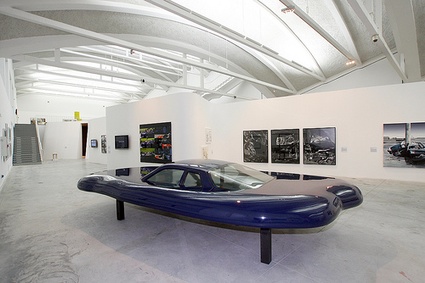 Exhibition view (photo Enrique G. Cardenas)
More soon…
The exhibition is on view until September 21, 2009 at Laboral Centro de Arte y Creación Industrial in Gijon, Spain.