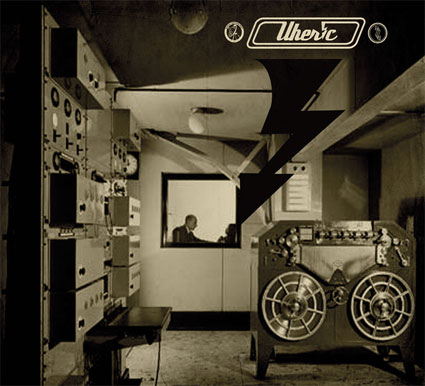 UHER.C. Photo Guido Costa Projects
Robert Kusmirowski does copies, simulacra, forgeries, mock-ups. Meticulously and masterfully. The result of his craft is an illusion. You believe you're in front of a relic from the past, complete with patina: a sepia photography, old newspapers, cigarette packs, but also a graveyard, the wagon of a '40s train or an entire train station. I never used to be fascinated by sculptures but the young artist put such a eerie, retro-innovative' spin to the genre that he won me over.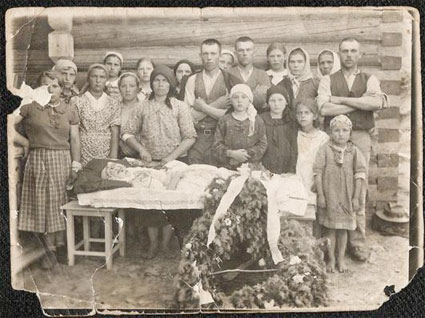 Robert Kuśmirowski, Ungut, 2006
Information about the artist state that he started to make deliberate mock-ups as a child, building toys he couldn't get in socialist Poland. Elsewhere you will read that from an early age he painstakingly forged bus passes and postage stamps for his entire family.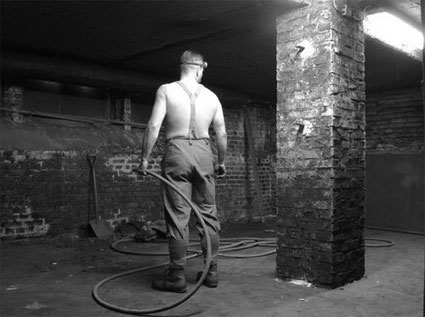 Robert Kusmirowski's solo show at Migros in 2007
The Polish artist currently has two works in Turin, one is UHER.C at Guida Costa Projects. The second one, DATAmatic 880, is on show at the Fondazione Sandretto Re Rebaudengo as part of the Turin Triennale.
Both use mechanics and electronics as symbols of a broader reflection on 20th century European history.
 They are suggestive, non-functional machines, they are nostalgic and absurd. They play with time and place. They evoke a period the artist is too young to have experienced.
DATAmatic 880 is a 1960's computer lab that comes straight from the time machine. Its name recalls the DATAmatic 1000, a large-scale electronic data processing machine, launched by American company DATAmatic in the '50s. As you can guess, Kusmirowski's DATAmatic 880 never existed.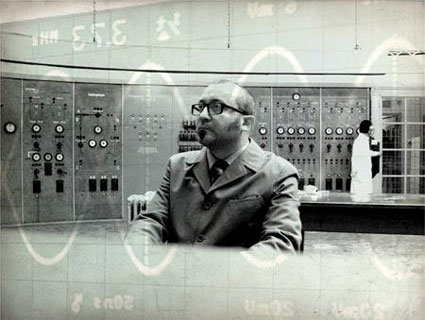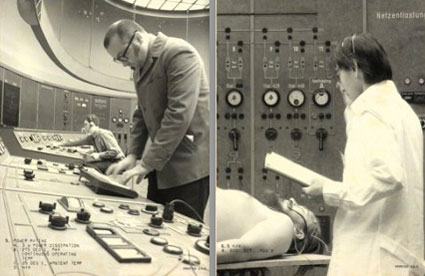 Robert Kusmirowski DATAmatic 88. © 2007 Robert Kusmirowski & Galerie ZAK | BRANICKA, Berlin Courtesy Leif Djurhuus
UHER.C is another non-relic from the '60s.
Especially conceived for the Guido Costa Projects gallery, UHER.C is a recording studio. It is meant to be manipulated by rockers, not by neat scientists in white gowns. UHER.C is as cluttered, messy and dusty as DATAmatic 880 is glossy and hygienic.
You can only observe UHER.C through a window panel. In turn, the recording studio lets you take a peak at the future that has been (or might have been) but which appears obsolete today.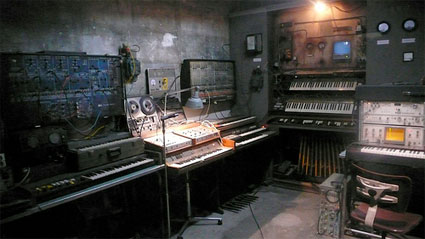 UHER.C is a classical, archaic sculpture that has gone berserk: it is both the nightmarish and joyous side of machine.


The press release says: UHER.C gets its name for phonetic, geographic and historical reasons (respectively Hertz; UHER a mountain region in the environs of Lubin; and Mr UHER.C, a researcher into the physics of sound). It is an extraordinary sculpture with a thousand souls, keyboard, oscillators, microphones, amplifiers, recording devices, cables, mysterious objects, pure inventions, sounds, voices and lights. It is a living sculpture that now and again unplugs one of its souls, caged in its circuits for decades, or it gives a voice to other souls born especially for the occasion.
Slideshow of the exhibition:
On view at Guida Costa Projects, Turin, until Saturday 28 February 2009. At the end of the exhibition a limited edition LP will be produced of music by Robert Kusmirowski.
See also Vernissage TV coverage of the opening of DATAmatic 880 in Berlin.
Previously: Wagon, a faithful reproduction of the vehicles that served to deport countless people.
At Guido Costa Project: In Loving Memory, The Velocity of Thought.