Just back from a trip to Kreuzberg where i discovered an exhibition space called Ballhaus Naunynstraße. They are showing until tomorrow (April 30, from 8 p.m to 9 pm.) three sound installations which, coupled with some really nice falafels like they do only in that neighbourhood, made my Sunday afternoon.
As you enter the building you're greeted by 17 Hippies – Das Hip-O-Phon, a sound sculpture by Christopher Blenkinsop and Klaus Wagner. The wooden staircase that leads to the gallery is occupied by organ pipes up to 20 meters in length which create sound with material from the German band 17 Hippies.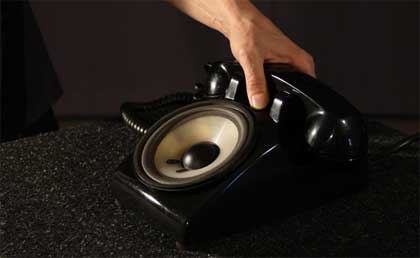 Up the stairs, turn left and enter the room of O Telephone, an 8 channel sound installation developed by Berlin-based Canadian artist Don Ritter.
Six modified 1960's telephones are installed in circle on black pedestals within a darkened room. They randomly ring, each with its own distinctive sound. If you pick up a phone that is ringing, a powerful yoga-like "om� is heard through the handset and through the speaker located where the dial of the phone used to be.
If other people answer other ringing phones, the resulting "om� sounds will pan through all the answered phones. Like the ringing, each phone has its own "om" voice, some male, other female. The telephones will eventually begin a composition comprised of the ringing and "om� sounds if they are not answered by viewers. The best way to enjoy the piece is to stand in the middle of the circle of phones, then it feels like the sounds are turning around you. There are 35 different voices. The artist actually used the voice of the people in his yoga class when he lived in New York.

I liked the installation for two reasons: first of all because the old phones, though modified, keep on being beautiful and even get a mysterious touch in the process. The experience was quite engaging as well. I was alone in the room going from one phone to the other, not sure i was understanding what was happening at first (that's a bad habit i have: i try to play then i read the accompanying notice) but totally enjoying it.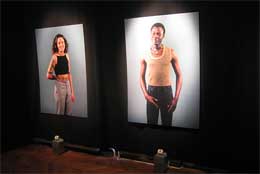 Down another staircase, turn left again to interact with Ingo Kniest's Tanz in Sicht, a series of life-size portraits individual taken out of the dance floor to pose for the artist in a mobile photo studio.
Sensors track your movements, and according to them, trigger pre-programmed audio loops, turning the space into a living soundscape. Observers of Kniest's shock-frozen portraits become the directors of new repetitive beats. Relationships here are reversed. The ecstatic dancers are captured utterly still; the visitors become the ever-moving mass.
Other art works using old-style telephones: the Four Ophones, Improvisation for Two Altered Telephones, Phones hanging from the ceiling; the Telephone Sheep.