A quickie on painted and drawn goodies seen at Artissima, the international fair on contemporary art that closed on Sunday in Turin.
One of the few artworks that made me feel alive at Artissima is the series of clown paintings by Shane Campbell (at the booth of NYC-based Bortolami Gallery). His clowns are depressed and pathetic which has always been the way i saw clowns.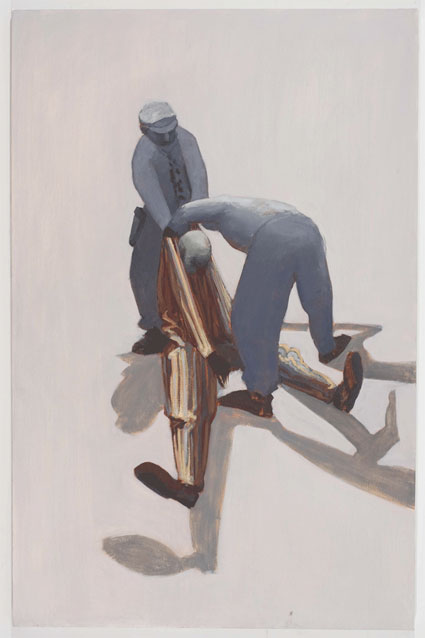 The Dirge , 2006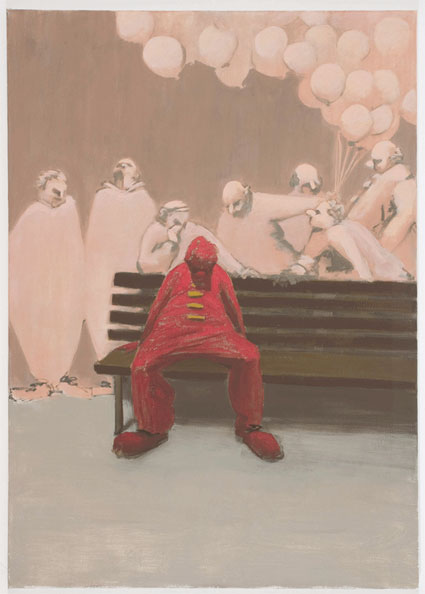 A Whisper , 2008
mitterrand + sanz / contemporary art in Geneva featured the delicately hot drawings of Virginie Morillo.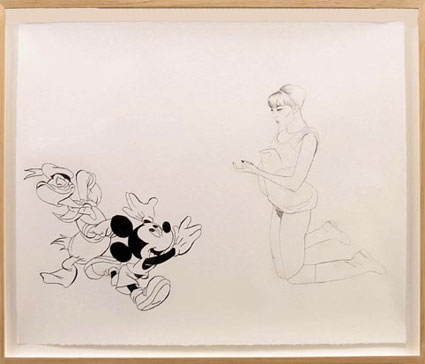 Come on baby, light my fire!, 2008
The Galleria Antonio Colombo in Milan had some merry and eerie drawings by the underground artist and musician Daniel Johnston.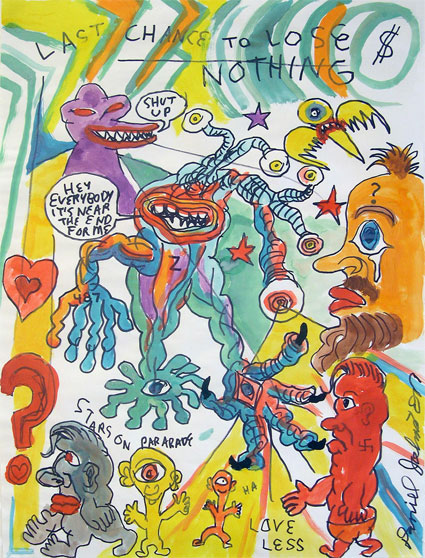 Daniel Johnston, Last chance to loose nothing, 20
The Kevin Bruk Gallery (Miami) was showing paintings by Christian Curiel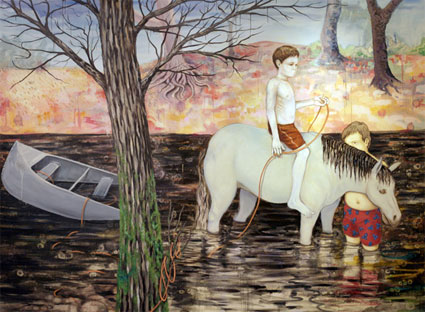 Sinking Feeling, 2007
The Ileana Tounta Contemporary Art Centre from Athens had a great diptych by Dimitris Andreadis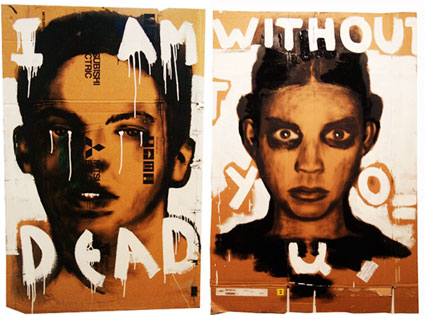 DEAD, 2008
Galleria Perugi from Padova had many interesting paintings. They didn't have the one below but that won't prevent me from introducing you to Laurina Paperina.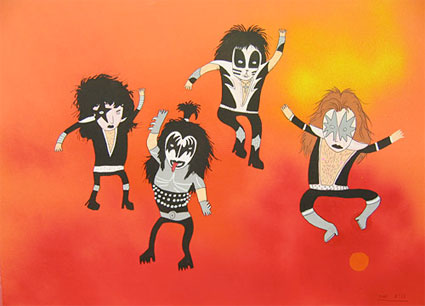 The Kiss, 2006
Alexander Gray Associates had set up a solo exhibition by performance artist and political activist Karen Finley.
With Artissima 15 opening immediately after the United States Presidential election, the gallery decided to dedicate its booth to Drawings from the Bush Administration, 2000-2008 , a selection of Finley's works on paper made over the past eight years of Bush's presidency. The works reflected on social and political events such as 9/11, the War of Iraq, the rise of Secretary of State Condoleeza Rice, fictional journals of Laura Bush's dreams, the execution of Saddam Hussein, and Sarah Palin's vice-presidential candidacy.
Mr. President, 2008
Besides, visitors were invited to inscribe on the booth's walls the names of those killed in the War on Iraq, creating a collective witness, site for mourning and, ultimately, a call to action. The names of the nearly 150,000 deaths were gathered from internet sources.