A few days ago, i was at La Cantine in Paris to cover and be a member of the jury of the second edition of the ArtGame Wee­kend. Artists, graphic designers, musicians, interaction designers, engineers, VJ's and coders were given 48 hours to develop a game for mobile devices.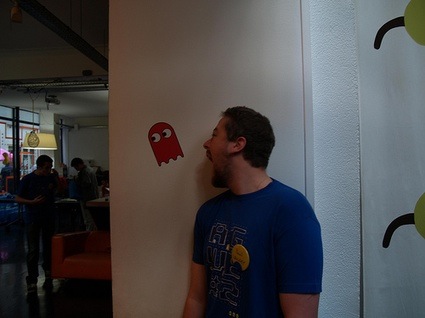 Photo by Simon Bachelier and Brice Roy
On Fri­day eve­ning, 36 participants – most of them had never met each other – submitted their ideas for a game. They had then 20 minutes to discuss what the 6 most exciting proposals were and built teams around these 6 winning ideas.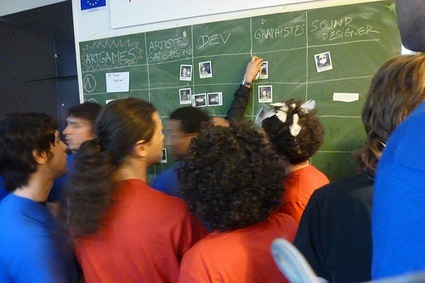 The remaining hours were dedicated to collaborating on a game that had to be playable, playful, original, suitable for mobile platforms and have some art credentials (although the definition of that particular point was rightly left to their discretion.) Participants were provided with food, sofas, coaches to guide them and a team of hosts.
The 6 teams worked day…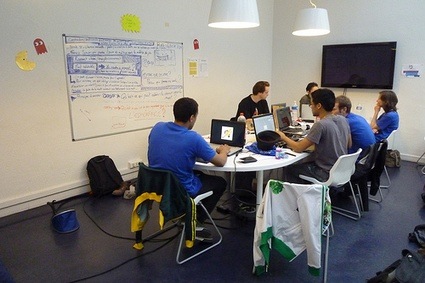 and night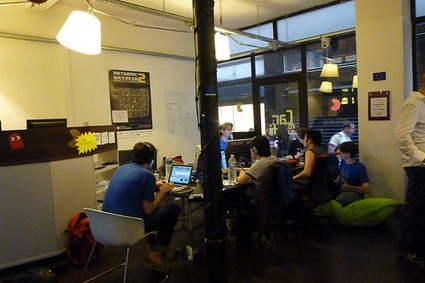 The winner last year was Générations, a game that a sole person will never have the time to finish since it has to be passed on from one generation to another and thus be played over several decades.
I didn't have particularly high expectations before the Sunday presentation. I had heard some interesting ideas on the first night but then i thought "how much can you do over 48 hours?" A lot as we discovered. I had a fantastic time reviewing the projects together with the other members of the jury: designer slash researcher slash developer Damien Djaouti, Sylvain Huguet, co-founder of Dardex-Mort2Faim, and of the fes­ti­val GAMERZ and Fabien Delpiano, founder of Pastagames. Here we are during the public presentation: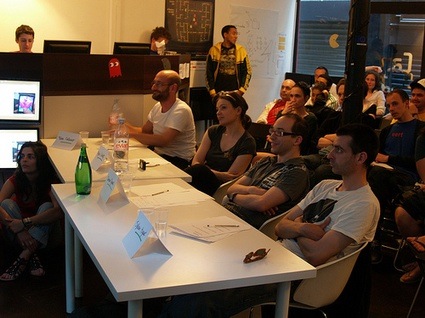 Team presenting the game EXIN. Photo by Simon Bachelier and Brice Roy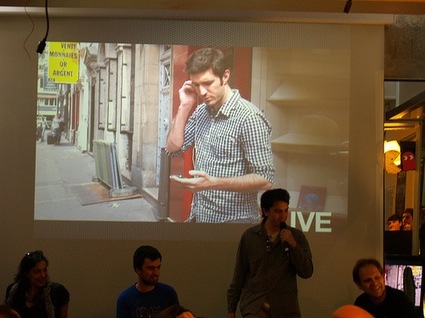 Team presenting the game Big Brother. Photo by Simon Bachelier and Brice Roy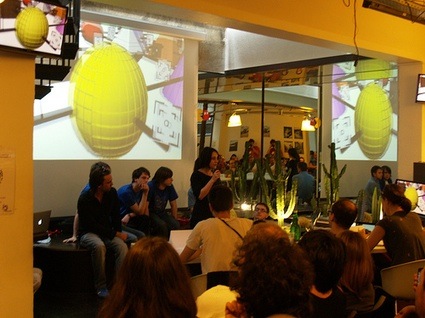 Photo by Simon Bachelier and Brice Roy
After the presentations, we (=the jury) were led together with a great choice of antipasti in a room to play and decide.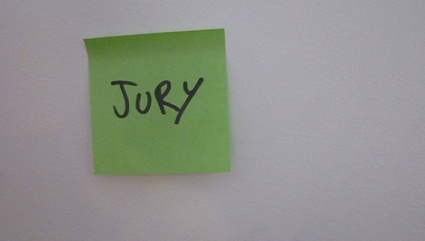 The game we liked the best was "Gone" and if i tell you that it is simply about death and has the player run for their life until they ineluctably die, you might not find the concept highly exciting. But as developer writes "It really needs to be played to be understood. If I had to sum it up in a sentence I'd say "embrace the calm inevitability of death". The design was impeccable, the sound design was flawless and the game was extremely absorbing. It was an unpretentious game but there was nothing we wanted to change about it. Bravo to Claire Sistach, Romain Bonnin, Caesar Espojo Pham, Fabien Cazenabe, Lionel Jabre, Lise George and William Dyce.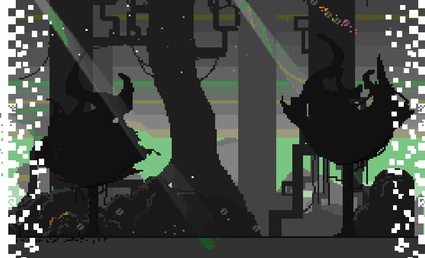 Another game that deserves a mention asks players to keep a nuclear power plant in their pocket. As its name indicates, Fukushimagotchi was inspired by the Fukushima accident. The nuclear plant quietly grows and thrives inside your pocket but if you climb the stairs too fast, jump or let the phone fall, the nuclear power plant will suffer from the instability it immediately perceives and will start releasing radiations in the environment. The team explained us that they plan to make the game geolocative so that the radiations in Paris will not only be mapped but can also be detected by your device as you go through the city. The team members for the project were Lucas Grolleau, Cedric Liang, Josselin Perrus, Marc Planard, Johan Spielmann, Jet Ung with Cedric Pinson.
Then there was Baby Boom. The team have created a game that simulates a woman giving birth. Very graphic, very politically incorrect.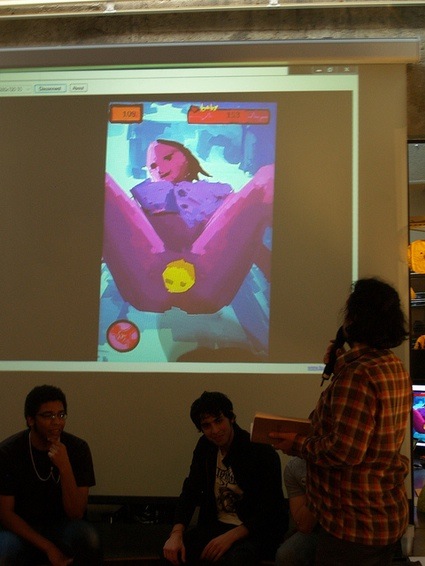 Photo by Simon Bachelier and Brice Roy
The game Colossus is very promising. Players use their index and medium finger to 'walk' on the screen. Like a Godzilla terrifying a whole city. You can chose to either destroy the buildings and crush people. The city will then rebuild itself slowly after your passage. Or you can decide to spare everyone but your stroll will get more difficult as the game proceeds since you will encounter more and more houses and people to avoid.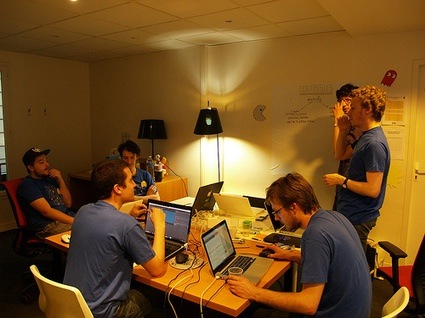 Photo by Simon Bachelier and Brice Roy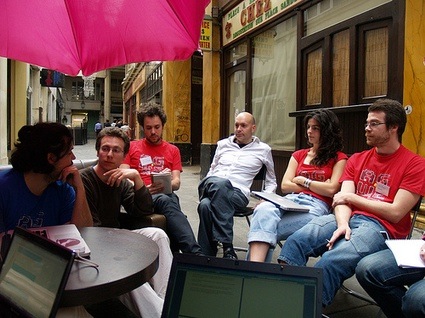 Photo by Simon Bachelier and Brice Roy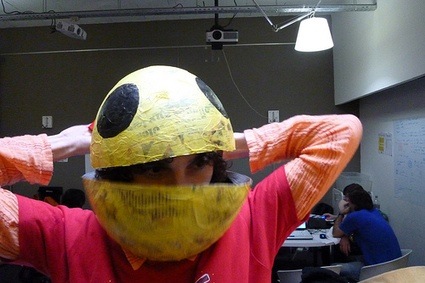 Julien Dorra, one of the organizers of the event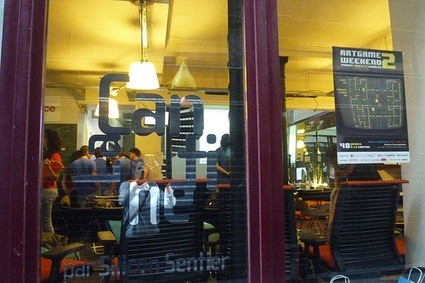 ArtGame Wee­kend was organized by nod-A, Julien Dorra, One Life Remains and Silicon Sentier.
If you read french, check out Digital Coproductions' coverage of the ArtGame Weekend.
All the images tagged artgameweekend.