The little black dress as erotic playground for pong?
Max Moswitzer and Margarete Jahrmann alias Marguerite Charmante of the Ludic Society (and of the Nybble Engine fame) have crafted a Pong Dress to dissolute the boundaries between body and screen.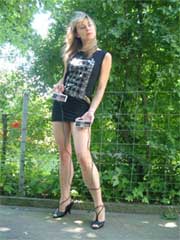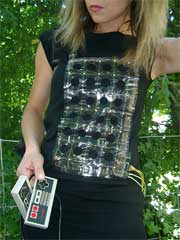 White LED's shine through the black front of the dress. At hip level, two retro-game consoles are offered to players to play Mini-Pong on a 5×7 LED screen worked into the dress. Two pixels move up and down as rackets to the left and right along the waist. With every achieved point, the green score display blinks at chest level.
Hit the dot back and forth with two sticks – this time all new on a 3D playing field, that is moving, chatting and laughing. we hit the dot with some spin from the height of the belly button and aim at the left nipple.
Check it at the Pong Mythos exhibition that just opened in Leipzig. More images.
The dress was inspired by Valie Export's Tap and Touch Cinema, 1968, in which the artist, a box attached to her naked chest, invited pedestrians in several European cities to "visit the cinema".
Via Selectparks.
Related: Dress, a polypropylene dress fitted with small "counters" which offer glimpses of human flesh for "sale"; One ball, two bats and our life in a digital world.