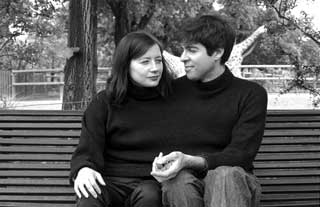 Very few artists have intrigued me as much as Art Orienté Objet, a French duo concerned with issues of environment and animal experimentations. Art Orienté Objet means "art oriented object" but it can also be read as "art oriented by objects." The projects of Marion Laval-Jeantet and Benoît Mangin aim to raise the debate on what's going on behind the closed doors of laboratories and in our society.
Their work, deeply grounded in current research, explores the inter-related fields of science and art. On some occasions they use the same tools as scientists. For one of their most iconic works, Culture de Peaux d'Artistes, they asked researchers of the MIT skin production laboratory in Boston to take biopsies of their epidermis. Then they got samples deposited on a pig's dermis which they tattooed with animal motifs, mostly of endangered species or those used in biology. The skin became the site of a symbolic alliance and a questioning of the 'species barrier'.

However, Art Oriente Objet's work also demonstrates that, when engaging with biotechnology, the most challenging artistic metaphors do not necessarily require bio-reactors, sophisticated instruments and hig-tech procedures. The main component of Rabbits were used to prove, for example, is the taxidermied body of a white rabbit found in trash. Its insides have been replaced with entrails knitted out of wool obtained from the Dolly the Sheep, the first mammal to have been cloned from an adult somatic cell. The piece questions the relationship between ethics and aesthetics and comments on the correlation between certain aspects of art and science.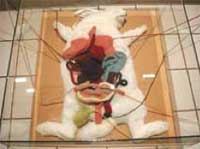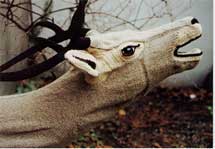 Their series of doll museums recall Box in a Valise –Marcel Duchamp's portable museum of favourite works– and the cabinets of curiosities so popular during the Renaissance. The em>Museum of Natural Horrors, the Museum of Mental Horrors and the Museum of Human Horrors look like adorable doll houses but expose upsetting scenes of vivisection, animals in bell jars that are delivered electro-shocks, pets in cage, battery hens that have some human characteristics, etc.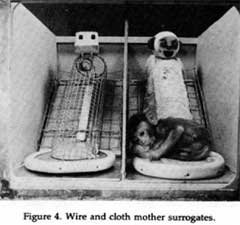 The fact that the house and its inhabitants are tiny and cute makes the reality that the objects evoke even more disturbing. One of the artefacts displayed in The Museum of Natural Horror is the "Wire-Mesh Surrogate Monkey Mother" that recreates one of Harry Harlow's experiments on the "science of affection." In the '50s, Harlow separated infant monkeys from their mothers. The young animals were "raised� by surrogate monkey mother machines, both equipped to dispense milk. One mother was made out of bare wire mesh. The other was a wire mother covered with soft terry cloth.
Another striking project is Pioneer Ark, a hanging mobile inspired by a visit of the Pioneer Farm. This Australian center collects animals victim of mutations due to human activity (toxic chemical and radioactive pollutants) or naturally occuring factors. The artists were granted the authorisation to visit but not the right to take any picture. After their visit at the Farm, AOo gathered all the descriptions of mutant animals they could find into scientific publications and made a gigantic Noah's ark inhabited by transgenic porcelain species.
AOo was formed in 1991. Did you have the objective to explore issues raises by biotechnology, experimentation on animals and ecology right from the start? Did your objectives and approach evolve over the years?
We decided right from the start to work on the manipulation of the living, the vegetal, the animal and the human, by society and science. As we were very involved in ecological groups, it seemed only logical to engage with issues realted to biotechnology and experimentations on animals.
In fact, we never strayed from those issues, we just broadened the approach according to the fields of experimentation we immersed into in order to make arise visionary images and processes. I use this term on purpose as it expresses adequately the logics of our work: let the vision emerge after having dived into knowledge.
What is your background? Has either of you been trained as a scientist?
At the beginning, i was the only one who had made scientific studies, for family reasons, i have a master's degree in physics-chemistry, which i earned in paralled with art studies and later on i studied ethnology and clinical psychology jusqu'au troisieme cycle. Benoit's background is more in literature. He studied scenography, theatre, literature and history of art.
When dealing with research centers how open can you be about your motivations and the fact that your perspective is one of artists? I'm thinking in particular about the project "Cultures de peaux d'artistes". How did you convince researchers to help you achieve your goal?
It is very difficult to find research centres open to artistic approaches… We are artists first and foremost, the research proposals we suggest are extremely astonishing compared to the protocols they establish. Besides, our proposals have to meet with a particular curiosity they might have. In fact, the research is a bit of a boot camp and the result of a long negociation. I narrate in detail the story of "skin culture" in an article published in the Fall 2006 issue of the Canadian magazine "inter art actuel".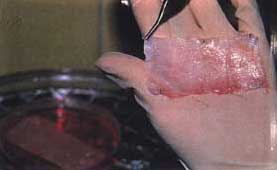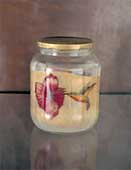 Culture de Peaux d'Artistes
How do the works Museum of Natural Horrors and the Museum of Mental Horrors respond or are related to a previous project called Museum of Human Horrors?
The initial project involved the creation of an anthology of the three research fields on manipulation that motivated us: the ecological field (Musee des horreurs naturelles/Museum of Natural Horrors), the biological field (Musee d'horreurs humaines/Museum of Human Horrors), and the psycho-scociological field (Musee d'horreurs mentales/Museum of Mental Horrors). The three museums were put together at the request of galleries and collectors who wanted more coherence from us. We reacted by showing them how our past and upcoming works could co-habit with ease.
What could artists and scientists gain from more frequent collaborations?
Artists present original approaches which scientists may not be able to follow due to the logics of productivity of current laboratories. Quite often such approaches meet with desires scientists might have to experiment the "in-experimentable" and the artist becomes the medium that opens up heavy protocols. However, it's often a difficult process. From the artists' point of view it's a win-win situation. That's if they want to enter the scientific codification… which might seem quite heavy.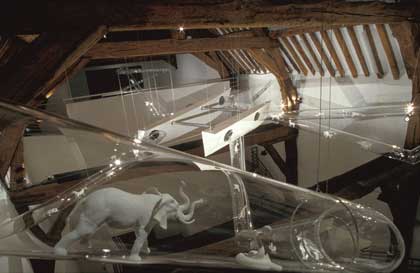 Could you explain us what you were trying to achieve with Pioneer Ark? What was the impetus for this project?
Pioneer Ark is a revealing work, it presents a scientific reality well-known but which hasn't been documented with images, because images generate polemics. This reality is the rise of spontaneous genetic mutations and aboratory hybridization. Because there wasn't any proper images of such realities well-known by the scientific press, we have created a kind of gigantic Noah's Ark. Animal figures belonging to this genetically modified reality are walking inside its tubes. The work is meant to be both revealing and fascinating so that each person can freely decide what is his or her own position in a world in perpetual mutation. However, it is a disturbing work. The complete installation has only been exhibited once…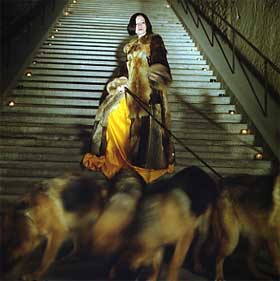 I remember reading in a magazine that TC&AP's Victimless Leather Jacket disturbed the public. Some would rather wear the skin of a slaughtered cow on their back than imagine that one day they could donne such leather coat even if it didn't require any animal to suffer. I suspect the Roadkill coat, a garment made with the fur of dead animals found on the road, generated the same kind of reaction. How did the public react to it? Do artists need to shock and disturb in order to get their message through?
Reactions to the Roadkill Coat were more in the order of fascination than horror. The work has been interpreted as a finger pointed to the damage that the urban world is causing to the natural world. Everyone was trying to find out which animals the coat was made of. They seemed to admire it.
The coat was more political than horrifying and its shape highlighted the beauty of a sacrified wild world. People tended to interpret it more as a call for increased awareness than as a provocative object, and that's exactly what it was. In reality, what shocks us most of the time is not provocation but the fact that provocation leaves one indifferent… It's the pure message of reality that disturbs most. That's why we've always worked with it, producing objects embedded with a fundamental antagonism: repulsion and fascination.
Who are the artists whose work you find particularly inspiring?
Talking about inspiration would take us too far back in time… *grin*
We work in a very autonomous way. However we like plenty of artists. They range from Chris Burden to Jeffrey Vallance, Jun Takita and many others.
Are you working on new projects or preparing exhibition?
Yes, we never stop. We are working now on ethological delusions, on vegetal biotech works and smells, on architectures of the physiological memory and i write… I'm the author of a novel about creation, "Premiere peau" ("First Skin") which has been published in Germany, under the titled "Dreigestirn" at Piper Verlag.
Merci Marion.