Another project from the RCA Great Exhibition.
90% of children between the age of 8 to 16 years old, have accidentally viewed unwanted websites.
It is becoming popular for parents to set up internet filters (e-mail protection, pop-up blocking and chat room monitoring between others) which block unsuitable violent or adult websites. However, there are still a large number of websites which can easily pass through the filters and allow children to reach unsuitable material.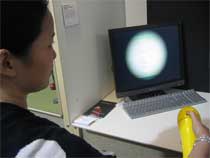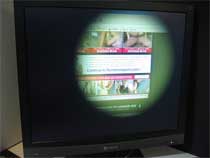 Eriko Matsumura's WebFare is the dream tool for parents who want peek into their children's web surfing. The application and product looks like an electric torch that parents can shine onto the computer screen. A halo will unpeel one after the other the websites recently visited by their child. It gives parents a glimpse into their child's interests and surfing habits, rather than restricting their web access. Parents can then choose which topics they may want to discuss. As a result, WEBFARE can help parents to protect their children in their absence.