"Vienen por ellas" (They come for them) is a Chilean ARG game (game of alternative reality), created for Telefonica, that mixes the real world with the game world.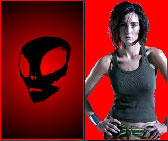 Aliens are planing to conquer the Earth. They will capture all the women to fill the planet with "hybrid creatures."
Users become part of an anti-alien organisation called Plan-EVA which tries to save the human race by solving quiz, answering questions, finding the clues, etc.
Users play via SMS, voice messages, Web sites, WAP, moblogs, MMS, ringtones, etc. For example, by calling the 321 (called "intercomunicador 321"), the player can listen to his present mission, get clues to solve the riddles, etc. Forums were also created for players to share and comment their experience.
So far, the game is a success, with more than 300,000 users (mainly between 12 and 30 years old) registered.