A new episode of #A.I.L – artists in laboratories, the weekly radio programme about art and science i present ResonanceFM, will be broadcast today Tuesday 4th December at 4:00 pm. There will be a repeat on Thursday 6th December at 10:30 pm. You can catch it online if you don't live in London.
The host of this episode is conceptual artist Koen Vanmechelen who has spent the past 20 years crossbreeding national species of chicken in order to create the ultimate 'Cosmopolitan Chicken Project.' You might or might not know it but each country has cultivated its own peculiar breed of chicken: the French, for example, have the Poulet the Brest. It's white and red with blue feet, the same colours as their flag. Americans like their chicken to be big and powerful. The Chinese have created a chicken covered in silky feathers.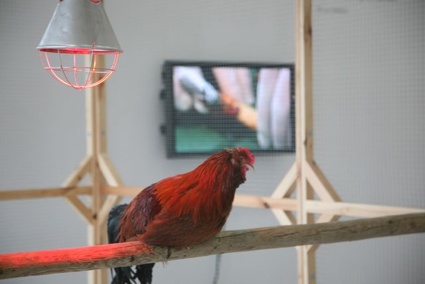 Koen Vanmechelen, 'Golden Spur' at Parallellepipeda, M – Museum, Leuven (part of the Cosmopolitan chicken project)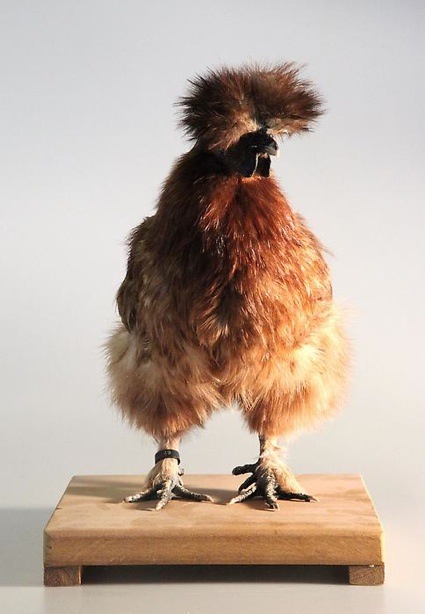 Koen Vanmechelen, Mechelse Silky 14th Generation – C.C.P., 2011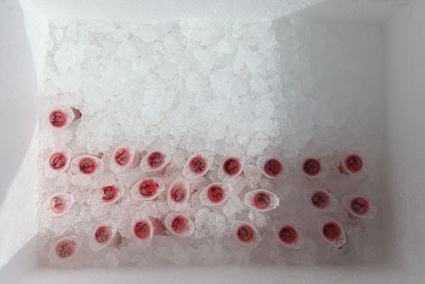 Koen Vanmechelen, The Cosmopolitan Chicken Project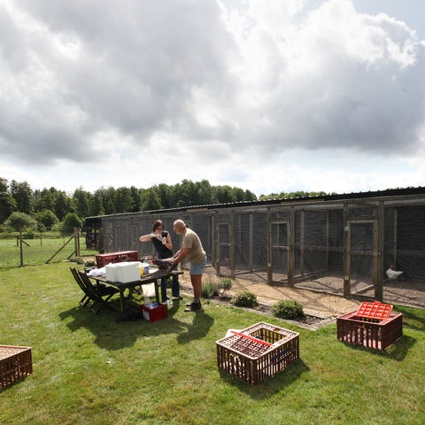 Koen Vanmechelen, The Cosmopolitan Chicken Project
I've been admiring Vanmechelen's work for several years but i only got to meet him a few weeks ago at Z33 House for Contemporary Art in Hasselt. That's where the interview took place. The conversation has moments of humour and moments of deeper reflection. There's something both humble and heroic about Vanmechelen's stories of the incestuous and infertile English Red Cap or of the rooster that underwent surgery to be fitted with a new golden spur. But Koen's research project is not just about chicken and egg. His work encroaches on the fields of science, philosophy and ethics to ask questions about biocultural diversity, identity, evolution and freedom of movement.
For a sneak peek of his work, check out this short video of Koen Vanmechelen summing up the Cosmopolitan Chicken:
Or this other one, showing the artist at work in Venice:
Image on the homepage: Koen Vanmechelen, Mechelse Bresse (M) x English Redcap (F), 2007