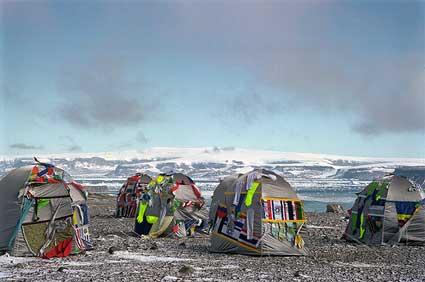 Lucy + Jorge Orta | Antarctic Village – No Borders, 2007, courtesy Galleria Continua, San Gimignano – Beijing. Photo: JJ Crance
According to the Antarctic Treaty signed in 1959, the continent's territory is a protected ecosystem and as such cannot be used neither for military purposes nor commercial exploitation. The Antarctic contains 70% of the planet's fresh water reserves in the form of ice and, today, its name evokes the slow melting of the ice caused by global warming. In 2007 Lucy + Jorge Orta went to the inhospitable land on an artistic and social research expedition.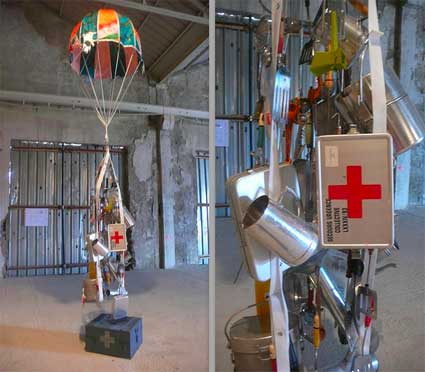 Antarctic Village – No Borders, Drop Parachute
The tents, survival kits, videos and mobile aid units created by the artists as a result of their expedition to the edge of the world are having their first public showing at the Hangar Bicocca in Milan. Hangar Bicocca is real big. Before being a space dedicated to contemporary art, it was a vast industrial factory that manufactured bobbins for electric train motors.
The star of the exhibition is Antarctic Village. Made of 50 dwellings that bring out the images of refugee camps broadcast on tv, the installation is a symbol of the plight of those struggling to cross borders and to gain the freedom of movement necessary to escape political and social conflict. The temporary encampment was envisioned as a free, neutral territory in a place where living conditions are so extreme that it imposes a situation of mutual aid and solidarity, no matter your nationality.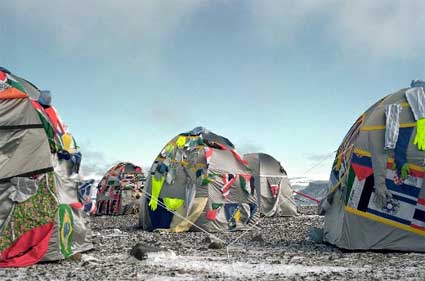 The tents are hand stitched with sections of flags from around the world, along with clothes and gloves, symbolising the multiplicity and diversity of people. A recent UN source states that 2.2 million migrants, mainly from the African and Asian continents, will arrive in the rich world every year from now until 2050. The artists go beyond their comment on the free circulation of individuals across the whole planet by proposing an amendment to the Universal Declaration of Human Right that would include the right to free circulation, on par with merchandise, economic flows and pollution.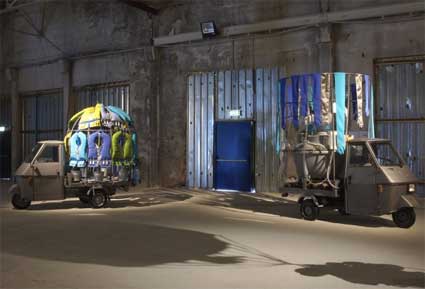 Photo Credit: Thierry Bal Photography
The Antarctica exhibition is also an occasion for presenting other works created by the couple over the last five years, addressing social, environmental and humanitarian issues: mobility, migration, climate and environmental crises, and human rights:
– Orta Water, everyday objects and mobile prototypes which allow for water gathering, purification and distribution. They were designed for the part of the world population whose access to food and water is put at risk by the consequences of environmental crisis and free market privatization.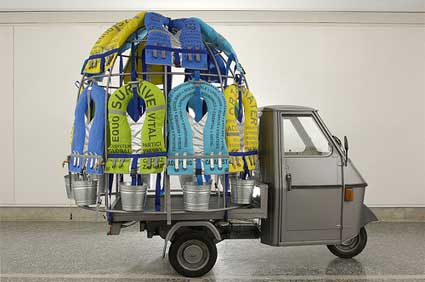 Orta Water – Urban intervention unit, 2005. Credit Photo, Gino Gabrielli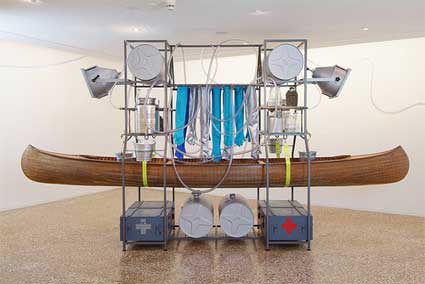 Orta Water – Mobile intervention unit. Photo credit: Gino Gabrieli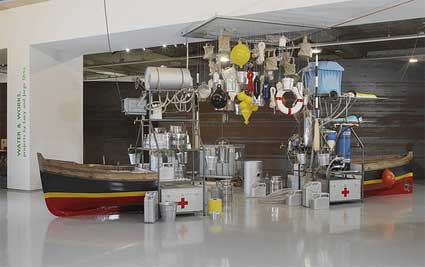 Orta Water – Purification station. Photo credit: Bob Goedewaagen
– Urban Life Guard, the famous series of survival figures created by the artists for their urban performances. The structure is made of stretchers, camp beds, resistant garments and modular devices, which, in case of situation of crisis or danger, can be assembled and used as sleeping bags or shelters.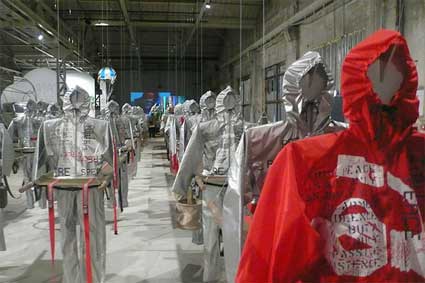 – some M.I.U. (Mobile Intervention Unit): industrial, ex-army vehicles or ambulances converted into first aid units for civilian populations. They are outfitted with an array of emergency equipment that range from water filtering systems to temporary dormitories. On the exterior, quotations, sentences or images recall the fate of those who are forced to immigrate for survival. Stationed at hangar Bicocca was Nomad Hotel, a reconditioned military four-wheel truck with micro living quarters and a transformed Red Cross ambulance, from which visitors can claim their Antarctic World Passport, created by the artists to offer a symbolic access to all the countries in the world.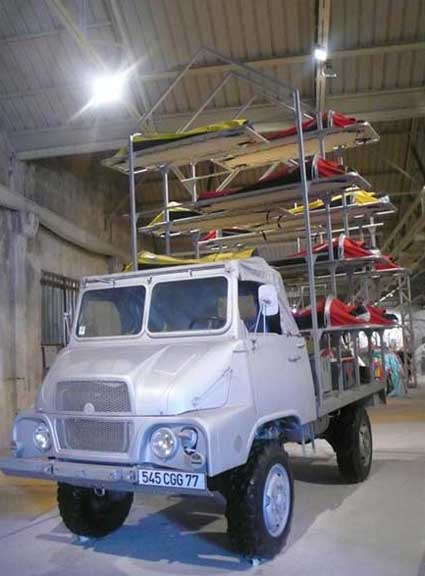 M.I.U. VII – Nomad Hotel, 2003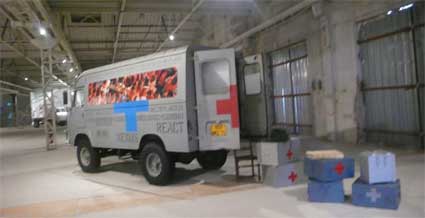 M.I.U. (Mobile Intervention Unit) ambulance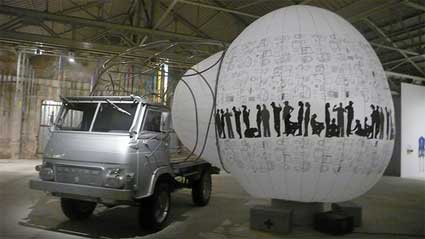 Dwelling X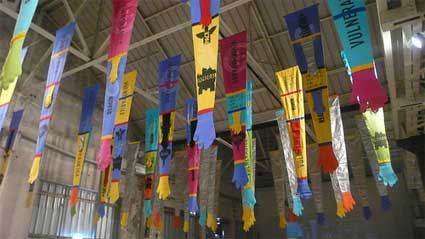 Ornaments of Suffering, 2005
Among the new works which have been commissioned for the Milan exhibition is a fascinating and poetic wall installation of life jackets Life Line.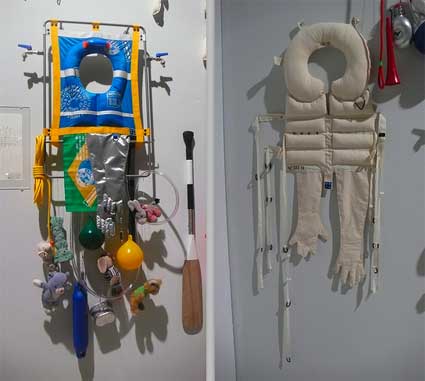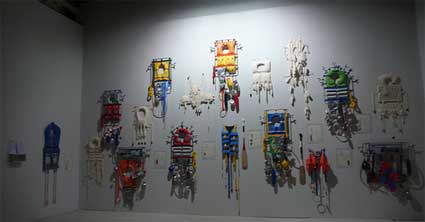 Lucy + Jorge Orta | Life Life – Survival Kit, 2008
My flickr set.
Lucy + Jorge Orta's Antarctica expedition is on view at Hangar Bicocca in Milan until June 8, 2008.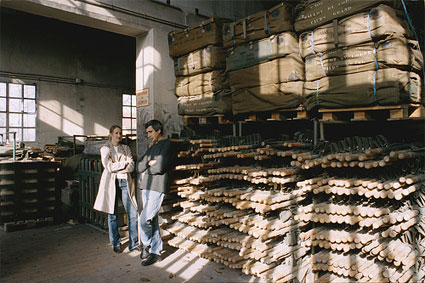 Portrait of Lucy and Jorge Orta