Created by Equator in collaboration with the Royal College of Art in London, the Drift Table is a research project that allows people to float slowly over the British landscape from their living room.
The distribution of weight on the table controls the scroll of aerial photographs displayed on a central viewport, so that you can visit favorite places, look at geographical features, travel to a friends house, or just watch the world go by.
Shifting items on the table changes its apparent height, direction and speed.
Its top rests on four load sensors linked to a microprocessor. Software calculates the total weight and centre of gravity of things left on the table, and controls the display of aerial photography stored. An electronic compass ensures that the images are oriented to true north, and the names of nearby locations are shown on a small display.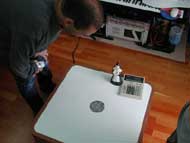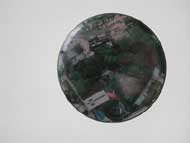 The images are shown on a display set a couple of inches below the surface of the table, and the viewport is smaller than the screen. So, as viewers move their heads from side to side, new information is revealed, just as it is when looking through a window.
UPDATE: As Anne just informed me, the Table even has her own blog, not updated recently since the table is away for repair.
And if you prefer Paris and are afraid of high-tech, Monica Piatkowski's Cityscape Rug renders in soft 3D the landscape of the French capital (via Angermann2.)