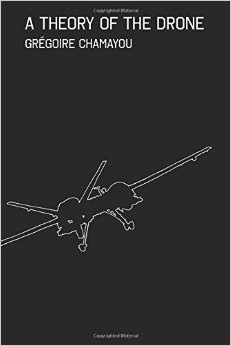 A Theory of the Drone, by philosopher Grégoire Chamayou
Publisher The New Press writes: In a unique take on a subject that has grabbed headlines and is consuming billions of taxpayer dollars each year, philosopher Grégoire Chamayou applies the lens of philosophy to our understanding of how drones are changing our world. For the first time in history, a state has claimed the right to wage war across a mobile battlefield that potentially spans the globe. Remote-control flying weapons, he argues, take us well beyond even George W. Bush's justification for the war on terror.
What we are seeing is a fundamental transformation of the laws of war that have defined military conflict as between combatants. As more and more drones are launched into battle, war now has the potential to transform into a realm of secretive, targeted assassinations–beyond the view and control not only of potential enemies but also of citizens of the democracies themselves. Far more than a simple technology, Chamayou shows, drones are profoundly influencing what it means for a democracy to wage war. A Theory of the Drone will be essential reading for all who care about this important question.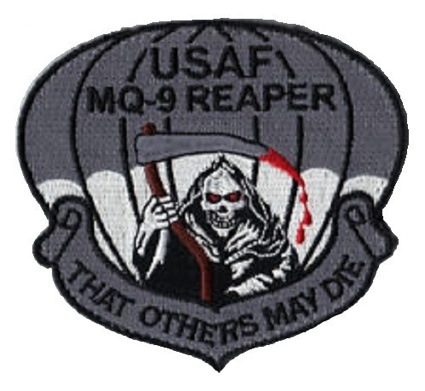 Military patch of the USAF MQ-9 Reaper "THAT OTHERS MAY DIE" VELCRO MILITARY PATCH
When a journalist of Libération asked Chamayou about the motivations behind the book, he replied that "some philosophers in the United States and in Israel work hand in hand with the military to elaborate what I call a 'necro-ethics' that tries to justify targeted assassinations. So it is urgent to respond. When ethics is brought into a war, philosophy becomes a battlefield." (via)
Chamayou is a researcher in philosophy. A title that might sound a bit daunting for some readers. But fear not, A Theory of the Drone is as entertaining as it is thought-provoking. The rhythm of the author's reflections are fluid and easy to follow, the chapters are concise and highlight with precision a particular aspect of the weapon under study and Chmayou's references might sometimes be heavy (yet never obscure) on Kant but he also quotes Albert Camus, Harun Farocki, Eyal Weizman and even mentions Adam Harvey's anti-drone clothing.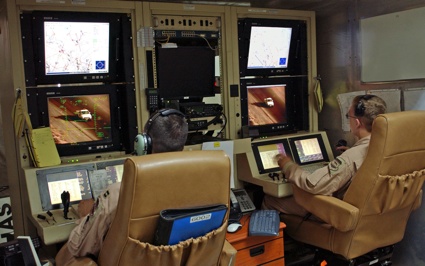 Capt. Richard Koll, left, and Airman First Class Mike Eulo monitored a drone aircraft after launching it in Iraq. Photo U.S. Air Force/Master Sgt. Steve Horton
I haven't read many books about drones. In fact, i think this is the first one i read about the topic but i doubt i could find another publication that explains with so much ease and intelligence the dilemmas posed by unmanned aerial vehicles to the traditional codes of war.
Of course i've always had a visceral feeling that the use of drones by the U.S. and Israeli military is debatable, not to say coward and unethical. Chamayou's book articulates with precision and rigorous references to the history of war philosophy what is wrong with this form of unilateral warfare. Chapter after chapter, his books explores questions such as: What happen to the traditional principles of a military ethos of bravery and sacrifice when only one side of the conflict shoots and deprive the other of the possibility of fighting back? And more generally, how can one justify homicide in a noncombat situation? How does one-way-only armed violence distinguishes between fighting and killing? Within what legal framework do drone strikes take place? What does it mean for a zone of armed conflict to be fragmented into kill boxes the size of a human body? How does post traumatic stress disorder in this context differs from the one experienced by soldiers who fought on the battlefield? How do local populations hack and defy drones? How do you recognize a combatant dressed as a civilian, outside the zone of combat? etc.
The final pages of the book look at how the use of drones, a technology developed in a military context, is already seeping into civil society -mostly for police purposes- and what this will mean in the future for the subjects of a drone-state.
Perhaps part of the answer can be found in this image and these words i found in one of the last chapters of A Theory of the Drone: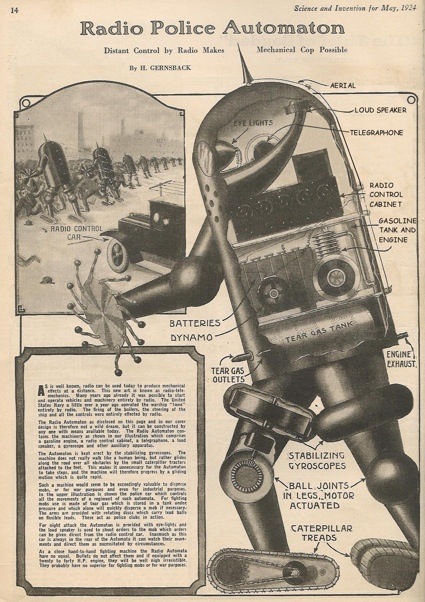 A radio-controlled police automaton. From Hugo Gernsback, Radio Police Automaton, Science and Invention 12, no.1, May 1924 (photo)
In 1924, a popularizing scientific magazine announced a new invention: a radio-commanded policing automaton. The robocop of the twenties was to be equipped with projective eyes, caterpillar tracks, and, to serve as fists, rotating blow-dealing truncheons inspired by the weapons of the Middle Ages.
On its lower belly, a small metal penis allowed it to spray tear gas at unruly parades of human protesters. It had an exhaust outlet for an anus. This ridiculous robot that pissed tear gas and farted black smoke provides a perfect illustration of an ideal of a drone state.
Image on the homepage: Omer Fast, 5000 Feet Is the Best.