A card that gamers can use at cash machines around the world to convert virtual dollars into real currency has been launched.
The card is offered by the developers of Project Entropia. Last year, a virtual space resort being built in the MMORPG was snapped up by a gamer for $100,000. The buyer is developing the space station into a virtual night club through which the entertainment industry can sell music and videos to gamers.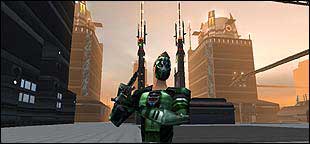 The Entropia economy works by allowing gamers to exchange real currency for Project Entropia Dollars (PEDs) and back again into real money. Gamers can earn cash by accumulating PEDs via the acquisition of goods, buildings and land.
The new cash card allows people to access their virtually acquired PEDs and convert them into real world money at any cash machine in the world. The card, issued by MindArk, is associated with the players Entropia Universe account and has all of the features of a real world bank account: players can transfer, withdraw, deposit and even view account balances using the system.
More about games and money. And The Future of Credit Cards – Earning virtual currency for spending in the real world & other world bridging.
Via BBC news. Image via Real profits from virtual worlds.