In the UK, cash dispensers in some BP service stations and London Underground now feature ATM:ad. This advertising software developed by i-design displays adverts on the screen of the ATM.
The system evolves around four "modules":
– 'Attract' is a sequence of video, animation or static screens to catch the attention of passers by,
– then 'In-transaction' screens a series of short reinforcing messages while the customer has to wait for processing or cash-counting,
– the third module is displayed during the 'thank you' message,
– if the customer asks for the 'Receipt', he'll get a printed takeaway reminder of the campaign – on which can be printed a logo, website address or a call to action.
British Airways is the first company to experience it.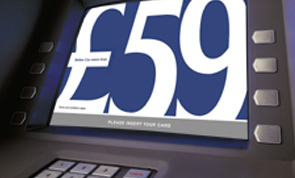 Via The Guardian.