A high-tech plaster could keep a constant check on your health, thanks to a tiny electronic device, which can be attached to an ordinary plaster.
The "digital plaster" contains a silicon chip, which can carry sensors for a range of symptoms and check vital signs such as temperature, blood pressure and glucose levels.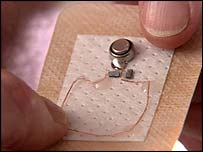 The data would then be processed by the Sensium silicon chip which is powered by a tiny battery, and sent via a mobile phone or PDA on to a computer database.
Patients could be alerted if the results were worrying. The computer could also be primed to detect a change in the pattern of results seen, and a doctor could be alerted to the problem.
Keith Errey from Toumaz, a spin-off company from Imperial College in London, which is developing the device, said it could even be used by people who want to keep a remote eye on an elderly relative: "You could include a motion sensor on there and it could act as a kind of 'granny monitor', so you would know if your relative had had a fall."
Via BBC News.