In the children's game Red Light, Green Light, you are the traffic cop and the others are trying to be the traffic cop. Whichever of your friends "tags" you first, puts you out of your job.
Now, Red Light Green Light has been turned into a pervasive electronic video outdoor game. In this game you'll get a Vis-a-Vis Portable Game Device and sent on the field.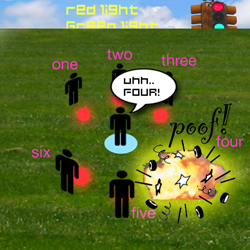 Hold your PGD up in front of you and you'll see your opponents, all gunning to charge at you. To keep things interesting, this variation of "Red Light, Green Light" actually has your opponents circled around you. So, you have to physically pivot around 360 degrees to see 'em all. Like in the traditional game, you have to scream "Green Light!" or "Red Light!" to make the other players obey, the device uses speech recognition to pick up your commands.
Your opponents are six "bots" and one human who is playing their side of the game on a networked computer nearby. The challenge is to guess which of the seven opponents is actually the human before one of them gets to your position.

Peter Brinson and Julian Bleecker will be demoing their location/orientation-aware game framework at the Guerilla Studio Games Atelier, Monday, August 1st, from 11-noon in Room 403AB during the Siggraph.
Via Interactive Media Division Weblog.
Related: Can You See Me Now?